Getting a dog is a wonderful experience. Your pooch will give you and your family many years of love, affection, happiness and joy. Dog parents often spend hours playing and training their new family members. Pets help to reduce stress and keep their family entertained. During the COVID-19 pandemic, pet adoption and sales rose twofold, making it difficult for hostels, breeders, and pet shops to meet this sudden surge in demand.  The pet industry also reached a historic high of $103b in the US alone. This surge has also spurred the rise of dog training apps as trainers remain inaccessible in person.
The pet care industry is currently valued at $232billion and is growing at 6.1% CAGR. At this rate, it won't be long before it breaches the $300b mark. This includes the pet training industry, a major part of the pet care industry worldwide. 
Why are pet training apps so popular?
Pet parents could not use the services of in-home or on-premise pet trainers due to the COVID-19 induced lockdown. This led to the rise of pet training apps such as Puppr, GoDog and many others that help pet parents train their dogs through interactive classes and training sessions. These pet training apps provide a host of information, and some even offer 1-on-1 sessions with top trainers to solve puppy problems. The convenience of training your dog anywhere, at any time has made pet training apps boost their popularity in a very short time. However, which pet training app should you choose with a host of apps available on popular mobile platforms?
The perfect Dog training app for your pooch
Here's our list of the top ten training apps for your dog. This is not a complete list of every single app out there, but we've included the best from the lot.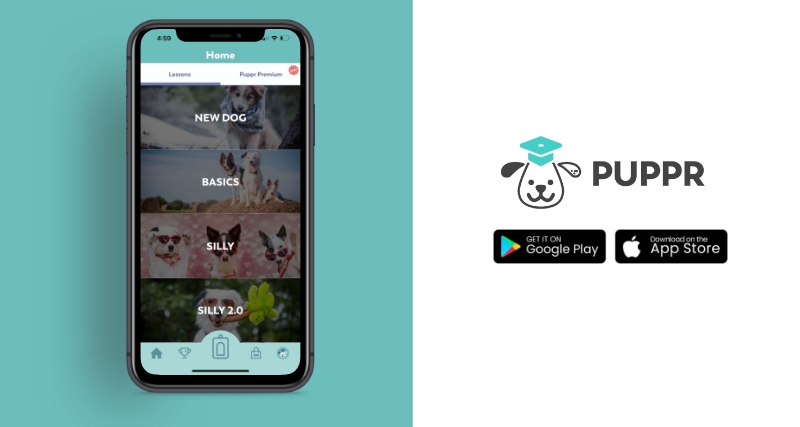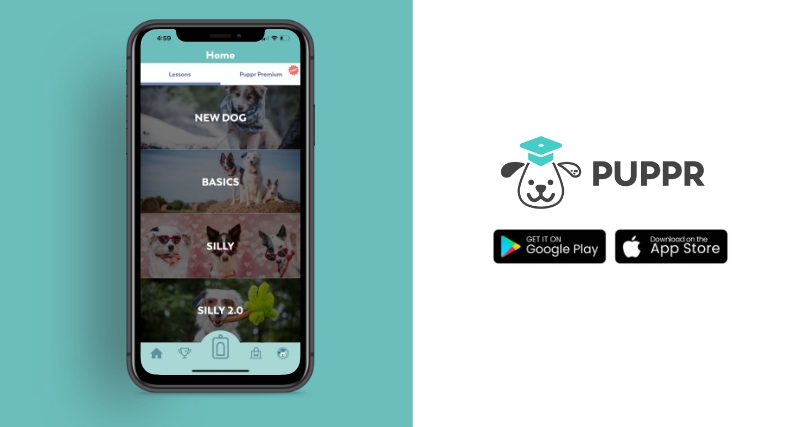 1. Puppr
Puppr is possibly the most well-known dog training app around. Puppr uses the Clicker training method to help you train your dog at your convenience. With over 70 lessons from celebrity dog trainer Sara Carson, Puppr helps you to train your dog for free with a host of basic courses. Advanced courses require you to purchase a $12.99 monthly (or annual) subscription. Puppr features an in-app clicker and an online store with training material, equipment and other doggo-essentials.
Puppr earns money through subscriptions and in-app purchases. Their financial information is private. Want to know more about their revenue streams? Here – Puppr business model.

2. Goodpup
Goodpup is great for those who need one-on-one training sessions with certified and reviewed trainers. These trainers can help with behavioural and special skills training for your dog. These trainings are held in real-time, ensuring that you can train your dog while the trainer observes that everything is going according to plan.
The app includes potty training, crate training and behavioural training and other basic training programs. All the pet owner has to do is find a training plan, give a brief assessment, schedule a training session, and that's it. Goodpup's trainers take care of the rest.
Their financial information is private. The app makes money through payments for 1-on-1 calls with trainers and training packages.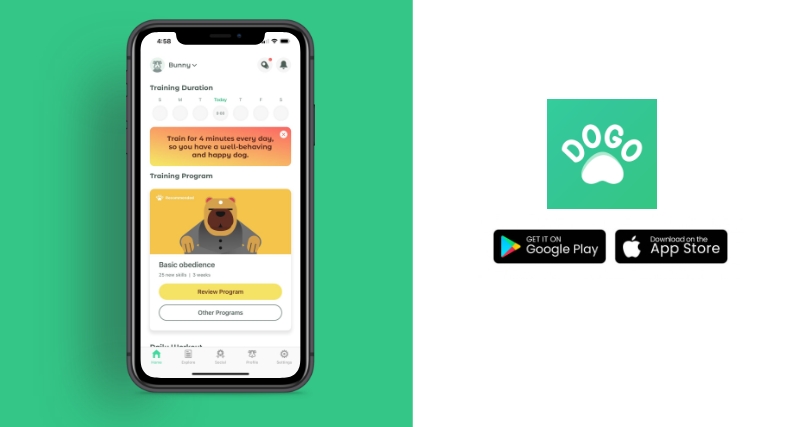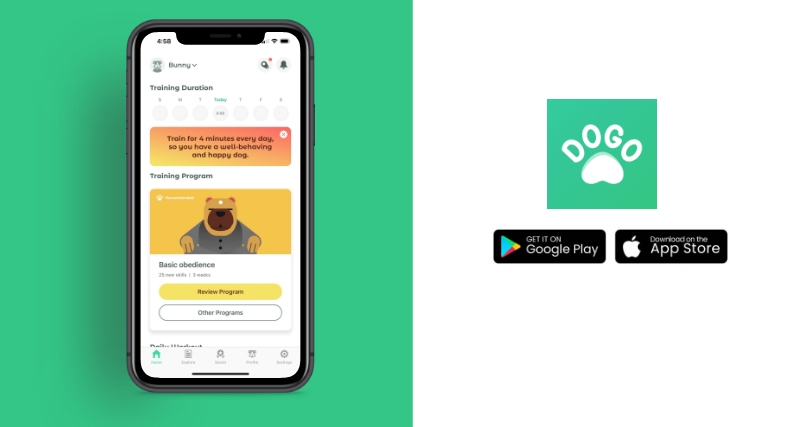 3. Doggo
Doggo is a top-rated doggy training app that has hundreds of tips, tricks, video instructions and obedience training skill programs for your dog. Featuring a built-in training clicker along with a host of information for dog care, Doggo is a one-stop shop for most of your training needs. Doggo has millions of monthly users and also has video exams to see how your pup is doing. With an estimated revenue of over $160k, Doggo is on its way to profitability!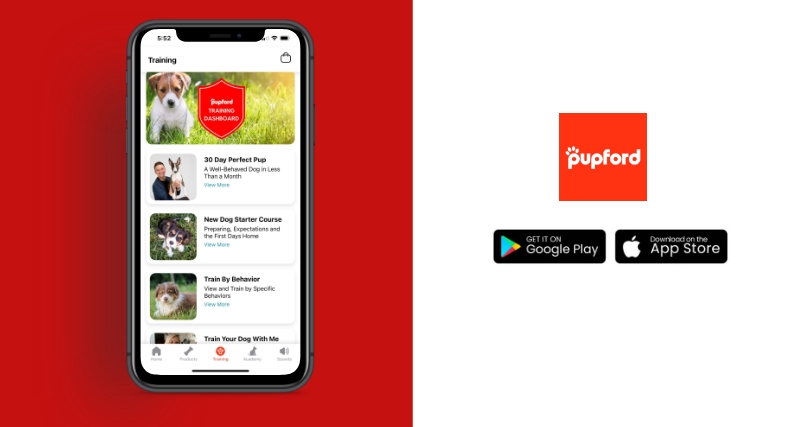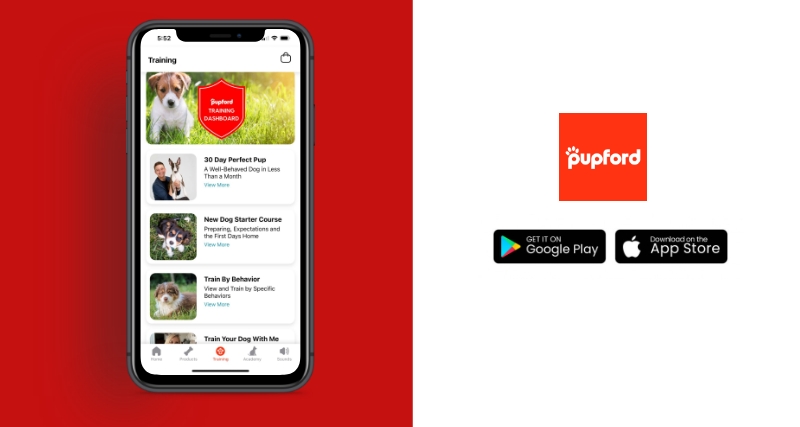 4. Pupford
Pupford has a 30-day video course that includes all basic training lessons for your pup, including leash walking and more! With an inbuilt tracker to check training progress, a large community for dog-related advice and other info, you can have all your questions answered and train your dog at the same time!
Pupford's finances are private. The app earns revenue through in-app purchases and subscriptions to the Pupford academy. 

5. Everydoggy
Everydoggy is a top-rated dog training app that helps you potty and crate train and stop your dog from biting. Used by over 300,000 dog parents worldwide, Everydoggy has a built-in dog whistle and clicker that are extremely useful during training sessions. The app comes with step-by-step video lessons and helps you to train your dog better.
The app earns revenue through in-app purchases and personalized puppy training sessions. Their financial information is private. 
6. MyDog Training app
MyDog training app offers a 30-day training program to teach your dog all the tricks you want it to learn. Additionally, animated cues and super-easy to follow lessons make this app intuitive and fun. Featuring a built-in clicker for rewards and recognition, this app makes behavioural training easy.
The app earns revenue through ads. Their financial information is private.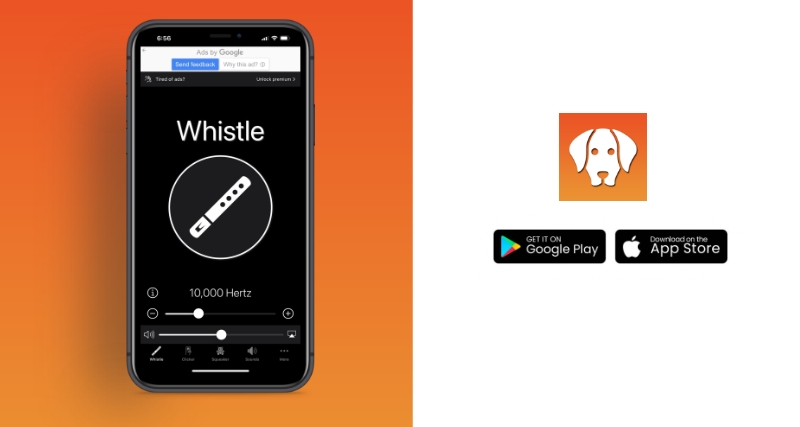 7. iTrainer Dog Whistle and Clicker
This iOS-specific app is extremely popular as it is easy to use and has customizable sounds, so you can pick the one your dog likes the most. The app is informative and offers many features that include whistle training, clicker training and positive-reinforcement training.
The app earns revenue from ads. Their financial information is private. 
8. Pawsitive
Pawsitive is a highly-regarded Android-specific app. The app has pet-specific games, a clicker and healthy food guides for your furry friend. The app focuses on positive reinforcement training and makes it easy to train your dog with illustrations and step-by-step instructions. Whether it is your first try at training your dog yourself or if you're retraining your dog, Pawsitive has enough to help you get a headstart.
The app earns revenue from ads and in-app purchases. Their financial information is private. 
9. Pocket Puppy Tool
Pocket Puppy School is for those who want a simple app to train their dog. With everything neatly segregated into categories and topics, this app is extremely user-friendly and works for all age groups. The app includes imagery and videos to help new dog owners understand the app and instructions better. With training progress monitoring and remedial measures to work with if the training isn't progressing as planned, the app has more than enough benefits for everyone. All the information in the app is free.
The app earns revenue from ads and in-app purchases. Their financial information is private. 

10. GoDog
GoDog is a great dog behavioural training app. Complete with a walking tracker, a clicker, training exercises and videos, a pet health section that includes vaccination reminders, prescribed medications and upcoming vet visits, this app is great for new dog owners and existing owners alike. The app also has a host of dog articles for you to read up about pet health and training.
The app earns through in-app purchases and keeps its financial information private.
Tips for creating a great dog training app
Entrepreneurs who wish to move to the dog training app space must understand that they will need a truly groundbreaking app to move customers away from existing solutions. Here's what you need to do to ensure that you create a unique app that your customers will love:
Research, research, research
Understand your competition and work on the underserved needs of their customers.
Only add features that bring value
A long list of features confuses people. Understand that they are trying to learn how to train a puppy. Add features that bring real value to the app and are not just a list of features that every app has.
Create an intuitive user interface
Your take on the app might not go well with your users. Ensure that you create a simple, easy to use, intuitive interface that customers love.
Interact with your early adopters to know what they miss in the app and add it in an upcoming update. Remember, agility is the first step towards success in the app world.
The key to continued growth is constant innovation. Keep working on your app with learnings and data points gathered during the app creation and launch process. Make informed decisions to ensure that your users love what you create and keep asking for more.
How can Volumetree help you in creating a world-class dog training app?
The product management team at Volumtree has spent years creating world-class mobile apps and websites that have millions of daily users. Our engineers, developers, project managers, testers and product experts work in tandem to ensure that we meet the underserved needs of your customers and create a truly revolutionary app that amazes your customers with each new version. Want to know more? Schedule a free 15-minute consultation with our product experts here.