Company brief
Elby is the leader in sharing the pedal-assisted e-bike market in Canada. Backed by Magna International, Elby currently offers bike-sharing services in Canada, North American and Europe and are looking to expand their operations in other regions around the world. Elby aims to be the global leader in clean personal transportation services.
Elby's Business Objectives
Elby wished to transform itself from an e-bike manufacturing company to a company that was providing a solution to its customers in congested urban areas. Elby will change the way people commute from one place to another, without the hassle of thinking about parking spots, traffic jams and the air pollution caused by motor vehicles. Elby is clean transportation--reimagined.
01
Challenges Faced by Elby
Elby faced three major problems. Transformation, scaling and time. Elby wished to transform their business model from manufacturing and selling e-bikes to that of an urban mobility provider. They wished to capture their target market (universities, hotels and corporates) with a platform that would help them to transform urban mobility. Their platform partners (universities, hotels and corporates) could choose to offer a paid, freemium or rental model to their customers as they deem fit.
They wanted to scale their business to meet their business objectives and this needed to be done fast-ensuring that their launch date matched the event hype that they wished to create.
As the case is with every organization, Elby had a major time crunch and wanted their solution to be up and running in time to ensure that they were not caught unawares and their marketing and sales campaigns create the necessary impact.
02
Solution provided by Volumetree
To solve the problem faced by Elby's team, we at Volumetree collaborated with them as their technology partners. We helped Elby to create a solution that allowed users to pick up Elby e-bikes from anywhere and drop them off when they reach their destination—with a catch. They could lock, unlock and pay for these bikes from a device most people had in their pockets at all times—their smartphone.
After continuous ideation, brainstorming, grinding and pushing the limits to infinity, within one and half months we launched their MVP product which consists features like bikes tracking, Live locations, In-depth analytics, QR scanning, Bikes management, Invoicing, Pricing, etc and provide them ease to show their product to customers in the Euro bike event and launch successfully in the market.
03
From idea to results
Our innovative, hardworking team took to visit Elby's factories, experience their needs first-hand, and to ideate, brainstorm and push back every set milestone to deliver a world-class e-mobility platform. With live locations, bike tracking, analytics, invoicing and administration, Elby is the new standard for effective and clean urban transportation. We've been helping Elby revolutionize urban mobility ever since for their B2B and B2C customers.
We showcased how an agile team can work in tandem to meet delivery timelines. Our teams worked in parallel to dramatically reduce timelines. Our project managers deployed additional forces when needed to reduce challenges of scale and quality. This ensured that backend integration and design worked in tandem to facilitate a collaborative handoff to the front-end development team. This also helped the development team to leverage additional resources from our backend team in front-end development, further reducing set timelines and setting new benchmarks for Elby's race to market.
Develop
Outcome
The power of digitalizing the business is subtle and the results which Elby got were terrific! Earlier they were selling their bikes as an e-commerce website but in addition to it, they took an additional step to initiate their bikes renting business model to the consumer which turned out as a big success.
With e-bikes retail selling they are also giving a business model to 3rd parties to rerent their e-bikes among their consumers. Elby gives the hardware (e-bikes), proper flexible sub-admin panel to control all the tasks digitally to 3rd parties and all the platforms required to run a successful business.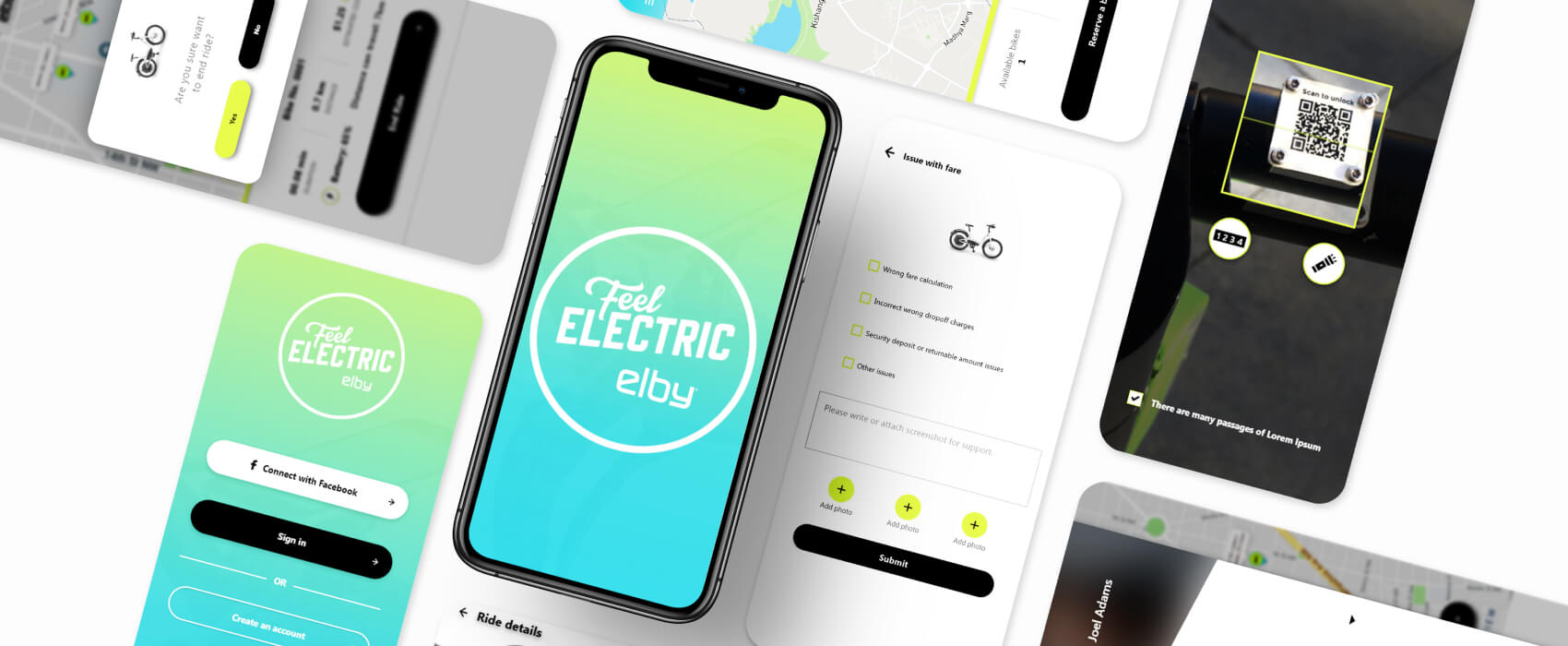 Data Insights
The main challenge to the success of a startup is generating new business. Where 90% of startups fail, about half of them fail for this reason- they misread their market. Or rather, they weren't reading deep enough.
The powerful impact data analysis can have on business has been well-documented and most SMBs take advantage of free or cheap data analysis tools. After all, in today's data-driven world, collecting and analyzing data is easy.
Businesses today need world-class analytics to stay relevant. We integrated Firebase analytics with the Android and iOS apps developed for Elby to gather meaningful and powerful usage insights. These insights about customer behaviour, acquisition cost, retention rate, average time, and transactions have helped Elby make informed business decisions.