If you are a budding entrepreneur, product owner, or project manager, your mind will be abuzz with product ideas that could change the world. Your startup idea might be the next Groupon, Uber, or Airbnb—but how do you know if your idea will find paying customers? That's where idea validation comes in.   
If you're planning to build a new product idea, this blog will help you learn about idea validation, common misconceptions about idea validation, and how you can validate an app idea using the AFTER Framework with an easy-to-understand example.
Let's begin by understanding the reason why 90% of startups fail within the first year.
Why Do So Many Startups Fail to Make it Beyond their First Year?
Many startups go through iterative success-failure cycles. Before becoming unicorns, companies such as Uber, Airbnb, Groupon, and many others went through these cycles. These companies used learnings from their initial failures as a ladder to success. 
Using an idea validation strategy can help you reduce the chances of failure. Here are some common reasons why startups fail and approaches that can help to reduce incidents of failure:
1. They do not understand the problem at hand
Create a better definition of the problem your product will solve. A clear definition will help you avoid confusion while you're building your product.
2. They do not understand the needs of their customers
Get into the customer's shoes. If your problem statement is not in the top three headaches of your target user group, you know it's time to pivot.
For example, if you've created a community management platform for product companies and are trying to pitch it to various CEOs, you won't get far if their top 3 priorities don't include improving their community management. You must understand that no matter how unique your product is, you will not find takers if there is no pressing need for it. 
3. Impulsive product development 
Follow a structured approach to product development. Such processes help you find a pressing need of your customers, create customer personas that consider this need a must-have, and create a product that focuses on this need.
Using a structured idea validation and product development approach such as Lean Product Validation, Design Thinking, Design Sprints, or the AFTER framework will ensure that you create an outstanding product that your customers need—and love! 
Now that you understand the reason why most startups fail, let's move on to know more about idea validation. 
What is Idea Validation?
Ideas are the most abundant resource available today. Many of us have great (or shoddy) ideas at all times, and we expect that at least some of these ideas transform into working products. But how do you get there? 
Idea validation is an experimentative method to make informed, low-risk product development decisions. The purpose of idea validation is to pitch the idea of your product to the real world before you build it.
Idea validation answers the following questions:
Is the product solving a real problem?

Does the problem need to be solved?

Can the problem be solved?

How can it be solved?
Common Misconceptions About Idea Validation
Many aspiring product founders often confuse idea validation with experimentation. Idea validation isn't always a formal technique, at its core, it's about finding enough requirements for what you're trying to build.
1. Idea validation is not consistent with experimentation
Although experimentation is a scientific foundation for finding answers, many entrepreneurs end up spending too much time running experiments instead of exploring other options.
2. Idea validation is not a recipe for success
You can create a better product using idea validation, however, you cannot predict if customers will love and adopt your product in the long run. You can, however, minimize the risk involved by not creating an unwanted product.
3. Idea validation cannot provide better ideas
It can help save time and money by not investing in ideas that are not feasible. It is important to accept that your idea will not work out once you validate and reject it. 

What Parts of an Idea Need to be Validated?
When you properly validate your business idea, you reduce the risk your business is exposed to—helping you maintain liquidity and stay afloat until you can create a viable product. 
New product founders must know what needs to be validated to ensure that they can encompass all the areas of risk their product faces. 
These risk areas include:
Need—testing this risk area determines your product value and figures out if there is a real need and a demand for it.

Adoption—you must know if users will embrace your product and start using it extensively.

Feasibility—it is essential to know if you can build the product when there is actual demand for it, at a price that makes sense for its users.

Business sense—your idea must be viable and should not put your business at risk. 
Not all ideas need validation against all the parameters mentioned above, but they help minimize your risk. 
Popular Frameworks Used for Testing and Validating Ideas
The best way to validate an idea is to use an established idea validation framework that helps you to quickly see if your idea makes sense in the real world. Let's take a look at some of them:
Lean Startup
Popularised by Eric Reis, this framework emphasizes validated learning and prioritization from the beginning while ensuring that your customers get a taste of the product and provide valuable feedback that steers its development. Lean Startup follows the Build-Measure-Learn loop that helps to build incrementally better products faster.
Customer Development
Developed by Steve Blank, the Customer Development framework relies on an evidence-driven approach to assess current market needs and develop multiple potential solutions according to them. You can then validate the assumptions in your hypothesis to understand its scalability and reliability and create an MVP to transform the hypothesis into a solution. 
Design Thinking
Design thinking is a non-linear idea validation framework that seeks to understand the potential user better. It relies on developing empathy with the target user and defining the problems that they face. The approach then questions the assumptions and ideates solutions to solve the problem. You can use this solution to create a prototype for testing and validation. 
Design Sprints
Google's Design Sprints is a five-day process that answers critical questions through design, prototyping, idea testing, and iterative learning. Design sprints speed up the idea validation process by eliminating the concepts that are not useful and focusing on the ones deemed "workable". This helps teams to fast-forward the learning process without building a Minimum Viable Product.
AFTER Framework
AFTER is an acronym created using research activities conducted in this framework. The AFTER framework brainchild of Itamar Gilad uses the scientific method to filter feasible ideas that make business sense. The framework uses an evidence-based research methodology to determine if an idea deserves investment (of time and money). 

How to Transform your Ideas into a Product using Idea Validation 
The best way to explain idea validation is through an example. Let's walk through the idea validation process of one of our products Limeberry (a smart platform we created for home service business owners to manage all aspects of their business) using one of the mentioned frameworks as an example.
It all started when I saw a friend visibly frustrated with his home services business. His customer couldn't track the service man's location to help him find their address. And this was one of the many problems I ended up hearing after I asked him a question.
I asked, "What do you think is missing in this app?"
My question led to an hour-long discussion—which I recorded to form the basis of my idea. 
I wanted to understand the essentials of building a frustration-free home services platform that helped individuals like my friend stay focused at work while a more reliable platform took care of managing servicemen assigned to customers.
We had a visible problem at hand, now we needed a solution for it. That's when we started looking into idea validation, and any frameworks that might help us.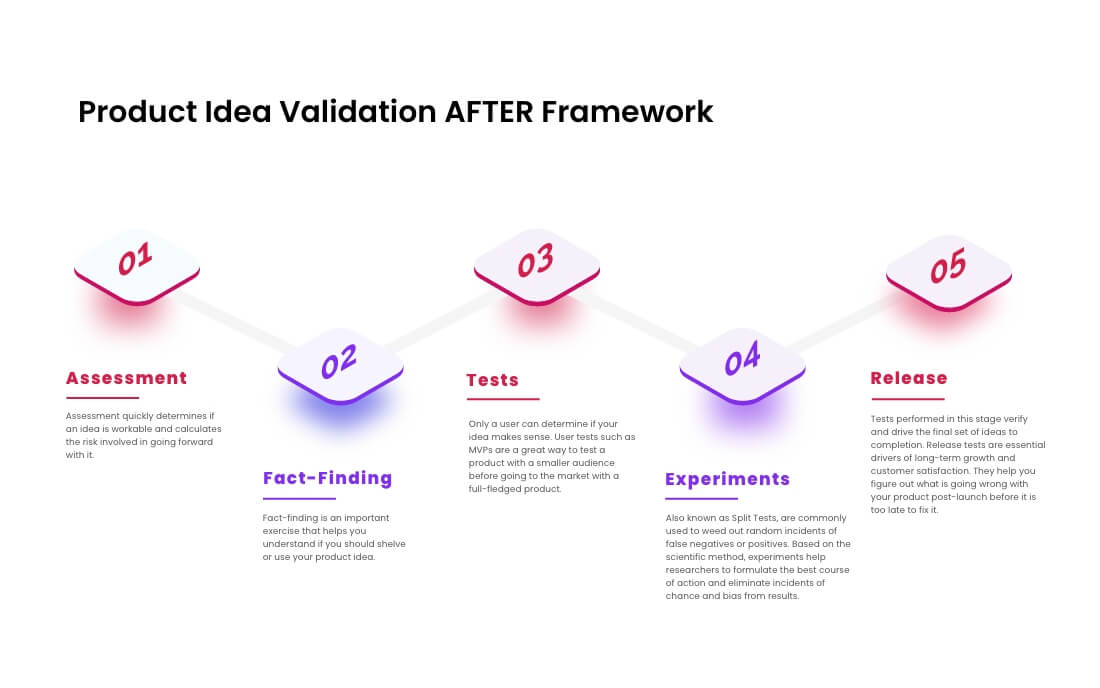 Product Idea Validation of Limeberry
Here's how we will use the AFTER framework to validate Limeberry as a sample idea and create a better home services platform:
1. Assessment 
Assessment quickly determines if an idea is workable and calculates the risk involved in going forward with it. 
Let's assume we have a list of multiple home service platform ideas and we have to find the most viable one. 
We will start with a

business modelling

exercise that will help us figure out if the idea is workable. Using a business model canvas, we can validate the viability of this business through a simple revenue/cost projection.

Once we will be sure that our business model is workable, we apply an

assumption mapping

technique to analyze the overall risk in the project and how we can mitigate that risk. Our assumption mapping exercise will focus on answers of high importance and high uncertainty and gave us a deeper understanding of the following:

Does our platform add sufficient value to the competition?

Does it offer an excellent price-to-cost ratio for the end-users and partners?

Is the potential product interface acceptable for everyone?
Once we answered these questions satisfactorily, we will move to the next crucial phase –presenting our idea to key stakeholders.
Stakeholder Reviews

are critical because they can prevent good ideas from being shelved. We will run our idea through three teams:

Product management – To ensure that we can build the platform without hitches

Higher management (CXOs) –to ensure sufficient time and resource funding for the platform throughout its development lifecycle

Legal—to mitigate any legal risks involved in marketing and branding the platform, along with any privacy and security concerns
Although sometimes you receive some opposition from the stakeholders about the project's viability, the revenue projections created during the business modeling exercise can help you sail through the initial hiccups and begin fact-finding.
2. Fact-Finding  
Fact-finding is an important exercise that helps you understand if you should shelve or use your product idea. It also determines if users commonly request the feature you're building, if it serves a business need or if it benefits many users. 
We focused our fact-finding resources on the following exercises:
End-user interviews
A reliable method to understand user behavior and perform qualitative research. We will interview the defined user base extensively to determine if we were heading in the right direction. 
Note: End-user interviews only make sense with a large cohort. If your user base is small, end-user interviews might send you in the wrong direction. We had a list of 100 users who actively used home services platforms in our case. This exercise will help us see patterns of likes, dislikes, and "I need this" emerge from our interviews.
Competitor analysis
It is essential to know your competition before you begin. We will analyze a dozen home services platforms such as ANGI, AskforTask, Cleanly, Hello Alfred, Helpling, and many others to identify their strengths and weaknesses.
When we had enough evidence to understand that our idea made sense at this stage. We will now start building a prototype or an MVP that leads to the development and launch of the final product to a larger audience.
3. Tests
Only a user can determine if your idea makes sense. User tests such as MVPs are a great way to test a product with a smaller audience before going to the market with a full-fledged product. 
Here are some statements we will use as our main story items while developing the MVP:
I need a home services app where I can track, contact, and change the professional assigned to do my work
The platform must be white-labeled to match my business identity
I must be able to administer and configure the platform from a unified interface
I need the freedom to work when I want and to accept/reject bookings
These statements will come from end-user interviews, pain point analysis, and competitive analysis that we ran during the fact-finding process.
Here are some common tests that can help you validate your idea better:
MVPs 
In the words of Eric Ries, "An MVP is that version of the product that enables a full turn of the Build-Measure-Learn loop with a minimum amount of effort and the least amount of development time."
We will build an MVP of the home services customer app and will showcase it to our immediate user base.
Smoke tests
We will undertake a Fake Door or smoke test approach for the rest of the components of the home services platform to ensure that components such as the Admin Panel, Provider App, and Partner Panel. The target group that we will shortlist helps us test these features, boosting our confidence in the MVP and the final product.
Early Adopter Programs and opt-ins
Our team will put together a basic working model of all the components included in our home services platform. We showcase them to local home service providers willing to test them for us. 
They become our initial early adopters and are now our current user base, growing every day. 
Tests can help teams or organizations to build, measure, learn and pivot development efforts based on valid data, and honest user feedback, and are one of the best ways to validate an idea. 
Creating a home services platform MVP  plays an important role during the creation of the final product. We will also add features to it iteratively until we were satisfied that we've created a release-worthy product.
4. Experiments 
Experiments—also known as Split Tests, are commonly used to weed out random incidents of false negatives or positives. Based on the scientific method, experiments help researchers to formulate the best course of action and eliminate incidents of chance and bias from results. This will help us immensely during our design and feature inclusion iterations.
A/B tests
A/B tests are a great way to pit one version of a product against the other. Our early adopters will help us finalize the admin, provider, and partner UI using A/B tests.
Multivariate tests
Multivariate tests determine which combination of variations performs the best from all available combinations. We will use multivariate tests to finalize the UI and UX of the admin panel and the overall platform. 
Testing helps us create a high-quality app that our early adopters and beta testers will love. Testing and experimentation are integral to idea validation and can help you figure out the right way forward.
5. Release 
The moment of truth. Tests performed in this stage verify and drive the final set of ideas to completion. We will now conduct further tests that will help us to gather post-launch analytics and insights to create a better future iteration of our home services platform. 
Percent experiments
We will roll out the app to users in phases—essentially as a big A/B test to ensure that we could gather real-world feedback and fix any late-breaking issues. 
Post-launch data analysis
Our app's built-in metrics will help us understand that our partners had an additional need—online new member approvals. We will add this feature in an upcoming release of the platform. Additionally, we will analyze the data generated by the app to monitor long-term usage and gather customer feedback to ensure that we were on the right path.
Release tests are essential drivers of long-term growth and customer satisfaction. They help you figure out what is going wrong with your product post-launch before it is too late to fix it. 
Additionally, we will conduct multiple post-launch user satisfaction surveys to determine if our customers appreciated our development efforts and stuck with the platform in the long run. We will use the results of the surveys in our review meetings to steer product development in the right direction.
Final thoughts
Idea validation will help you steer your product's development in the right direction through valuable, first-hand customer feedback. Using a practical idea validation framework such as Lean Startup, Design Thinking, or AFTER can help you weed out irrelevant ideas and figure out if the filtered idea is worth pursuing.
At Volumetree, we help first-time and seasoned entrepreneurs validate and build their ideas. Our teams have the industry experience, strategic insights, and the tech capability to turn your ideas into profitable products.
Do you have a disruptive idea in mind? Let's build it together.