The IT solution is the need of the hour for businesses today. The numerous benefits of IT keeps the business running and competitive to streamline activities.
About Volumetree
Volumetree is a top IT solution firm headquartered in India with multiple offices in South Africa and Sweden. The company was established in April 2017 with a vision of driving business growth for its clients. Holding experience in the IT sector, the firm offers personalized and most efficient-solutions. 
Operating seamlessly with an ideal team, the firm has created a benchmark in Mobile App Development, Software Testing and Web Development services.
GoodFirms Research Process
GoodFirms is a platform to help seekers find appropriate IT solution firms. It is a B2B portal where the seekers can easily find companies based on their requirements. Companies on this portal are evaluated on parameters like Quality, Reliability, and Ability. These metrics are further subdivided into market penetration, total experience in a particular industry, past client reviews, client portfolio and designing & development skills of team members. The ranking of firms based on these factors aids customers in the decision-making process.
Volumetree also had to pass through the same strict evaluation before making a place on the list. While examining, GoodFirms found the firm doing exceptionally well in 3 service categories – app development, testing and web development. The detailed description of the firm is given below:
Feature-Rich Mobile App Development 
Mobile apps act as a rich source of information for customers. Every company wants to keep in touch with its customers to increase their market value. A mobile app plays an important role in keeping the customer well informed about the business. The Volumetree team handles every aspect of building a mobile app right from ideation to wireframing, along with keeping updated with the latest technology. 
A proper strategy for building mobile apps delivers amazing outcomes. The team helps clients with MPV (minimum viable product), platform selection, modular breakdown of features, etc. by developing apps for Android and iOS, the firm ensures seamless solutions. The urge to meet the end needs of clients and ensure smooth maintenance of apps make the firm to soon enter the prestigious list of top mobile app development companies at GoodFirms. 
A happy client, Dennis Goldman, Partner, and DEAM Electrical Consulting Engineer has to give a 5-star rating. The review can be seen below: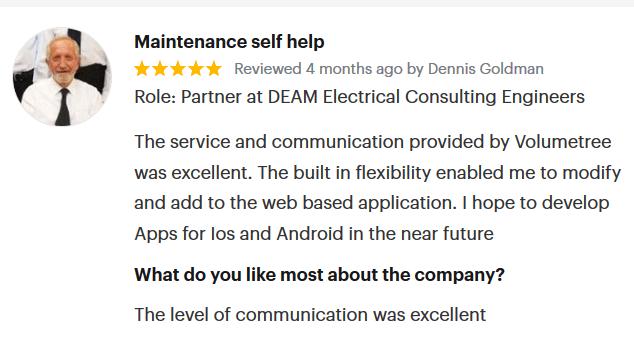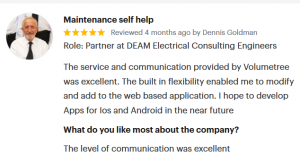 Quality Assured Testing Services
Software testing is crucial to ensure smooth functioning of a product. Bug-free software improves product quality and increases viability. This process helps to remove any glitch in the software. Apart from all these benefits, one of the main benefits that testing offers is cost-effectiveness. Hence, software testing is a feasible solution for any firm.
Volumetree with a reliable, passionate, and driven team promises impeccable solutions to its clients in testing solutions. Offering localization testing, functional testing, usability testing, performance testing, etc. the company ensures to offer full-fledged services. The experienced team of the firm offers uncompromised quality and unbeatable value for every project. Owing to its robust technology and timely deliverables, the firm is expected to make its mark as software testing companies in South Africa at GoodFirms.
Seamless Web Development Services
A website is a direct portrayal of a business. It plays a huge role in attracting viewers' attention and boosting traffic. To engage and increase the customer base, a website has to be appealing enough. Volumetree unlocks the potential of their client's online presence. By offering a one-stop solution for all types of website, the company is doing an admirable job.
The Volumetree team blends perfection and execution to deliver the best web development solutions for clients. The firm represents its core values in every project they take up including WordPress development. The team crafts solutions that convert visitors into leads. The performance-oriented web solutions have led the company to rank in the list of top web development companies in Sweden at GoodFirms.
About GoodFirms
Washington, D.C. based GoodFirms is a maverick B2B Research and Reviews Company that helps in finding Mobile Development, Testing Services, and Web Development firms rendering the best services to its customers. GoodFirms' extensive research process ranks the companies, boosts their online reputation and helps service seekers pick the right technology partner that meets their business needs.
About the Author
Anna Stark is presently working as a Content Writer with GoodFirms – Washington D.C. based B2B Research Company, which bridges the gap between service seekers and service providers. Anna's current role lingers to shape every company's performance and key attributes into words. She firmly believes in the magic of words and equips new strategies that work, always in with ideas, something new to carve, and something original to decorate the firm's identity.