In the age of the internet, a professional business website is more important than an actual office. As startups around the world gain ground, office space is no longer the primary concern for a business. The real workplace for most companies is now their website. Business websites differ from personal websites in many ways. They reflect a company's image, philosophy, and identity. 
With so much on the website's shoulder, a corporate website designer is hard-pressed to ensure that the corporate website must:
showcase as much information as possible in the least number of pages

Make a huge impact 

Be responsive

Not look cluttered or out of place. 
Here is our list of

must-have features

 for a good business website:
Design
With great websites comes great design. The first impression that a user may have of your website is its striking design, ease of finding the information needed and navigability. With iconographic websites now on the rise to ease responsiveness, great looking icons ensure that a thousand words can now be replaced with imagery. A well-designed website must be:
As portable devices outnumber computers these days, the first item on your checklist for a great website must be its capability to be viewed well on as many devices as possible, also known as responsiveness. Responsive websites have a lower bump rate and ensure that users from all device types have a similar browsing experience, ensuring that visitors do not get frustrated.
Pictures speak a thousand words. This statement can be best illustrated on a website. Websites with great iconography can replace whole paragraphs of content, ensuring that you can showcase more on a page than ever before, reducing the need for lines and lines of content.
Small videos and animations can do what many pages cannot. As videos dominate the app-o-sphere, animations dominate the web-o-sphere. More and more websites today display content as animations instead of words and use voiceovers and callouts to perform tasks that traditionally text used to.
Navigation
You have a great website. It looks nice. All the information is where you want it to be, but no one can find it. This is probably the biggest problem with all business websites. They are designed well, look great but the information is cluttered and is difficult to find. In short, a well-thought-out navigation plan for a website can ensure that traffic that reaches the website stays, instead of moving elsewhere.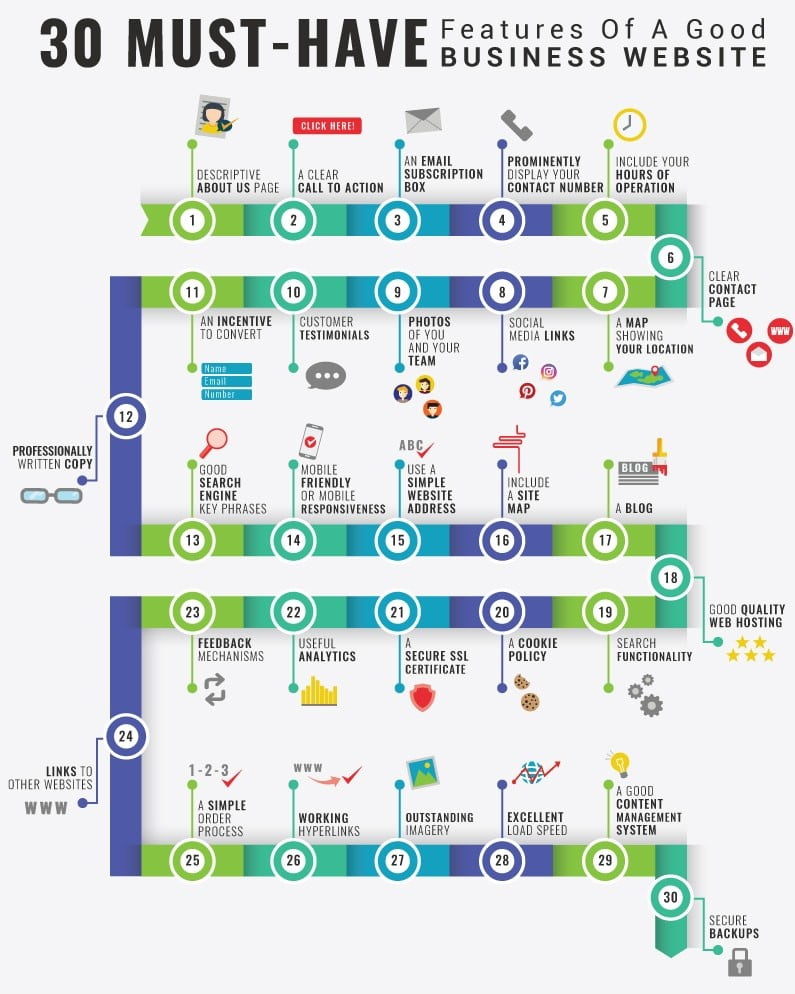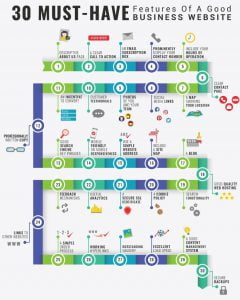 Here's what can make a difference:
It's easy to get lost on a large website. Breadcrumbs assist users in navigating to the page they came from, ensuring that the continuity and the flow of the website are maintained at a glance. Sitemaps help users figure out where to go next if they get lost.
Headers and footers can do what many other navigational elements cannot. Having fixed headers and footers throughout a website ensure uniformity, providing users with a way to get to the page they want from wherever they are on a website.
Call to action buttons are assistive navigational elements that ensure that users stay engaged and prompt users where need be.
Search boxes for searching within a website on each are a godsend for large websites. As search comes naturally to nearly every user, having a search box can be a boon.
Updated contact information with a map and multiple options to contact your company such as WhatsApp numbers, Skype Id connects, and Facebook messenger links can help your users contact you at all times. This also increases the credibility of your website during Google verification
 

Performance

A website that does not perform well is sometimes worse than not having a website. Visitors usually steer clear of websites that take more than three seconds to load. Websites that have complex, heavy graphics and animations are much slower to load and perform worse as compared to optimized websites

If you have a great website that takes more than three seconds to load, your customers will move on. Tools like GTMetrix or Uptrends can help you analyze your website speed and fix bottlenecks. Optimizing graphics, ensuring fast connectivity between your website backend and the front end can also speed up your page loading process. You also need to prepare your website for downtime so as to make sure that your users' experience is not compromised.

Broken links = customers lost. A website that looks great but has not been tested well is worse than a website that ensures that every links works the way it is supposed to. Tools like Brokenlinkchecker can ensure that you do not miss anything while testing your website for broken links.

If no one can find you on the web, you simply do not exist. Search engine optimization ensures that visitors can find your website on the internet even if they accidentally close an incognito tab. A well-researched set of keywords and optimized content will ensure that your visitors find you again if they need to.
Reaching out and Spreading the word
Not only are websites pretty and intelligent, but they also need to be informative. As websites continue to attract visitors with their design, irrelevant content or the lack of content altogether can spell havoc on your user count. Informative elements on your professional website like blogs, eBooks, whitepapers, user manuals, and technical documentation can enhance user interest in your business website and ensure that you send out information in the manner that is most suited for the information type.
Blogs

with relevant content can ensure that users stay tuned to the information that you provide and provide backlinks and shares, which are relevant for search engine optimization. Blogging platforms like WordPress and Blogger are robust and come with a host of tools that can help you start blogging, today!

EBooks

and

Whitepapers

that are downloadable can give you insights about your user demographics and other vital information that you may wish to capture prior to download.

E-mail and SMS Integration:

Sending regular updates according to a user's preferred medium can go a long way in ensuring that they stay connected. Services like MailChimp, Plivo and Twilio can help you get up and running in seconds. These simple but powerful tools can up your e-mail and SMS integration game by quite a few notches.

Social media integration:

Most people spend more time on social media than just browsing the internet. Many brands do not just have a website, they have a social media campaign that goes along with their marketing/branding goals. Social media integration also encourages and drives organic traffic to your website, helping it to rise higher in search rankings. Platforms like Hubspot, Hootsuite and Sprout Social can help you manage your social media game.
Integrated intelligence
A well-informed business is a better business. Companies that leverage data to make decisions end up being more customer-centric and usually have customers that stick around for a long time.
Websites that understand their users well can increase their chances of landing a customer by over 40%.
How does AI help a website?
Interaction

Support bots, chatbots, and user experience tools can help understand user requirements and make sure that your website bounce rate decreases. AI-based chatbots are part of any good corporate website's arsenal that ensures that users stay.

Search Speeds:

AI helps speed up website search with auto-suggestions and ensures that visitors reach where they need faster and with minimal frustration.

Personalization

AI can help personalize offerings to visitors on websites, ensuring that you get what you want, fast.

Enhance marketing hit-rate

Your marketing team can learn much more than you can imagine, just by leveraging the power of AI and machine learning on your website. Your website is your biggest store. As you gauge your visitors better, you can make informed decisions instead of hit-and-trial methods, resulting in higher revenues and better sale rates.
Designers have started leveraging the power of AI by using page visit pattern analysis and other methodologies to ensure that not only do users get a fantastic experience while visiting a website, but they are hand-held in time of need. 
Services like wit.ai, Dialogflow, Amazon Lex, IBM Watson, and Microsoft LUIS are AI toolkits that can help your website gain from the advantages of machine learning and Artificial Intelligence, helping you be on the top of the user lookout game.
To know Why there is a need to redesign your website in 2020!
Here's what we think is needed for an intelligent website
User Engagement (Chatbots)
Human interaction is always welcome, but near-human interaction in the form of AI-chatbots is gaining traction and favour these days. Botsify and Mobile Monkey are platforms that can help you get up and running with a bot quickly. As more and more visitors find chatbots easy to interact with, they spend more time doing something that comes naturally to them – interact, rather than reading or viewing. 
Analytics can help you understand your users better. With in-depth reports and high-level overviews, you can understand if your approach is being used in the best possible way. Tools like Google Analytics, KISSMetrics, and Clicky assist users in many ways. Analytics can help you make informed decisions about your website.
Heatmaps generated using tools like Crazy Egg and Lucky Orange offer data that can help you analyze what works well and what does not. As users spend more and more time on a page compared to the others, you can optimize the data available on pages to ensure that the content is the way visitors want it.
A CRM or a customer relationship management tool can ensure that you are always able to manage interactions with your customers. As you integrate these tools with your website, you get deep insights into the customer's interaction with your brand and you improve the quality of customer engagement through relevant data.
OpenID (Google/Facebook sign-in)
Allowing users to log in or create accounts using their preferred service provider (Google or Facebook) can speed up login times and ensure that users get what they want, the way they want to.
E-commerce and Payment gateways (for e-commerce websites)
If users find something worth buying, they would want to buy it right there and then. Having an e-commerce website with an integrated payment gateway like Pay tab, Paypal, PayU, Google pay or Amazon Pay can ensure that your users are able to find, research and purchase a product, thereby completing the cycle in one go, on one website without having to jump to another provider.
We hope these points helped you clear many of your existing checklists. If you do not have a checklist of must-have items for your website, get in touch with our team today so our website development experts can help you curate the best experience your users may have yet. A website is not a bunch of random pages on the internet, it is your corporate identity and a living, breathing repository of data that you can leverage to enhance your reach and one-up your business rivals at the outset.
Looking to create a new website or an app? See how some popular apps/websites work: