An entrepreneur's take on the nuances and stages of new product development that will help you transform your ideas into successful products.
Developing a new product can be challenging, but with the right approach, it can be a successful endeavor. There are certain stages and nuances that entrepreneurs need to be aware of during this process. By taking these into account, you can bring your product idea to life.
 In this blog, you will gain valuable insights about New Product Development including the stages of developing a new product, its benefits, best practices, and how you can successfully bring a new product to the market.
What is New Product Development?
New product development is the process of transforming an innovative new idea into a product that solves the underserved needs (or problems) of its target audience. 
Let's understand this with the help of an example. I was remodeling our office in 2020 and I was sick of those rolled-up sheets sent by our architect which needed four objects to hold them in place. I also needed to brainstorm with my co-CEO about the design and found that it would take twice as long to do everything as it would on a digital platform. Looking for a tech solution for this problem led me to the Hachi Infinite M1 Projector–a tool that every designer and architect must have! It is a portable projector that transforms my table into a huge touchscreen! It took me 15 minutes to brainstorm, annotate and send the design back to the architect instead of the usual five hours! 
This innovative tech product helped me to save time, and energy and focus on the design bit instead of figuring out how to give my input to the architect without taking photos or having to visit him.
What is Product Development?
Product development relies on a validated PoC or a Proof of Concept and essentially creates a finalized version of the PoC. This product has already gone through the ideation and validation phase, and in the case of software, relies on standardized development processes to create a final product.
How is Product Development Different from New Product Development?
NPD is an activity where the feasibility of an idea has not established its potential adoption by customers. New Product Development or NPD is a set of iterative activities that create an innovative, new product:
Ideation of a new product from the ground up

Designing every aspect of this new product

Validating it with  key stakeholders and the target group

Development of the MVP (or final product)

Marketing the product

Launching the product 
Traditional Product Development or PD is the process of developing a product that already has a PoC.  This process involves the following activities:
Planning

Designing

Testing

Development

Deployment

Maintenance
There is no room for iterative development here as the development teams only focus on creating validated products or recreating existing versions of them.
Why do Companies Require New Product Development?
There are two ways to launch a product in the market—the first is to find an existing product, figure out the pain points of its users and release a product that fixes them. The other is to use a radical new approach that meets the underserved needs of your potential customers—just like AirPods during a marathon.
New Product Development helps entrepreneurs to create innovative solutions for a problem. This helps bring an original product idea to the market and encourages innovation in their industry vertical.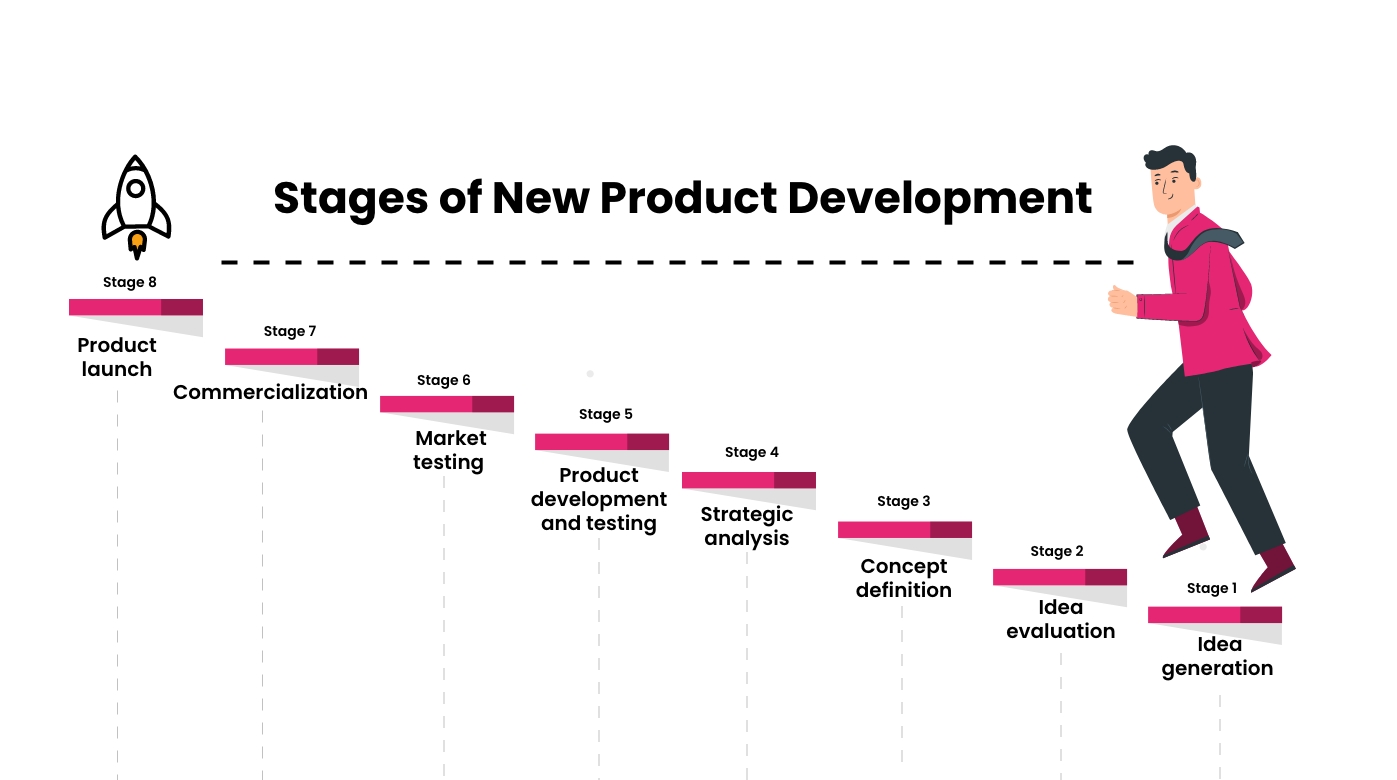 Creating an Effective New Product Development Strategy
Most first-time entrepreneurs end up wasting time, money, and resources on ideas that might not make business sense or might not be what their customers need. Using an effective new product development strategy will help you to:
        Launch a well-designed and well-engineered product that meets your customers' needs

        Price your product effectively and competitively

        Reduce your development costs and use resources efficiently

        Reduce the risk involved in new product development
In short, using a new product strategy will help you create a better product that your customers need (and will love).
Various Stages of New Product Development
Idea Generation 
Also known as ideation, idea generation helps you change your existing product approach or envision an entirely new product. You can use creative thinking and brainstorming models such as SCAMPER (substitute, combine, adjust, modify, put to other uses, eliminate and reverse), 5 Whys, TRIZ, or Mind Mapping to identify if your idea makes sense. Additionally, this approach will help you shortlist the best ideas you have from the bunch.
Idea Evaluation
Idea evaluation helps you shortlist the one product idea with the highest chances of success. You can use techniques such as SWOT (Strengths, Weaknesses, Opportunities, and Threats) analysis to figure out if your idea is worth it and makes sense for its target audience and your business.
Concept Definition
This phase helps you to better define your idea from a customer's perspective. Your concept must define its intended perception by the target audience through user stories. Additionally, you must identify your focus group and figure out the positioning of your product in their mind.
Strategic Analysis
This stage helps you understand the viability of your idea and ascertain whether it makes business sense to pursue it. If an idea makes no business sense, there is no reason to waste resources building it.
Product Development and Testing
Once you've received a go-ahead from the strategy/business analysis team to transform your product idea into an actual product, your engineering teams take over to build you an MVP or a minimum viable product. An MVP is that version of a product that has enough features to attract early adopters and validates your product idea during the development cycle.
Market Testing 
Market testing helps you to validate your product idea in the real world. You decide on effective methods of advertising, marketing, packaging, distribution, and sale of your product to your target audience.
Commercialization 
Commercialization is an acceptance of your product's viability and a go-ahead from your management to launch it in the market.
Product Launch
This stage involves substantial investments in creating an infrastructure for your product and kickstarting your product's sales promotions and advertising campaigns.
Benefits of New Product Development
New Product Development offers several benefits to entrepreneurs. Here are the top 5 reasons why you must choose the New Product Development process to create a new product or improve your existing product:
Improved chances of success
The NPD process helps entrepreneurs make informed business decisions, boosting their chances of success with minimal risk.
With the NPD approach, you quickly create an MVP after validation that gets to your customers faster. This is in contrast to a  traditional product development process which relies on the availability of existing PoCs and follows a standardized software development process that takes time to complete.
Quickly validate the technical feasibility of the idea
Using the MVP approach and the first five stages of the NPD process helps you establish the technical feasibility of your idea before launching it into the market, saving you time, money, and resources.
Better meet the needs of your target audience
A validated product relies on learnings from key stakeholders and the target audience to ensure that it meets their needs. The NPD process validates your product at each step, helping you transform your idea into a viable, much-loved product.
Due to its iterative development approach of creating MVPs as a new product, NPD reduces the amount of technical debt faced by the development team as the tradeoffs associated with quickly launching an MVP can be resolved in upcoming releases.
Best Practices that you must follow during New Product Development
A business that relies on best practices for NPD will ensure that it delivers highly successful products into the market. Here's what you can do to ensure that you create a much-loved new product:
Have a long-term product vision

Do not begin development without an NPD process and effective validation frameworks in place.

Get a cross-functional team in during the ideation process. Their inputs might help you build a better product.

Support New Product Development with its required funding

Have enough resources to complete product development in time

Set realistic product development and launch timelines. No one likes a half-baked product or one that takes too long to get to the market.
Examples of Effective New Product Development
Apple
Apple is the poster boy of New Product Development. It develops its groundbreaking products using the Apple New Product Process—where teams answer the What, Who, Why, How, and When of the product in excruciating detail. It continuously tests and reviews its products even after moving to manufacture them to ensure that its customers get nothing but the best.
Google
Google's innovative products have revolutionized internet search, email, mobility, data, and analytics using a Design Sprint approach that helps them build iteratively better products. This approach uses a five-stage development process led by a sprint master. These stages include:
        Understand—teams brainstorm to gather insights that best define a problem the target audience faces.

        Sketch—each team member sketches their solution to the problem and then shares it with the team.

        Decide—teams vote for the best ideas using a decision matrix or risk/value proposition approach.

        Prototype—dev teams build prototypes of the proposed solutions to get real-time feedback and rapidly get insights about the proposed product and its viability.

        Validate—Teams showcase the product to end-users who use the product extensively. The teams use metrics to validate the product and further fine-tune the product development approach.
Final Thoughts
Without thinkers, inventors, and entrepreneurs, the world would be a dull and dreary place. These individuals transform groundbreaking ideas into products we love (or hate). New Product Development helps a business gain a significant competitive advantage and can help it monopolize the market. However, a world-class product development team is essential to ensure that you can do all this and more! At Volumetree, we understand the importance of innovation and being at the right place at the right time with the right product. Our engineering teams have spent years helping entrepreneurs ideate, validate and launch innovative, world-class products used by millions of individuals every day.
Got an idea that can change the world? Let us know. We can help.