This January, I compiled a list of the fastest-growing SaaS companies for an existing client who wanted to know more about the SaaS business model. I compiled a list of the 7 SaaS tools I used every day and sent it to him. He responded to me the same day with approval for a plan to transition his software to a SaaS. 
The reason for his decision was simple. Always available and hardware-agnostic, SaaS or Software as a Service is more relevant today than ever before, making it a preferred business model for most new tech entrepreneurs.
What is SaaS?
In the simplest of terms, SaaS is synonymous with cloud computing. SaaS or Software as a Service is a business model in which you pay to use software hosted on a remote server. SaaS providers host software on a server, which you access via a web browser or an app.
Who uses SaaS software? Is SaaS software common?
Nearly everyone you know today would use some SaaS solution. From large organizations to small one-person-armies, SaaS empowers school children, developers, engineers, pilots, doctors; you name it. It is quite possible that you use a SaaS solution every day without even knowing it. I used Grammarly to spell-check this blog. Grammarly is an extremely popular writing SaaS tool used by millions of people every day. 
Some popular examples of SaaS solutions:
Grammarly

Microsoft Office 365

Google Docs

Adobe Creative Cloud (including apps like Photoshop, Illustrator, InDesign, etc.)

Dropbox

Slack

Trello

Gmail
…and many more!
Do some apps from this list sound familiar? I bet they do! A lot of solutions and software we use today are made by SaaS development companies such as Volumetree.  This ease of use is one of the major reasons why SaaS is so popular today. Who wants to spend time downloading, installing, and activating software when you can use nearly every software you need in-browser with just a click?
Are SaaS companies really that popular?
Yes, they are. The pandemic-induced, lockdown-driven spendings caused SaaS offerings to beat Gartner's 2019 growth prediction by a whopping $20 billion in 2020. As global IT spending braces for rapid growth at a steady growth of 6.3%, the SaaS industry can easily hit the $140 billion mark by 2022, and now is the best time to build your own SaaS product. Find out how.
Considering the cloud industry's growth over the last five years, SaaS is growing at a healthy CAGR of 12%. Although this growth might not seem much compared to the projected growth rates of IaaS and PaaS, revenue numbers are much higher for the products of the best SaaS companies or software as service companies due to their widespread use.
The number of acquisitions of some fast growing SaaS companies in the first few months of 2020 is evidence of how SaaS is the future. Here are the top acquisitions from 2020:
Atlassian, one of the

top SaaS companies

globally, acquired Mindville—an online asset management company for an undisclosed amount.

Zoom acquired Keybase for an undisclosed amount to help resolve their recent (and ongoing)

security issues

. Although the financials of the deal were not disclosed, Keybase was

valued

at around $42 million in 2020.

Square acquired the omnichannel operations management company Stitch Labs and Verse—a peer-to-peer payment app for an undisclosed amount.

ServiceNow acquired Sweagle—a company specializing in data management for an undisclosed amount.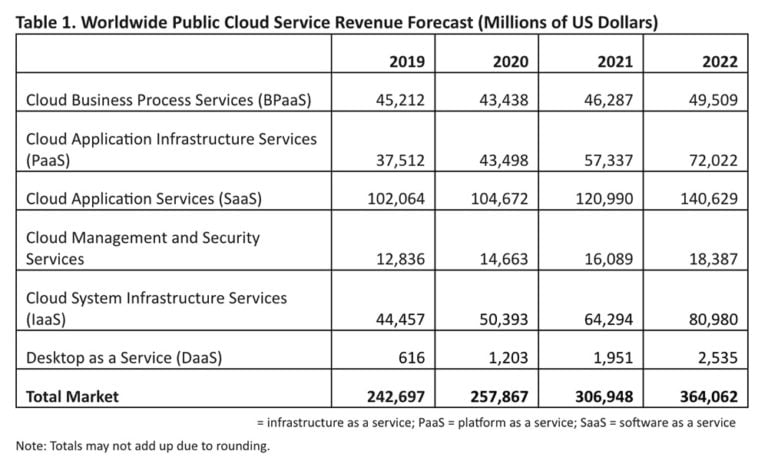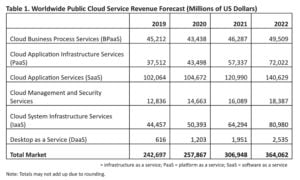 Important SaaS statistics for 2021
According to recent research by 99Firms, SaaS adoption rates have shot through the roof. Here's what they found:
73% of organizations will switch to SaaS solutions by 2021

85% of small companies have invested in SaaS software already

93%

of CIOs

indicate that they will soon adopt SaaS solutions

100 or more SaaS apps are used by small-to-mid-sized companies with more than 250 employees

25-50 SaaS solutions power smaller companies with up to 50 employees
As development companies increasingly switch to Agile and DevOps-driven development methodologies, they drive SaaS adoption and usage growth across the organization. Additionally, increasing numbers of useful SaaS products from SaaS providers for enterprises make it extremely easy for them to make the switch.
Why are companies increasingly choosing SaaS products?
All organizations value productivity, efficiency and high availability above all else in today's fast-paced world. Here's why they choose SaaS over traditional software installations:
Reduced deployment time for new and existing users goes down from few days to few minutes—now teams can instantly start working with the latest software.

Enhanced user experience—with requirements limited to a browser in many cases, you can use older machines for previously impossible tasks.

Seamless updates—updates are done to the vendor's software, and these updates are available for you in real-time. 
In short, Saas software helps to provide the necessary tools and functionality your team needs to ensure reliability, efficiency and a high level of productivity. This makes SaaS solutions a top choice for most organizations today.


The fastest-growing SaaS companies of 2021
Without further ado, here's my list of the top 7 fastest growing SaaS companies around us. Although this is not an exhaustive list, it contains tools that I use nearly every other day. 
Organizations, professionals, students and everyone else who likes clear, concise, error-free text love this small, simple tool. Grammarly is a world-class SaaS software that helps you to scan your text for mistakes on your phone, computer or tablet with ease. Grammarly has become so popular since its launch in 2009 as Sentenceworks that it is considered the go-to tool  for millions of writers, students, and professionals worldwide. Worth over $1 billion in 2019, Grammarly is one of the most popular Ai-driven SaaS writing tools ever!
Atlassian is one of the most well-known B2B SaaS companies. We use development and collaboration tools from Atlassian Corporation all day, every day! Considered to be one of the top SaaS software development, team collaboration and project management tool suites globally, Atlassian's portfolio includes tools such as JIRA, Confluence, Trello and many others that help developers and project managers get more done every day! What started with a $10,000 credit card debt in 2002 to form JIRA grew into a $29 billion enterprise in less than 20 years!
BambooHR replaces a whole sack of HR software and tools. Helping organizations manage teams and employees from hire to fire, BambooHR is one of the coolest SaaS HR software around. Offering a personalized, world-class user experience to managers and employees, BambooHR is an HRIS or human resource information system that helps manage all aspects of the employee lifecycle. BambooHR helps improve the overall hiring process, seamlessly onboard new employees, manage compensations, provide employee data analysis and develop company culture. Growing rapidly since they were founded in 2008, BambooHR now has over 11,000 customers from 100 countries globally. 
When we made our foray into ML for a client, the first software we stumbled upon was Splunk. Splunk provides software solutions for searching for, monitoring, analyzing, and interpreting machine-generated big data. Splunk has been growing rapidly ever since its inception in 2003, and YoY growth in 2020 stood at a staggering 100%
I've been using SurveyMonkey since I was in college. One of my favourite tools for research and analysis, I use SurveyMonkey's surveys for annual gift selections, figuring out the best outings for our employees and much, much more! With share prices trading 60% higher than its first IPO value, this $1.4B survey behemoth is showing no signs of slowing down since it first launched in 1999!
ClickUp is an all-in-one, highly customizable workplace productivity platform that can serve multiple departments in an organization. ClickUp helps teams at Volumetree to integrate all workplace applications on one platform, reducing time spent shuttling from one app to another.ClickUp has helped over 100,000 teams around the world save at least one day per week! Our marketing team deals with dozens of apps that are used by various stakeholders and they love ClickUp's intuitive, integrated interface that helps them save time, every day! Founded in 2017, ClickUp experienced massive growth and is now valued at $1 billion.
I love Canva. This fantastic SaaS graphic design tool has been around for 10 years! Canva has helped me create presentations and flyers in minutes rather than hours and has allowed me to send professional-looking graphics to clients without reaching out to my designer. Canva was initially rolled out to a select set of users in 2012 and grew to 150,000 users quickly. After their public release in 2014, Canva grew to 1 million users in less than 10 months, 4 million by August 2015 and reached profitability by 2017–a feat not many startups can match! Canva was worth $6 billion in 2020 and is currently valued at around $15 billion!
Although a list of the top 50 SaaS tools that I love to use would still not be enough to list all of them, I have listed those I use within 4 hours of starting work every day. As the SaaS industry continues its speedy growth and increases its user base with an ever-increasing number of organizations going the "remote" way, this growth seems to show no signs of slowing down anytime soon.
Top SaaS founders to watch in 2021
With companies that I love sorted, here are the top 5 SaaS founders that I follow and believe that they are driving innovation and business growth like none other:
Zeb Evans

created an app that is driving productivity levels of our marketing and sales team through the roof. In 2017, Zeb created ClickUp – an all-in-one, highly customizable workplace productivity platform that can serve multiple departments in an organization. ClickUp has grown by leaps and bounds and is now worth over $1 billion.

Dylan Field and Evan Wallace

are helping organizations imagine products better. Dylan dropped out of Brown University in 2012 and accepted a Thiel scholarship to pursue startup ideas with fellow student Evan Wallace (Evan graduated from Brown in 2012). Their idea turned into Figma—a web-based vector graphics editor and prototyping tool used by organizations the world over. Figma grew quickly after its public release in September 2016 and is worth over $3 billion today.

David Cancel

is a former CPO of HubSpot and a serial entrepreneur. With Drift, David is helping companies change the way they connect with potential customers. Founded in 2014, Drift has popularized conversational marketing for global organizations and made it to Gartner's top 50 enterprise software companies list in just six years.

Lyn Chen & Colin Chartie

r founded

LayerCI

in 2019 to create a DevOps platform that's as simple to use as Docker. Lyn and Colin knew that the future of DevOps depended on Docker, CI/CD, and full-stack preview environments.

Parker Mitchell

founded SHIFT as a digital coach for remote teams. SHIFT helps leaders to create alignment and connections within a company, helping them to evolve their culture. Parker knows what it takes to spearhead a digital transformation.

Chuhan Frank Q

is on a mission to help every community on this planet and beyond become self-sufficient when it comes to food. Frank is attempting to disrupt the home grow box industry and is set to put food on every plate.

Mike Wessinger

brought SaaS to the LTPAC (long-term post-acute care) industry with

PointClickCare

. He is a forward-thinking CEO who is set to change the way we see home healthcare for seniors.



Alexander Morsink and Ryan Correia

are changing the way startups get funding. Moving quickly as soon as equity crowdfunding was legalized in Canada in 2016, these visionaries are helping startups get access to crowdfunding so they can grow on-demand, fast!
Parting thoughts
With their tremendous funding potential and being the right product-market fit for our times, SaaS is here to stay. As industries struggle to get back on their feet, SaaS helps organizations reduce fixed software spending over the long-term maintenance and renewal costs. SaaS allows organizations to stay lean and only pay for the number of users who use their service, freeing up capital for growth.
If you have an idea about an innovative SaaS product or wish to launch a SaaS Startup, schedule a meeting with our SaaS experts today. We have years of experience building successful SaaS solutions for our clients and will help you get up and running—fast!