It was in April 1993 that I first walked into a clubhouse with a senior from school. We were both members of the local philatelic group and loved meeting like-minded people. I felt electric at the sheer number of Philatelists talking about and exchanging postal stamps, making me feel at home—immediately. I started visiting the clubhouse almost every Wednesday at 5 pm—which is when the philatelists met to critique, talk and exchange stamps. Life as I knew it couldn't be better.
The year 1998 came with a welcome change—I was introduced to the internet and to various bulletin boards where I could interact with thousands of stamp collectors from around the world. With the advent of social networking in the form of Yahoo! Chat, Orkut and Facebook got their own versions of clubhouse rooms, powered by text messaging, video chats and voice chats. I could now join dozens of communities –with one tap! 
Although social networking helped me find many friends and like-minded people over the years, it would also become cumbersome to filter out all the noise that persists in each online community in the form of meaningless posts, forwards and the obnoxious trolls, whose sole purpose in life is to make others miserable.
I heard about the Clubhouse app for the first time in October 2020. The idea of an app that can emulate an actual clubhouse was what drew me to it. While I was fishing around for an invite, I decided to read more about the app and how it came to be.
So what is Clubhouse anyway?
If you know who Elon Musk is and follow his tweets, you probably know what Clubhouse is. If you missed it, Clubhouse is an app that will let you listen to a live conversation and even be invited to participate—somewhat like an actual clubhouse. 
The fun bit is that just like in real life, these chat rooms disappear when the conversations end. In a nutshell, Clubhouse is an invite-only audio-chat social network. There are no photos, no videos (except profile photos) –just conversational topics that you can follow and listen to. Refinery29 describes being in Clubhouse as "like being at a party where you do not know anyone and you casually poke your head into conversations and chat with people around the room."
How can you join Clubhouse?
As the case is with a regular club, Clubhouse voice app currently only accepts people if they are invited by existing members. Clubhouse is an invite-only, Apple device exclusive platform for now. If you have an iPhone, you can download the Clubhouse app to reserve your preferred username. Additionally, you can join a waiting list for membership. Each member who is invited to join Clubhouse gets one Clubhouse app invite so they can get a member of their choice onboard.
How does Clubhouse work?
The principle of the Clubhouse social app is simple–it emulates conversations in a room where there is one speaker and others are either just listening or sometimes taking part in the conversation. 
The app lets you create and join rooms. When you create a room, the room name is added to a list of available rooms. People can then join the room by tapping on it. If you wish to talk, you can raise your hand and the speakers can then choose to invite you to take part in the conversation. 
Some background info about Clubhouse
Founders of Clubhouse social app
Clubhouse was founded by Rohan Seth – a former Google engineer, and Paul Davidson in 2020. Paul and Rohan met to discuss ways to raise money for a nonprofit foundation called Lydian Accelerator that would fund research for Rohan's daughter Lydia, who has a rare genetic mutation that causes severe mental and physical disability. This led to more frequent conversations between Seth and Davison, and resulted in the formation of Clubhouse. 
These two serial socialpreneurs have a total of 9 failed apps in their kitty but finally managed to crack the social graph with Clubhouse. Building upon their past experiments, Clubhouse finally manages to achieve a product-market fit. 
Before Clubhouse, it was Talkshow
The initial iteration of Clubhouse was called Talkshow, and the app could schedule and stream live radio-like programs. Hosts could broadcast their shows on Twitter in real-time and take questions from listeners. The intent of Talkshow was to make podcasting easier, but in Davidson's words, "It was not easy enough." 
Some axed features and further attention to detail resulted in Clubhouse. In less than a year, Clubhouse is now valued at over $1 billion, has over 10 million weekly active users and is the #5 most popular social media network app on the Apple App Store. Currently only available as an invite-only app on iOS, Clubhouse was downloaded over 2.3 million times in January alone.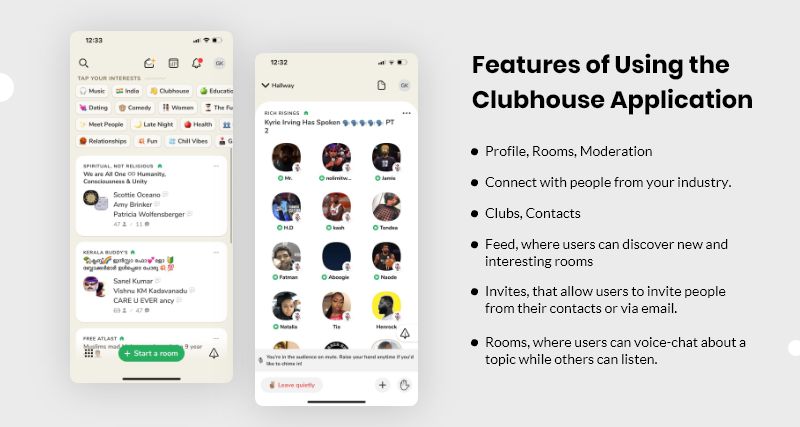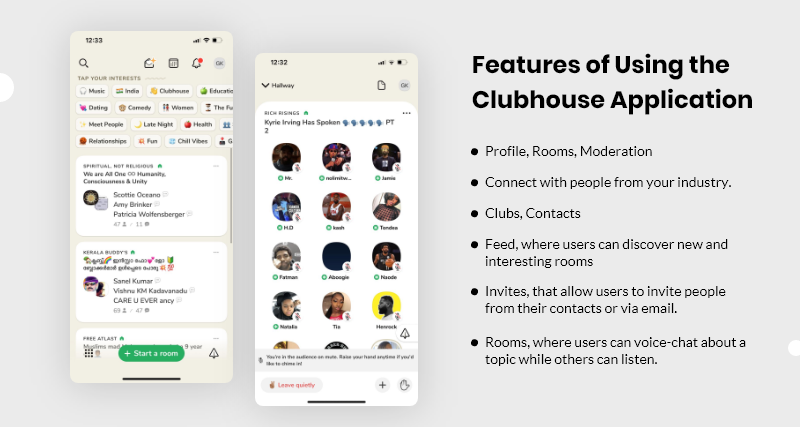 How did Clubhouse grow so much?
Clubhouse now has over 10 million weekly active users despite its Apple exclusivity and has raised $110 million in funding which included the purchase of Clubhouse app stock. The Menlo Park-based company now attracts celebrities such as Ashton Kutcher, Oprah, Drake, Mark Cuban, Tiffany Haddish, Elon Musk and many others including the tech elite of the world. 
A recent interview of Tesla CEO Elon Musk about cryptocurrency, vaccines and space travel on Clubhouse got the app's download numbers to surge up by the millions in a matter of weeks! As a fresh, new take on social networking, investors love the way Clubhouse works. 
How is Clubhouse different from other social voice apps?
Unlike other popular social networks or social voice apps, Clubhouse is an invite-only, (currently) iOS-only app whose rooms are not free-for-all. A major differentiating factor is that users get a chance to hear and even participate in conversations with famous and powerful people. According to Refinery29, Clubhouse social app owes its popularity to networking. This app gives people a chance to make personal and professional connections with the high and mighty while having a real conversation with them, which is unheard of on other platforms. 
Should you join Clubhouse?
If you manage to score an invite, love podcasts, love having conversations with strangers with a chance of networking—then our answer is a resounding yes!
How many users does Clubhouse have?
Nearly 10 million! Considering the fact that Clubhouse is an invite-only app, the numbers are both staggering and promising.
Is there an Android app for Clubhouse?
Not yet, although there is one in the pipeline. Clubhouse iOS app is the only available option for now. Clubhouse recently hired Mopewa Ogundipe, a well-known Android developer to create a Clubhouse Android app.
Who uses Clubhouse?
The celebrity list at Clubhouse is several toilet-paper-lengths long. With bigwigs such as Oprah, Kevin Hart, Drake, Chris Rock, Ashton Kutcher, Elon Musk, and many others, the app is a new business/play area for the Silicon Valley elite.
Clubhouse revenue and growth stats
Here are some statistics and some revenue information about Clubhouse growth.
Growth in User Base: From a mere 1,500 installs in May 2020, the app grew to a staggering 6,700,000 installs in mid-February 2021, and shows no signs of slowing down.
Search Interest: In the last 90 days, searches for Clubhouse app are up by over 3250%.
Star Ratings: Clubhouse has over 609,000 ratings and an average star review score of 4.77 on the Apple App Store.
Investments: Clubhouse has raised $110 million to date.
Valuation: $1 billion, making it one of the 10 fastest unicorns in the world!
Clones and similar apps:

Watercooler,

Discord, Riffr, Spoon
How does Clubhouse make money?
Clubhouse voice app is currently not monetized and is pre-revenue. However, plans are underway to roll out beta tests for monetization soon.
Clubhouse does not make money directly through its platform. They do not charge users or artists to join their platform, and neither do they serve ads. This makes Clubhouse stand out from other platforms such as Cameo, which charge up to 25% from each payment made. Clubhouse currently relies on VC money to fund itself but will soon need to find ways to monetize the app to survive.
Clubhouse recently introduced Clubhouse Payments, a creator-first program that helps creators on Clubhouse to receive payments from their audience. Users can pay creators through the "Send Money" button using their debit or credit cards. 100% of the payment received through Clubhouse will go to the creator. Every payment is subject to a processing fee, which will go to Stripe for facilitating payments on Clubhouse. Clubhouse will not retain any amount from these payments, helping to get creators paid directly.
How to use Clubhouse for your business?
Clubhouse offers businesses the opportunity to connect with others in their industry and to network with fellow business leaders. You can also use the platform to become a thought leader yourself. As a platform with low dilution and great reach, Clubhouse is perfect for marketers and those who can benefit from B2B connections. 
The human aspect of Clubhouse allows you to make personal interactions with your customers or followers. Clubhouse gives you and your followers a voice—although it can be moderated. Perfect for coaches, collaborative projects, content creators, virtual event community builders and trainers, Clubhouse offers a wealth of use cases for those who wish to leverage the app to their advantage in business.
Clubhouse Creative First—Helping creators showcase their talent to the world
On March 14th, Clubhouse announced a new accelerator program for a select group of 20 creators called Clubhouse Creative First. According to Clubhouse, "The goal is to help support and equip emerging creators with the resources they need to bring their ideas and creativity to life."
Clubhouse will select these creators through an application process (which closed on March 31st) and it will empower creators in many ways. These include sending them equipment if needed, providing them assistance in developing creative concepts, matching them with brands for opportunities to get sponsorships and introductions to guests. Additionally, Clubhouse will offer a monthly stipend of $5000 to the selected creators. Clubhouse has also made some updates to their app, and it now allows link sharing for profiles and clubs, language filtering and invites via phone numbers.
Why aren't (some) women happy with how men use Clubhouse?
Although most people on Clubhouse seem to be happy with the platform, Clubhouse's reputation as a haven for "tech bros" is set. Brand consultant Gabriela Cardoza told Marketing Brew that "I've been in rooms where I am in the speaker panel and I will get cut off [by bros]. I will get talked over [or] completely ignored. Ones where they will ask each other questions, clearly ignoring the fact that I am also there." 
Similar sentiments were echoed by Flexible Creative founder Kendall Dickieson who said that she has to "fight to get heard when it's all guys."
My take on Clubhouse
For a business professional, Clubhouse is the perfect place to meet other people for networking, and for a marketer, it is a great platform to improve reach and get a chance to network with the who's who of the world. 
There are few startups around whose evolution has become an interesting watch. Clubhouse is certainly one of them. With the world talking on or about it, Clubhouse is set to be the next revolution in the social networking game. For me—it is just a trip back to the time when I would waltz into a clubhouse near me to meet, greet and be with people who share the same interests as me.
Get the first-mover advantage. Bring your Clubhouse-like app idea to the market fast! Click here to schedule a meeting today!