Dubai, UAE: On 20th January 2022, Dubai Startup Hub named Tech Startup EduPloyment the winner of the Dubai Smartpreneur Competition 6.0 for prizes worth a total of AED150,000. The annual award recognizes talented founders from around the globe and promotes entrepreneurship in the Emirate.
Diwama– an AI-based image recognition software that automates waste analysis won the second prize. Soul Artists–a commission-free dedicated space for performing artists to manage their bookings and tap into a new pool of growing clients bagged the third prize in the competition. Previous winners include UAE-based startups ProvenMed and Callix and Swedish startup PlasticFri.
Mazen Omair was passionate about creating an app to help blue-collar workers develop English language skills and employ them in better jobs. And HE DID IT! He co-founded @PloymentEdu and was named 1st prize winner at our #DxbSmartComp2021. Hear more from him in this video. pic.twitter.com/EbKC8io9Iw

— Dubai Startup Hub (@DubaiStartupHub) January 28, 2022
The judges chose 10 finalist startups from a list of 30, shortlisted from 280 smart business solutions operating in trade, opportunity and sustainability. These 10 finalists made their pitch to an expert panel of judges, including Tomaso Rodriguez, CEO of Talabat; Mona Ataya, CEO of Mumzworld; Talal Bayaa, CEO of Bayzat; and Raja Al Mazrouei, Executive VP of FinTech Hive at DIFC.
Started in 2016, the competition is a key pillar of Dubai's entrepreneurship strategy. It aims to encourage innovation and entrepreneurship as the primary driver of Dubai and the UAE's economy. Smartpreneur has seen over 2,000 startups worldwide apply in its last six iterations.
H.E. Faisal Belhoul—the board member of Dubai Chambers, noted that 71% of submissions were from the UAE, 10% from South Asia, 7% from the Middle East and 4% from Africa.

Meet the Founders
At the helm of EduPloyment are its two founders, Mazen Omair and Rana A. Batterjee. They're challenging the conventional model of building a business by working for a positive impact. EduPloyment's mission is to uplift blue-collar workers from poverty by training and educating them for employment. And on the business side, providing companies with better-trained employees.
Mazen Omair is the co-founder and CEO of EduPloyment. He is a successful entrepreneur, a visionary leader, and a top executive with 30+ years of experience in leading $billions in operations. Mazen is well known for his integrity, initiative, and ability to transform teams.
Rana A. Batterjee is the co-founder and Chief Purpose Officer of EduPloyment. Rana is an expert strategist with 17+years of experience shaping the growth and management of companies. On top of her entrepreneurial feats, Rana is also an accomplished Audiologist.
EduPloyment uses technology to provide better livelihoods for workers and connect employers with trained talent. All this while creating a profitable business model.
The two founders got this idea while at a conference where they learned the concept of a purpose-driven business that solves a world problem while generating profits.

EduPloyment's Vision
EduPloyment is inspired by the idea of using web and mobile apps to uplift blue-collar workers and help them find meaningful employment while also providing employers a new avenue for hiring. Using an intelligent global online training and recruitment program, EduPloyment's mission is to upskill these workers with soft skills that provide them access to better jobs locally and abroad— creating social impact by uplifting their families out of poverty and providing better livelihoods.
The Problem
Team EduPloyment found that blue-collar workers were often exploited due to the following reasons:
The candidates could not access well-paying jobs

They lacked English language skills that are essential for most well-paying jobs

They did not have the funds to pay employment agencies for these jobs. This fee typically ranges between $900-$3,000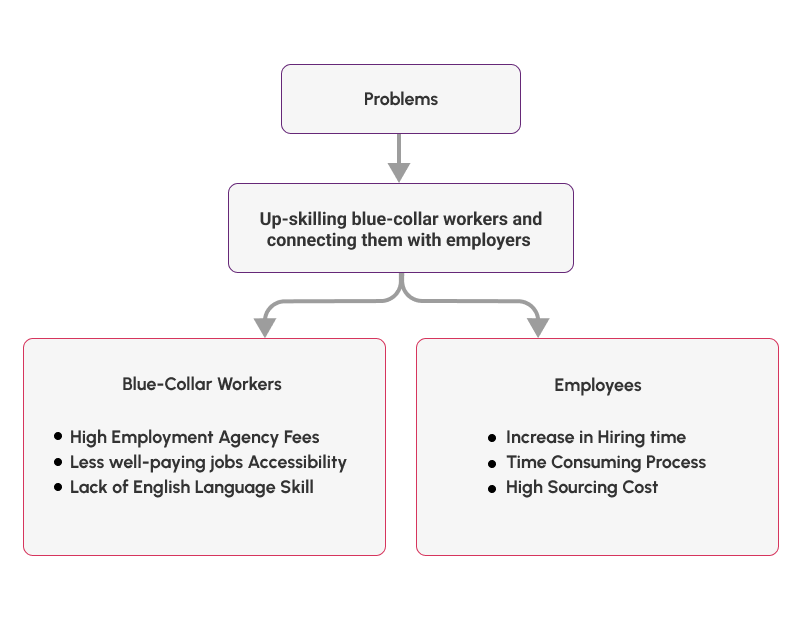 Additionally, EduPloyment noticed that employers looking for blue-collar employees were unable to get suitable candidates for the job. The reasons for this problem include:
Tedious, time-consuming processes for sourcing, interviewing and hiring blue-collar workers

Agencies provided scores of low-quality or unqualified personnel that further increased hiring time

High costs of hiring agencies that source these candidates

The Solution
EduPloyment leveraged the penetration of smartphones in underprivileged populations to deliver their solution and ensure that the right candidate applies for the right job.
To do this, they :
Use mobile apps to disrupt the nexus of recruitment agencies in the hiring process

Engage candidates in their native language to improve communication with them

Use simple techniques such as introductory videos and photos to speed up the CV creation process

Add English proficiency tests and personality assessments to create benchmarks

Use an advanced learning management system that interactively trained candidates in English, improving their chances of getting a well-paying job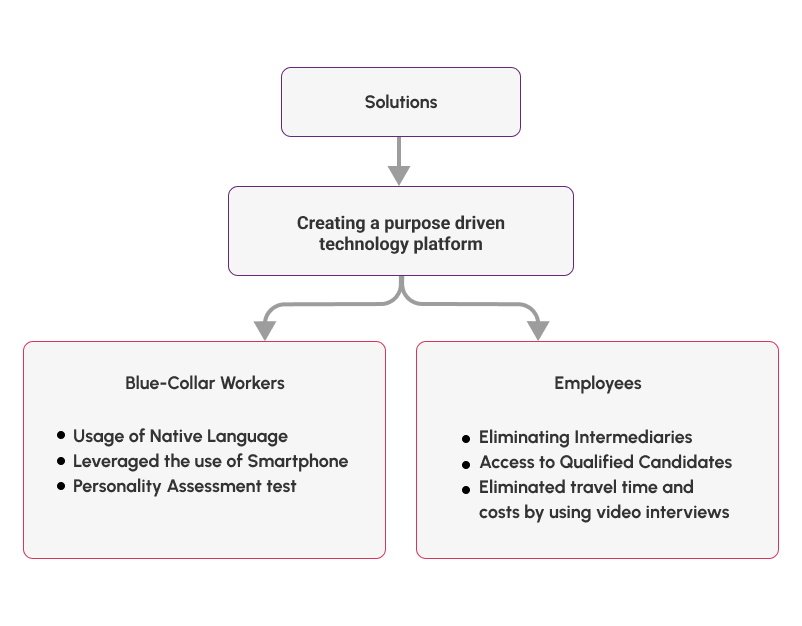 Their solutions ensures:
      Candidates

 save up to 80% in hiring costs by eliminating intermediaries and agencies from the process

     

Companies gain access to qualified candidates that fit their job roles perfectly

     

Eliminate travel time and costs by using video interviews
Creating a purpose-driven technology platform with Volumetree
EduPloyment partnered with Volumetree for their startup idea and our co-founders immediately connected with it. The concept was a challenge—as it was a new take on how organizations traditionally approached CSR (corporate social responsibility). They wanted to use tech to create a purpose-driven business that solves a world problem while generating profit.
Our MVP Development experts worked with EduPloyment to brainstorm and create a research framework to build their Android app and website. Both the app and the website helps blue-collar workers to quickly and easily perform the following tasks:
Learn about EduPloyment

Sign up with EduPloyment

Acquire language proficiency through modules available in the app

Create a CV and a self-introductory video

Get certified through EduPloyment

Perform a self-assessment personality test

Apply for jobs and take interviews online
We performed extensive research to ensure that the app was intuitive and straightforward to best suit the needs of its target audience. Our designer and development teams worked together to create an intuitive user experience that helped over 6,600 individuals successfully sign up for EduPloyment in just six weeks. 
Build Winning Tech Products with Volumetree
At Volumetree, we're thrilled to see our customers win. It showcases our commitment to quality, reliability, and building tech ideas for entrepreneurs worldwide. Millions of people use our apps and digital platforms every day to lead healthier lives, be more efficient at work, and create a positive impact on society.
Our teams tackle challenging aspects of building a digital product—and we never settle until we've transformed an idea into something truly spectacular.
Want to build winning tech products? Tell us your requirements – let's build together.