What, Why, and How of Dispo App – Instagram's New and Extremely Popular Rival
I absolutely love taking photos. When I was little, I was extremely fascinated with my uncle's Canonet QL-17 rangefinder camera and would often ask him to let me take a photo or two when he would come for a visit. My uncle would happily give up his camera which had a roll of slide film in it and let me "finish up"–which meant that I could use up the "remaining" photos from his roll. I would usually get the camera when it was at "23" or "30", which essentially meant that I would be able to take 3-6 photos from it. These photos were developed and "mounted" on slides in a few days, after which we would spend many hours going through them on his Kodak Carousel slide projector. 
I got the Canonet 28 as a birthday gift from my uncle when I was 15. However, his first gift for me was a pair of Fujicolor Utsurun Desu disposable film cameras that he bought for me from Osaka. 
Times have changed since the advent of digital and mobile phone cameras. Sharing photos is now easier than ever before with mobile phone cameras replacing rolls of film and a bagful of lenses. Editing is extremely easy too—with apps like Instagram, Huji Cam, Fimo and many others giving you an array of filters and options to choose from and an analogue film-like experience without worrying about parallax compensation and shutter-speed limitations of Copal leaf shutters. With Instant gratification and near-immediate uploads and shares, these apps are extremely convenient—but lack the "surprise" factor that comes with developing and printing film. They are, however, apps that make your photos look like disposables.
What is Dispo?
Enter Dispo—a new, Fuji Utsurun Desu emulation app that is inspired by physical disposable cameras. Dispo's tagline is "Capture and share moments", although the capturing and sharing comes with a catch—they emulate a disposable camera to the "T" by not allowing you to add photos that are not taken with the app or editing the photos taken with Dispo. Photos taken with Dispo app take a day to "Develop" or show up in your rolls.
For me, this app brought back childhood memories of using a disposable camera on nearly every trip until I could afford a "real" camera. Currently ranking at number 4 in the list of the most-downloaded apps, Dispo is a disposable film camera app that has created a buzz that is hard to ignore. 
In my opinion, Instagram, Huji, and other apps do provide a film-like experience, but they ruin their "emulation" of a disposable or a Polaroid by allowing you to edit these photos in-app.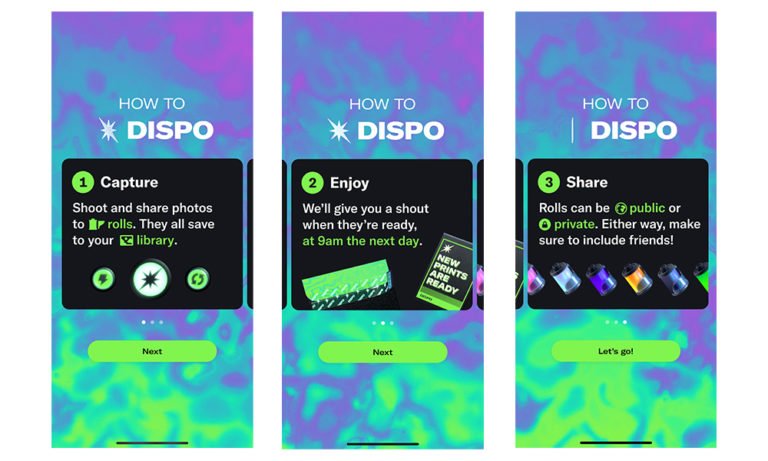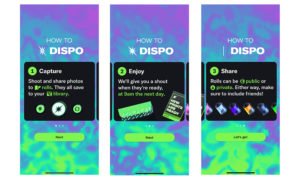 Who created Dispo App?
Dispo app was created by YouTuber and social media influencer David Dobrik in 2019. Dobrik is well-known for leading the Vlog Squad on YouTube. According to dot.LA, Dispo was originally called David's Disposable and is an app that looks like a disposable camera. What began as a list of photos called David's disposable Instagram has now become the most-talked-about app today.
What is David Dobrik worth?
David Dobrik is a Slovakian American actor, vlogger and social media personality who is worth $20 million. He has over 45 million fans and earned $16 million in 2020. 
David got the idea for creating the app after he saw his friends taking photos with real disposable cameras at a party and enjoying the result a day later when the photos were developed. In an interview given to the Wall Street Journal, David said that "With disposable photos, you're not sitting there and making sure you get the right photo."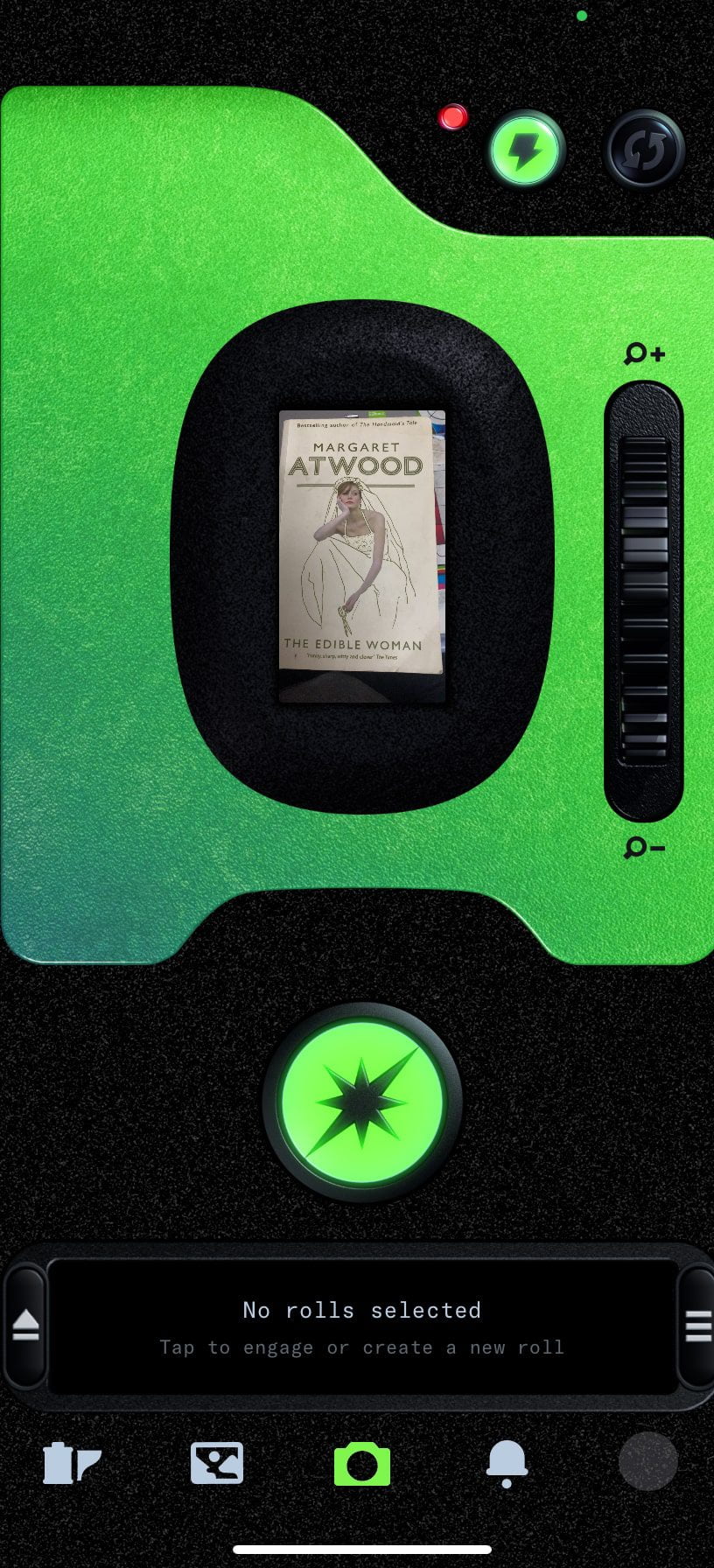 Why is the app so limited in the options available?
David Dobrik explained this in an interview with the New York Times. He said "When I used to go to parties with my friends, they had disposable cameras all over the house, and they invited people to take pictures at night. In the morning, they would pick up all the cameras, look back at the footage and say, 'What happened last night?'". 
Who is investing in Dispo?
Dispo app has already raised over $20 million in funding and is worth well over $200 million—despite the fact that it is an Apple-device-exclusive app that is currently invite-only. The initial $4 million for Dispo were raised in a seed round led by Seven Seven Six—a VC company led by Alexis Ohanian, the co-founder of Reddit. An additional $20 million has reportedly been raised in a Series A funding round led by Spark Capital.
How many users does Dispo have?
The moment Dispo or David Dobrik film camera rolled out the invite-only version of the app, the number of downloads hit the 10,000 user limit. Note that Dispo is a disposable camera app iPhone-only.
Who is team Dispo?
Dispo has an 8-member strong team. Here's the list
Chief Fun Officer – David Dobrik




The founder and the brain behind the app, David has spent many months pitching Dispo's concept to top investors. David has starred in "America's most Musical Family" in 2019 and currently hosts "Dodgeball Thunderdome" on Discovery.

Head of Brand – Natalie Mariduena




Natalie is David's childhood friend from Chicago. She is currently his executive assistant, helps with the hiring process and onboarding new members. She is also helping him to scale the growing business.

CEO – Daniel Liss




Daniel is a venture capitalist and the co-founder of Pilot Labs, which has invested in IAG Research and BeautyCounter.  Daniel was brought in to help raise capital and build a tech team.

Lead Designer – Briana Bhoka Hokanson




One of the three designers that build Adobe Lightroom, Hokanson is a well-known freelance product designer, graphic designer and illustrator. She joined Dispo after a VC messaged her about the job.

Backend Engineer – Regynald Augustin




A former Twitter engineer, Augustin handles all the backend infrastructure and is focused on building a good company culture. He wants to make Dispo a fun place to work in.

iOS Engineer – Malone Hedges




Hedges has worked in a video-based startup and is in-charge of all front-end development at Dispo.

Designer and 3D Animator – Michael Shillingburg




Shillingburg is currently building themed cameras and filters to add to the app. He was brought in by Liss, who was looking for a motion designer to join the team.

VP of Community – TJ Taylor




Taylor focuses on customer trust, safety, platform moderation and making sure that users feel welcome. He was previously the director of community development at the celebrity dating app Raya.
How does Dispo work?
That's the easy bit. Dispo, formerly known as David's disposable camera app has a very clean, simple, easy-to-use interface. On the top of the screen, there is a button to turn the flash on or off, and a button to flip the camera to take a selfie. The camera itself takes up most of the real estate, with the capability to zoom into the image being right next to the virtual viewfinder. Right under the camera viewfinder is a large shutter button that captures the image.
Under the shutter release button is a carousel that shows recent rolls, followed by four buttons that open your rolls, photos, notifications and profile. The photos that you take "develop" in your library and can be viewed at 9 am every morning.
Dispo's interface is clean, simple and emulates a disposable camera. You can also shoot and save photos into a roll that emulates film rolls which you can further categorize by theme. These rolls are made public the next day. If you do not like the sound of that, you can always upload everything to your library and add selected images to the roll of your choice.


What are rolls in Dispo?
In Dispo – also known as David's disposable camera, rolls are your gateway to photo sharing. You can invite people to these rolls, also allowing them to comment on them. Once your photo is public in a roll community, people can like them or comment on them, just like other social media apps.
How does Dispo earn money?
Dispo or David's disposable app is currently in a limited pre-revenue public-beta like Cameo and has no monetization options as of now.
Interesting read: Here's our founder's guide to creating a Cameo clone.
How can you get an invite for Dispo?
Dispo launched a public beta invite that was limited to 10,000 users and is not accepting new users as of now.
How is Dispo different from apps like Instagram?
There is no instant gratification such as in Huji or Instagram. You take a photo, you wait for it to develop and you cannot edit them in any way. Dispo is an app to make photos look like disposable camera prints. This is the sole reason why Buzzfeed calls Dispo the 'anti-Instagram' social network. It is an experience that is best described by the phrase "one-and-done".
How long does it take to develop an app like Dispo?
I wish there were an easy answer to this question. Usually, it takes about 4-5 months to develop, test and launch an app like Dispo. However, many factors can affect this timeline. Here's what can cause this timeline to slip:
Scoping and requirements analysis
An app with few basic features will take less time to develop than a large, fully-featured one. If your app has many features—say more than what Dispo currently has on offer, expect the timeline to slip by a month or so.
App design is a crucial aspect of developing a mobile app. As the first impression is often the last—user experience and user interface design can take up to a month—depending on the number of screens your app has.
It is essential to test an app before it is published. Test teams drive the app's functional requirements, test each build and the final version of the app extensively. Testing an app like Dispo can easily take up to 15 days.
Development takes the most amount of time, and this is where each aspect of the app is coded and put together. Apps like Dispo can easily take up to 2 months to develop.
In addition to those factors listed above, your app's timeline can be affected by factors such as changes in requirements over time, bugs in the code, user acceptance issues and funding. Ensure that you consider all these factors and discuss them with a good development partner such as Volumetree to get an informed estimate.
Can I create an app like Dispo?
Absolutely! Photo sharing apps like Dispo are trending and attracting immense investor interest. With over $20 million invested in Dispo alone and public beta invites flying off the shelf in under a day, the market, investors, and users are ready for a disruptive new platform like Dispo. Team Volumetree has years of experience in building disruptive apps like Dispo and can help you build an outstanding Disco app or David's disposable app clone.
Mobile app stores have thousands of photo-sharing apps available today, however, it takes a disruptor such as the Dispo app to shake up the market and bring something new to the table. At Volumetree, we love a challenge and building a disruptive app like Dispo is something that our team would be excited to help you with. Schedule a consultation with our team today!