Mobile app development is quite popular and doesn't show signs of slowing down anytime soon. The era of entrepreneurs is here where all you need is a great idea and the will to see it through.
A mobile application is where the buck stops, with everyone owning a mobile phone the audience exists, the key is to find a way to tap into that market. If you are a mobile app development company outsourcing is the way to go.
We are living in a digital age. Nearly every aspect of our lives including education, communication, travel, medicine has been digitized in some way or the other. This has been made possible by the mobile phone revolution. Ever since the launch of the iPhone in 2007, mobile phones have overshadowed nearly every other device by a considerable margin. It is estimated that by 2022, the number of mobile phone users will cross 5 billion. This staggering number is very close to the total population of humans on earth. With such a large user base, it is only natural that every company that is trying to engage its customer base must have a mobile app.
Options to hire a third party are plenty as the freelance model is thriving and rightly so, you could tap into the potential of millions of people without having to hire them. That's all the right resources on tap without the paperwork and benefits, the entrepreneurs are loving it.
Besides this, when it comes to mobile outsourcing the benefits are plenty from time economy, to abundant time for testing optimisation and shedding light on marketing and putting yourself out there where people can discover you. But how does one go about it?
So how does one go about creating an app?
Well, it is simple. You learn how to write complex code, put it together, test it on dozens of devices, future proof it, secure it, and Bob's your uncle! You have a mobile app! Sounds easy, dunnit?
OK, so how does app development work in the real world?
Mobile app development might sound easy, but is an incredibly complex task (or a series of tasks rather). Taking an idea and converting it into an actual, viable product is a daunting task and not everyone who is out to create an app succeeds in getting it to the App Store for people to download. Mobile app platforms like the Android Play Store and the Apple App Store have stringent guidelines regarding the design, development and deployment of apps, and this requires Divine Intervention, a team of skilled professionals to accomplish.
This sounds complex, time-consuming and expensive!
Well, yes it is if you plan to hire an entire team and do all of the dirty work yourself. Remember, Rome wasn't built in a day!
Is there another way out?
Well. Yes! Several individuals that do not have the budget or the bandwidth to hire their dedicated app software development team usually outsource this task to professional app development companies like Volumetree who can ensure that your idea can see the light of day.
Why should I outsource?
Well, because creating an app is complex, time-consuming and expensive! Duh!
Outsourcing the development of your app helps you be in charge. You can choose from a range of options and outsourcing does have many benefits compared to an in-house team. These benefits include:
Rapid development
A mobile app development company that you outsource your project to will have a large team of talented individuals at their disposal. These people work in tandem to ensure that your project is completed quickly and in time. As these teams are quite experienced, most people get what they need pretty much in time.
Multi-talented team
As mobile app development companies are used to handling multiple clients with varied requirements, they have a large talent pool of developers, testers, UX engineers and project managers who can ensure that you get what you want.
Pocket-friendly
App development companies have usually done all the groundwork, so you just need to pay for the project. Individuals are paid by the company, so you get the talent you need with no long-term commitments towards hiring a team yourself.
When you choose to outsource your app development task, you get yourself into a situation where you have more options than you can imagine, and not enough technical know-how to make the right choice. To know more, read on.
A couple of things to be mindful of when outsourcing mobile app development:
1. Identify pre-requisites: Clarity in thought leads to clarity in actions. Be clear of what you require from the mobile app development service provider. List down the things you want or if that doesn't come easy, focus and list down the don't instead.

That way the room for error decreases with every point on that list. Do some research if you are unsure of your pre-requisites. Doing so will open up a world of possibilities and help steer you in the direction of what works for you. When doing so, focus on areas that cover the basic questions of why, who, what, how.
Are you building up your first mobile app and want to check out some amazing features that your mobile app should have? then here is the perfect solution for you, click here. 
Why are you building the app? The rationale and function it provides, what is the end goal that it will serve?

Who is your potential customer base?

What is the USP of your app and how that helps distinguish it from others?

How do you want to market your app? Do you want to make the app free or paid?

Which demography you'll be initially focusing on (If any)?

How do you plan to make money from it? A.k.a Monetize or go home.
This should help you get started with the pre-requisites and you can build on them as you go down the path of entrepreneurship.
2. Information about the source : When looking for a third party to outsource app development to trust becomes key. The fact that you put your trust into them should hold value for them as well. One way to ensure that happens is by reading their testimonials. Look for someone with relevant experience that can come to your aid in your time of need.
Pay keen attention to the past work done by professionals and if that fulfills your app development requirements. Previous expertise in what you want to be done can be of tremendous help to both you and the outsourced mobile app development company in question.
It can lead as a guideline for starters and help you derive inference to the standard at which they work and if that is what you were looking for. Experience and expertise often go hand in hand and that's what you should keep an eye out for.
3. Enquire away: Don't be afraid to ask questions. Speak your mind and ask potential third-party collaborators the kinds of mobile app development services they have worked with. What do they specialize in? What is it that isn't their strong suit? What kind of time frame do they work with? Have they done creative problem solving for any of their previous clients?
This will help you test the waters before you dive in the thick of it.The right questions will get you responses that give you a glimpse of what kind of work you'll be getting. This can hold true in terms of work ethic and well as the quality of work behind that work ethic.
4. The outlook that's understood: Sometimes the reason behind a goof-up is the absence of distinct guidelines and expectations. Be extremely vocal about how do you want your end product to look and feel like.If possible give references to go with what you discuss, it helps as a great resource to fall back on for inspiration and understanding.
A better option can be creating a mind map and sending that across for reference so that all your ideas and thoughts are in a particular order and helps the people on the other end understand your flow of thought and how you want work done. It streamlines the work to a huge extent.
Before building up your mobile app you must jot down the points that you required in your mobile app. Want to know how? Here is the guideline for you. 
5. Get it on paper/ Map it out: Once all these discussions have been done and you feel that your ideas were well received request for a project plan.Doing so will ensure that no issues arise on a later stage besides having a timeline to adhere to.A project plan will help cut down a lot of back and forth that happens regarding the status of the project in question in regard to timelines.
It helps eliminate whatever communication gaps and confusions that infiltrate the in-person and telephonic meetings.Once there is a project plan in place that is approved by you there are minimal chances for error and sets the tone for a streamlined approach.
6. Leave room for creativity and discussion: We've talked about your end of the rope, it helps if there is space for creativity and what the outsourced mobile app development freelancer/ company brings to the table.Hear them out, they might have great insights about what you are seeking.
They could present options that could make your app a lot more than what you thought it should be. Since this is their area of expertise they could be aware of the on-going and dying trends of the trade and help you escape grave mistakes.
The aim is to build a user-friendly app that is used and liked by masses. Handing over the reins to your development partner will ensure a level of trust and ownership. This in turn will result in a response that is a lot more invested and immersed.
7. Feedback and regroup: Interacting and simply the exchange of ideas is by far the most under-rated aspect of this whole process. Find yourself a development partner who understands the importance of being responsive and engages in active discussions with you.
A lot of hazardous and messy work relationships emerge from erring to communicate in a timely fashion. It is imperative to be on the same page when working together, failure to do so, results in chaos and time being wasted. Find someone who is sure-footed, with a hands-on approach to communication. This will eliminate a lot of waiting around and guess-work.
Once you've walked through the steps that work as a wireframe when outsourcing app development. There are a couple of seemingly little details that act as the deal makers or breakers when hiring someone either a freelancer or a company as your development partners. A couple of them being geography, relevant experience, reviews and will they topple your budget?
It helps to get in touch with some previous employers and get a feel of their working process to understand if it matches your work rhythm. Familiarizing with their work process is a brilliant approach to building your relationship since it is key to how things will unfurl when the work is in progress.
Besides these details, some bigger cogs that help spin the wheel are excellence in craft or the freelancer or company. The same can be gauged from the portfolios shared by the potential development partners that come your way.
Read here to know some pointer to keep on your mind while reducing the costs of an ongoing project. 
Portfolios help in decipher weather the company or freelancer in question will be able to work through your requirements, taking into consideration the work done by them in the past. Once you've narrowed down your development partner the first step should be to discuss the scope of work with them in excruciating detail.
This clears things up in terms of work expectations, the process being followed and helps both parties get into a discussion about the project at hand. It is important that this initial conversation be put on paper in the form of points or as is.
This will act as a great source to get back to when looking for directional markers in the process, since your work may change hands through the course of time especially when hiring a company. Think of it as an initial brief that helps set the tone for the project.
Say your work was completed and the collaboration was a success. Ensure that your development partners is available post-launch of the app as well. Since you outsourced the mobile app development services any issues that show up later should be resolved at the earliest.
Keep this in mind when outsourcing app development. Failure to do so could cause a lot of hassle as well as tarnish your relationship with the clients in the question. It would be wise to create a clause in the contract signed by the outsourced mobile app development company that requires them to be available post-launch of the app they part-take in the development of.
You'll discover here that a company is better suited for such post-launch services since freelancers generally would have moved on to the next projects and would be faced with a time crunch when asked for the same. Hence, availability and services post-launch are key aspects when deciding on a development partner.

Advantages of outsourcing mobile app development:
Besides the obvious advantage of outsourcing is cost-effective. Outsourcing mobile app development services also boost the pace at which your app development is being done. This is because the paperwork is cut down in half as compared to the hiring process which can take a while.
During this waiting period, outsourcing gets a head start. The advantage of outsourcing mobile app development also results in the expansion of technology stacks and be on top of the constantly shifting demands in the area of computer languages and frameworks.
It is imperative for mobile app developers to stay relevant with the changing scenario and learn all the recent new-age requirements. This puts you ahead in the game when you've hired an up-to-date professional that knows their way around the promptly transforming technology.
An outsourced app development service provider brings not on expertise and efficiency but also a different point of view, an original way of thought and perspective. Then there is the biggest and the most practical advantage of outsourcing, budget-friendliness. Depending on the geographical aspect of hiring alone, the cost of mobile app development can be significantly brought down that could instead be used to invest in your business.
Outsourcing mobile app development to a company will help get your idea corroborated. Think of it as a test audience for your business idea. These people are experts in their field and have seen a lot of apps similar to yours take flight and make it big or bite the dust and they can guide you in a way no one can. So, listen with an open mind and be open to criticism, learn and grow from it.
A lot of startups fear that outsourcing is synonymous to loss in quality. This is based on a lot of factors that when pooled together make the idea of outsourcing look a little shaky, such as no face-to-face meetings and updates, discussions held in a time crunch, not a a great trust factor to begin with.
Knowing that an outsourced app development company can make or break your reputation with a client can put your on edge and leave you paranoid. But, you're looking at all the negatives here. Let us shed light on some positive aspects as well, the experience and expertise alone in an outsourced development company can help combat all your developmental issues.
Experience counts a lot and having dealt with multiple companies and confronting various problems help them handle your mobile app development project with ease.
Read here to know how you can implement an agile process for app development. 
To reinforce how important quality work is for you talk to them, hold a meeting and vocalise your fears and let them reassure you how they plan to handle your work, get down to the nitty gritty and discuss the challenges heading their way. Brainstorming and discussions will help you understand the way they think and tackle situations and could lead to a great insight that leads to mutual trust.
Staying on top of trends is key when hiring and sub-letting work. The outsourcing trends that have surfaced so far are Robotic Process Automation of RPA, Hybrid Cloud Platforms and last but certainly not the least security holding precedence over it all.
According to Forbes the amount of data being created every day is 2.5 quintillion bytes. Google on average processes more than 40,000 searches every second! These numbers and figures make security paramount.
Whom do I outsource my app development project to?
This is an easy one. You have three major options when it comes to figuring out whom to outsource your work to. Mobile app development can be outsourced to:
Freelance Developers

Mobile App Development companies

Buying an app off the shelf
Which option do I pick from these three?
Well, a comparison will help you decide. All of these options differ in cost, quality and what you get in the end.
Mobile app development companies
Mobile app development companies are a talent pool that can help you develop a mobile app and maintain your app in the future. These companies usually have a lot of experience in diverse fields and will have specialists for each task, ensuring that you get the best value for your money.
Here are the pros and cons of choosing a mobile app development company:
Pros:
A multi-talented group of individuals who are available at all times.

Are more professional in their approach and ensure that you stay on top of things at all times.

Can take care of your project in its entirety.
Cons:
They have their set ways of working and might not be very flexible.

Mobile app companies are usually expensive as compared to freelancers and off-the-shelf apps.
Freelance developers
Freelance developers are programmers who make apps on demand. They are experienced, know what your app needs and extremely cost-effective. Here are the pros and cons of choosing a freelance developer:
Pros:
Cheaper as compared to mobile app development companies

Freelancers also include some amazing programmers and may do a better job than anyone else

Are usually experts in their field

Are pretty flexible when it comes to changes and their mode of working
Cons:
Freelancers are usually a one-man-army and might cut corners

Their specializations are limited and every freelancer might not be the best choice for all aspects of mobile app development

There is no guarantee of the quality of work and not much protection is offered to the client when it comes to intellectual property rights and code ownership.

Most freelancers are not good at communication or meeting deadlines, especially across geographies.
Off-the-shelf Solutions
Off-the-shelf solutions are generic apps that can be customized by the user or the provider to ensure that it matches your requirements.
Pros and Cons of using an off-the-shelf solution include:
Pros:
Extremely low time to market.

Very low cost, the cheapest option of the three

Apps may have a rich pool of pre-existing features that you can add to your custom app.
Cons:
Might not be the best fit for your business requirements

Difficult for other developers to manage

Might have extra features that you do not need

Not very customizable

Slower updates as these are made to the entire system as a whole.
Choosing the best option for your needs depends on the complexity of the solution to be developed. If you wish to develop a relatively easy solution, then even a freelance developer will easily be able to create an app for you. However, if your app is extremely complex and needs a lot of work, hiring a formal mobile app development company might be the best bet.
Where do I find these individuals or companies whom I can outsource my work to?
There are many platforms and websites online where you can pick a development company or a freelancer according to your needs. Platforms like Clutch, Goodfirms, Upwork, Dribble, or Freelancer can help you get individuals and companies that are specialized in catering to your specific requirements.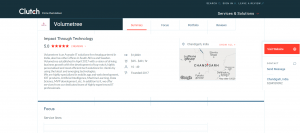 Does outsourcing my work impact quality?
Yes and No. With due diligence, you can ensure that you hire the right company for the job. Most outsourcing platforms have reviews and ratings that help you choose wisely. You may sometimes compromise on the cost and pick a cheaper company to work with at the outset or choose to give your project to a freelancer, but that can have its downsides. Companies like Volumetree are extremely professional and have created award-winning apps that are used by thousands of users around the world. Their product portfolio is extensive and filled with positive client testimonials that reaffirm trust in the brand.
Is outsourcing safe?
Absolutely. With outsourcing platforms like Clutch and Goodfirms, you can be assured that your development partner will be safe. There are, however, always some risks involved in outsourcing your project. These include the leakage of sensitive data or a difference in expectation and actual delivery. Choosing the right mobile app development company over the cheapest one will ensure that your product is safe, secure and trouble-free. Companies like Volumetree take customer security and safety very seriously. Their product development practices ensuring that the security and protection of the privacy of data of their customer and the users of the app are considered a top priority.
How much does it cost to outsource mobile app development?
If you want a one-liner as an answer, much less than hiring an entire software development team yourself. The cost of developing an app can vary greatly depending on the location of the company you outsource to, the complexity of the requirements, the features needed, the platforms that you wish to launch your app on, the tools needed to develop your app and so on.
As an example, agencies in the USA might charge twice as much as those in Eastern Europe or India due to the difference in wages in these countries. Developers in countries like India charge around $20 an hour compared to their counterparts in the USA or Europe, where the general charge is about $60 per hour. Similarly, prices for project managers also differ greatly depending on location.
To put this into perspective, here is how much it costs to develop clones of some popular apps:
Etsy: $100,000-$200,000
AirBnB: $150,000 – $200,000
WhatsApp: $60,000 – $80,000
Instagram: $80,000 – $100,000
Uber: $100,000 – $200,000
General business apps may cost between $5,000 to $10,000 to develop. Maintenance costs for these apps also vary between $5,000 to $8,000 per annum.
Outsourcing is a cost-effective solution to ensure that you can bring your idea to life. Outsourcing your project also gets you a large team to work with without the costs and hassles of hiring and nurturing one yourself. Outsourcing also helps you get the best minds to work for you and they can help you turn your idea into an app that is loved by millions around the world.
Companies like Volumetree have helped dozens of ideas come alive. Their streamlined application development and design services ensure that not only are you happy with the end product, but your end-users love your app too! Click here to contact Volumetree's sales team and showcase your idea to the world.