The coronavirus pandemic has hit the world hard. As economies continue to bear the brunt of this highly infectious disease and the resultant financial downturns due to the lockdowns, jobs have been lost, companies have been forced to shut and many of us face financial difficulties. As most of us have been confined to our homes since early March, we found solace in binge-watching TV shows and loading up on junk food. Those who were working from home faced increasingly long hours of work, forcing them to stay on their machines for never-ending hours, making it difficult for them to find time for themselves.
See also: Our guide to creating an app like MyFitnessPal
The coronavirus is an infectious disease that spreads from person to person and it heavily impacts those who have compromised immune systems. As we lead increasingly sedentary lives, our weight increases and stamina for physical activity decreases. This leads to lethargy and our cholesterol, blood pressure and blood glucose levels rise, lowering the capability of our body to effectively ward off diseases as our immune system weakens. This can also lead to severe health problems such as Obstructive Sleep Apnea, heart disease and type II diabetes.
The rise of the health-focused apps
The lockdown also led to the rise of a new breed of entrepreneurs—those that understood the health impact of the lockdown and the sedentary lifestyles that it led to. This resulted in the creation of innovative apps such as Cure.Fit, MyFitnessPal, 8Fit and many more. 
Cure.fit—an innovative take on health
From these, Cure.Fit has come up as a popular all-in-one alternative to the others by offering a holistic plan that allows individuals to indulge in physical fitness, mental well-being and order healthy food, all through one seamless, integrated platform. Cure fit is a combination of multiple health verticals that complement each other to guarantee the holistic well-being of those who use the app. This includes Cult.fit for physical fitness, Mind.fit for mental health, Eat.fit for eating healthier food. 
Cure.Fit leverages the power of AI that helps its customers meet their health goals. As gyms have shut and options to eat out are next to none, the best way is to stay home, exercise and ensure that your app helps you create a personalized, curated plan for a healthier you.
Fitness app market statistics
The world fitness market is witnessing explosive growth. It is estimated that this industry is slated to grow to $4 billion by the end of 2022. As people find increasing amounts of time on their hands, they have started to take up hobbies such as cooking, working out and other forms of fitness. This has resulted in a massive surge in the usage of these apps.
Creating an app like Cure.fit
Creating an app like Cure.Fit is simple. All you need to do is find the perfect development partner, get a great idea, and you're done. Oh, how we wish our life was as easy as this! So here is what is actually needed to create an app like Cure.Fit.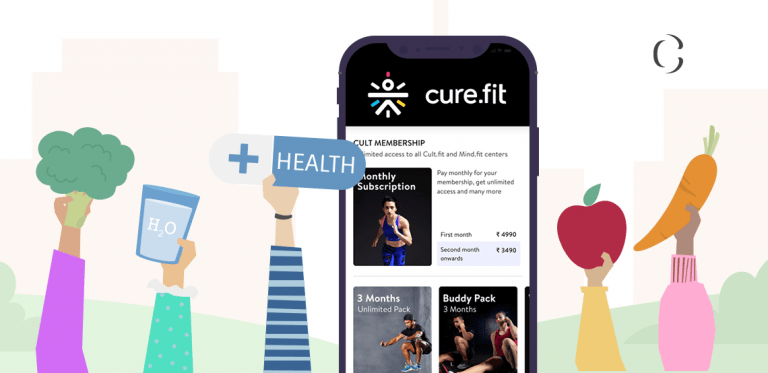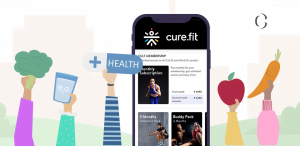 1. Feature set
Without a solid feature set such as Cure.Fit, your app does not stand a chance in the market. Here are some of the must-haves your app needs to make it in the fitness app market:
Without multiple activities, your app will not be picked up by a diverse set of users. Ensure maximum participation by including as many activities as possible.
Social media integration is important so that users can share their accomplishments with others and motivate them to join the fitness bandwagon.
Connectivity with other apps or wearables
With fitness watches such as Apple Watch, Android Wear, Fitbit, Huawei LiteOS, and many more, the world is now connected via wearables. Ensuring connectivity with these devices is a good way to keep the user hooked to your app.
Counting calorie intake and dietary suggestions are important as many who want to be fit would love this feature.
For those looking to get a good night's rest or to relax and rejuvenate, a mindfulness option would go a long way in ensuring that customers stick.
Consultations with wellness experts and doctors
Ensuring expert advice and consultations with medical experts is a good way to ensure that you offer holistic well-being services on your app.
2. Team members
As with any app, creating a fitness app requires the following team members to ensure that your app is well made:
Project Manager: 1

Backend Developers: 2

UX/UI Designers: 1

Frontend Developers: 2

Android App Developers: 2

iOS App Developers: 2

QA Team: 2 
In short, an 8-12 member development and testing team is required to ensure that you are able to develop an app that meets all app store guidelines and is good enough for customers to trust.
3. Time
Every app requires time to build. For a large project such as a mindfulness app, the actual time to roll it out to the market will depend on your chosen feature set. With the features mentioned above, here is an approximate idea of how long developing and testing the app should take:
Business analysis and design prototyping: 60 hours

Design: 80 hours

Development: 400 hours per platform

Back end development: 400 hours

Testing: 80 hours
4. Cost
The most important factor here is cost. The hourly development rate for apps such as Cure.Fit can range from $25 to $35 per hour, depending on the features, services, and your development partner. With all these features, you can expect your costs to be around $40,000 – $80,000 per platform.
5. Development partner
This factor is even more important than the cost of the app. Finding the right development partner can go a long way in ensuring the stability, quality, and user acceptance of your mobile app. Partners such as Volumetree have years of experience building world-class apps for customers around the world. With their extensive experience and technical acumen in nearly all development platforms, Volumetree is the right partner for your application development needs.
Cure.fit recently rebranded its app to Cult.fit. They undertook this rebranding effort to keep the app terminology in line with their range of fitness centers across the country. As customers already resonated with Cult.fit, it seemed natural to rebrand their app to make it into one seamless, integrated brand.
Cult.fit recently acquired a California-based personalized at-home fitness company called Onyx. This acquisition will help Cult.fit to boost its local and international portfolio. Cult.fit also rolled out its telefitness service that includes full-body checkups and personalized health plans to boost their revenues, capitalising on their customer's focus on their health.
If you are looking to develop an app like Cult.fit (Formerly Cure.Fit), look no further. Contact Volumetree today to help you turn your dream into reality.