As all good Minimum Viable Product (MVP) articles start with a story, so will this—but a different one. A story about how two broke guys decided to rent out their living room for some cash…wait! Not that one.
OK, how about this—a guy wanted to buy a pair of shoes but was lazy and could not find them at the store closest to his home—OK, not this one either!
The problem is that most great startup stories have already been used to start blogs about minimum viable products all over the internet. We decided to do something different. We'll go with your story—the story that you will see bloggers write about in a few years, and you can enjoy reading it on a nice spring morning with a hot cup of tea and a sandwich.
 But—first things first. What are we writing about?
 MVP – or a minimal viable product.
 This brings us to the first question that will help your story take shape:
What is a Minimum Viable Product
or MVP?
A little history lesson to make this easy to understand for everyone. In 2011, Eric Ries, an author, entrepreneur, and Yale alumnus wrote a book called The Lean Startup. In his book, Eric popularized many new concepts and the core tenets of one of these concepts was an answer to this question:
 "How can we learn more quickly what works, and discard what doesn't"?
 The answer to this question is in another question:
 "Should this product be built?"
Knowing whether a product needs to be built or not means that you have figured out the problem that needs to be solved. The next logical course of action is to develop a minimum viable product or MVP to begin the process of learning from that product as soon as possible.
What does MVP mean in business?
In short, an MVP is a minimalistic product that will cover all the fundamental components and features your product needs, to satisfy your end-users. This also means that an MVP will solve the immediate problem that you have recognized, without breaking the bank. 
The best bit about an MVP is that it lets you do big things while being less wasteful—sort of like eating an orange instead of juicing and using the peels to flavour a cake.
 Now that we have defined what an MVP or minimum viable product is, we come to the next question:
What kind of businesses require an MVP?
 Well – all businesses do—unless you are sitting on piles of burnable cash and want to deliver a near-perfect product to your customers who are just sitting around waiting for you to launch something new. 
To put this into understandable numbers, nearly 70% of startups fail due to many reasons including simply running out of funds.
 Most businesses that we take for granted today, such as Uber, Airbnb, and many others were MVP startups at one point in time. Uber started with 3 cars, Airbnb with a living room and an air mattress. 
These businesses saw a problem and decided to solve it with a minimalistic product, and then used the learnings to improve and reach where they are today.
Some other extremely popular MVP examples include:
Amazon

Facebook

Instagram
Top MVPs that succeeded in the long-term
Here's a list of successful MVP products that I still use nearly every day
Twitter

Dropbox

Uber

Basecamp

Groupon
 This brings us to our next question:
Why is it important to build an MVP?
The purpose of building an MVP is the most important reason for you to build one. An MVP will help you quickly turn your idea into an actionable product on a shoestring budget. This will also help you collect user feedback to add and improve future iterations of your product.
An MVP will help you find the right balance between what your users need and what your business can offer. This also reduces the chances of failure. CBInsights recently analyzed the reasons why most startups fail.
How to avoid MVP failure
Building a perfect product
Although the idea sounds amazing, wasting too much time, energy, and resources on your MVP can drive your focus away from the actual product. Build a cart first. The Rolls can wait.
Oversimplification
The exact opposite of what we mentioned above. If you're building an IoT-enabled device, you must ensure that it can communicate with other devices before showcasing it to customers. In short—ensure viability and do not just toss out a mockup.
Taking shortcuts
Messing with the process can lead to failure. Even though an MVP is a basic product, it must be well-thought-through and requires planning, organization, and prioritization. Start small, then add functionality based on prioritization and importance.


Not gathering user feedback
The success of your product depends on the people who use it. Take into account the views, opinions, feedback, and requests of your customers. Add the features people need, remove the ones they do not, and use the results in future releases of your product. The success of your MVP is reliant on how well you implement user feedback.
Making an irrelevant solution
If you do not research the market well, you might end up with a dud that no one wants—remember Juicero? A thorough market study and understanding of the use-case of the product you intend to build is a good way to start.
What are the benefits of building an MVP (Minimum Viable Product)?
If proving the fact that your product is relevant to your target market is critical for success, then an MVP is the first stepping stone for you. Here are some of the benefits of building an MVP:
An MVP saves time and money: You can focus on your idea and add the most important features that your product needs.
MVPs maximize efficiency: You build, measure and learn and loop. It's simple, efficient, and fast. You build a product, launch it, then analyze the reactions, responses, and behaviours of your customers against the product, and learn whether to keep working on or pivot the idea.
You can secure your initial investment: You spend a small subset of your seed funding in developing an MVP. This puts you in a good financial position to stick around for adding subsequent user-requested features.
You get instant feedback from your users: You get near-instant feedback as people download and use your app. Use these to improve your app incrementally.
You can perfect your product before launch day: Your launch day can go by without

surprises

. You will have a well-polished product that will make investors and customers happy. Oh, and you will soon find bloggers writing about your story in their blogs.
Data shows why MVPs have a better chance of success than a full-blown product:
42% fail simply because there is no market need for them.

17% fail because they have no business model

13% fail because of disharmony amongst the team and investors

7% fail because they failed to pivot
 All of these numbers showcase that MVPs that follow the build-measure-learn-loop approach are majorly successful in the long run. They can pivot, validate, learn, eliminate uncertainties, and creating order from chaos.
Who can build an MVP for you?
You can either build an MVP in-house, turn to expert freelancers or look for a great software development company with experience developing MVP agile products.
In-house development usually suffers from a lack of insights because you need experts who know how to build digital products.
Finding a freelancer can be tricky because what is showcased by an individual might not be what they can do on their own, along with the added reliability issue. 
Software development companies such as Volumetree have years of experience helping people build MVP solutions and then nurturing them to success. These companies usually know what to do and have the workforce that can transform your idea into a product.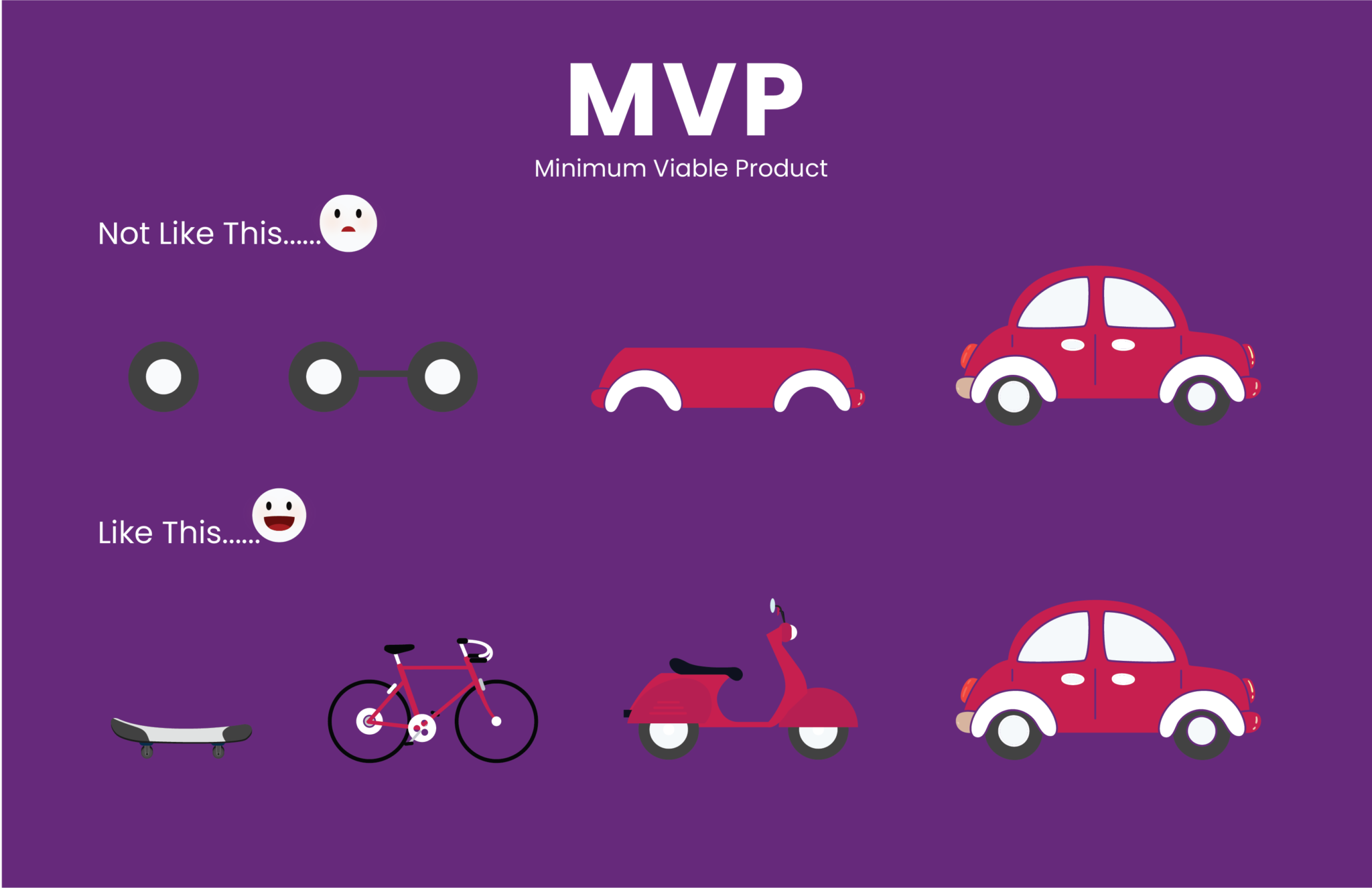 How to Build an
MVP
– A 5-Step Roadmap
The Minimum Viable Product development process is more about the approach than the process itself. An MVP development process takes into account the creation of a new product with some core functionalities and essential features that help you to test how your target audience will respond to it. This approach then helps you to build an actual product after you have iteratively improved your MVP to match customer expectations with user feedback.
In the words of Eric Reis; "As you consider building your own minimum viable product, let this simple rule suffice: remove any feature, process, or effort that does not contribute directly to the learning you seek." We decided to put all our learnings here so you know where to start and what to expect.
Effective market research
Effective market research is the #1 tool that will help you build a successful product. This will help you define the reason why you're creating your MVP. Here are the top 5 constituents of effective MVP market research:
 Problem analysis: Look for the problem you intend to solve with your product. Identify gaps in existing solutions that your product will fill. This will also help you define the future of your product.

User persona analysis: Know who you are building this product for. Knowing your future customers well will help you get better insights.

Determining the need: Check if your product is needed. A survey is a great way to know if the problem that you've identified and the solution you propose have an actual need or are people satisfied with what they have, rendering your product useless at the outset.

Know your competition: Check your competition well to know what they are doing. Find out why they are successful and how you can improve.

Know the standout features: Know what will make your product stand out from the crowd.
User flow definition
Get into your user's shoes. A user flow definition will help you understand how your product will be used by the end-user. If we take Amazon's book purchasing flow as an example:
Find the book

Choose a seller based on price

Pay

Rate the product and the seller

A user on Amazon would come to find a book (or any other product), look for the cheapest option, purchase the book, and rate both the product and the seller at the end. This 4-step process is your user flow. You can now think of how this can be improved based on market research.
Choosing features
Listing and prioritizing features from the user flow is an important step. Start creating lists of features that will work well at each stage in the flow, and by the end of this exercise you will have created two distinct lists:
Essential features for core actions

Add-on features
These lists will help you add features to "must-haves" and "nice-to-haves" along with their priority and impact levels. 
Developing your MVP
Once your diligence is done, you need to start developing your product in the most convenient, cost-effective and efficient way possible. The best way to do this is to find an MVP development company like Volumetree that can help you get more done with their expertise.
Developing an MVP depends on the approach that you choose. Some popular approaches to MVP development include:
EVP or exceptionally viable product: This version is very close to the final version of your product.

MLP: The minimum lovable product that can delight your audience with an amazing user experience.

No-product MVP: Creating a blueprint of your idea, similar to the approach that Groupon took.

Single feature MVP: Launching an MVP with just one feature that your users need.

User Feedback
User feedback is an important aspect used by MVP development company and clients to ensure quality of the product. This step helps you in ensuring that you follow the build-measure-learn loop and create an outstanding product with the features that your customers need.
Validating your Minimum Viable Product
Validating your MVP is an essential exercise to know whether it fits all the parameters for your amazing story, or if it falls short of expectations. Here are 5 great ways to test your MVP and know if your MVP will do well in the long run:
Ask your customers:  Asking your customers using surveys is a great way to get feedback about your MVP. Listen to their problems and gain insights about how you can make your product better. Feedback from users can be taken in the form of bug reports, feature requests, questions, and reviews. Additionally, feedback that you can ask for such as NPS (Net Promoter Score), in-app ratings, onboarding feedback, etc can help your product get better with each iteration.
Create an explainer video: A video that explains your product to your target audience is a good way to engage your audience and see if your product will resolve their pain points. Additionally, explainer videos can also help in user onboarding by giving them a virtual tour of the product.
A/B testing: This method will help you figure out if a particular version of your MVP was more effective and provided more value than the other. You can choose the best out of these versions to increase user adoption rates.
Pre-orders: Pre-orders help you to present your product to potential customers and make them pay beforehand. This is the biggest testament to your product's need in the market. If your pre-orders close quickly, you're on the right track.
Crowdfunding: Platforms such as Kickstarter offer an amazing crowdfunding platform to fund MVPs. You can 

develop a product using your funds to gauge user interest. This will help you raise funds and launch a better final product.

Now to answer one of the most important MVP questions for entrepreneurs.
How much does it cost to build a Minimum Viable Product?
The whole point of building an MVP is to save on costs while delivering an acceptable product. Your MVP development cost depends on multiple factors and can vary greatly. These factors can be controlled with effective MVP product management. 
Here are 5 factors that influence the cost of your MVP include:
Tech stack
Finding the best tech stack for your MVP is essential. If you choose a tech stack of MVP for software development with a high initial cost, the cost of your final product can escalate, making it difficult for new users to adopt it. Additionally, an expensive tech stack will also burn your funds faster as you struggle to find users. Choosing the best tech stack that represents an optimal cost-feature balance is essential for your product's success.
Development time
The faster you can get your product to the market, the better it is for your startup. Early adoption will also result in a higher ROI for your MVP.

Analysing the development cost of an MVP is difficult as the requirements for your MVP may change throughout its development process. However, we've put together the development timelines for some basic standard features of a mobile app. You can use this to estimate the number of hours required to develop your application and use the going development rate to get a ballpark figure of your MVP development cost. 
Note that these costs and timelines may change as these features are added and removed from your MVP.
Today, most apps require user registration and profile management to provide better analytics, track their activity, and curate offerings tailored to the user's needs.
Design time: 10 hours
Backend development: 20 hours
Front-end development: 40 hours
If your app has third-party vendors, it is essential to create vendor profiles and vendor registration pages.
Design time: 10 hours
Backend development: 15 hours
Front-end development: 30 hours
eStore and shopping carts 
If you have a service or a product-based app, it is important to add an eStore and shopping cart functionality so people can shop for what they need.
Design time: 7 hours
Backend development: 15 hours
Front-end development: 20 hours
Payment gateway integration
eCommerce and eStores require payment gateway integrations to ensure that users can pay for products or services online.
Design time: 10 hours
Backend development: 15 hours
Front-end development: 15 hours
Push notifications are essential to send status updates, new service or product messages, payment reminders, etc.
Design time: 2 hours
Backend development: 35 hours
Front-end development: 30 hours
Search functionality is essential if you are trying to find a product or a service.
Design time: 12 hours
Backend development: 15 hours
Front-end development: 35 hours
Tracking and map integration
If you are providing a service or a product, users should track its progress with ease.
Design time: 5 hours
Backend development: 15 hours
Front-end development: 10 hours
Analytics are essential to gather product usage metrics and find areas of improvement.
Design time: 15 hours
Backend development: 35 hours
Front-end development: 25 hours
Users need to be able to contact the developer or the platform owner. Contact screens and feedback sections act as a customer touchpoint and an information-gathering tool.
Design time: 5 hours
Backend development: 8 hours
Front-end development: 10 hours
To estimate the cost of your app, just add the number of hours listed here and multiply it with the hourly rate of your development provider. If your hourly rate is $50, an app with all the features listed above will cost approximately $100,000 to build.
Note that these costs may reduce or increase depending on the number of features you need in your app.
In addition to those listed here, you can have dozens of features that may require an in-depth analysis before providing you with a time estimate.
Complexity
The feature set you choose for your MVP will define its complexity. An MVP is essentially the simplest functional product that you can deliver to your customers. Adding too many "nice to haves" will increase development time and costs.

Design
The UX or user experience of your MVP is often the most important aspect of your product. No matter how feature-laden your product is, bad UX can cause high abandonment rates if the users feel that the product is too complex or difficult to use. As most of the products created today are highly interactive and intuitive in nature, users expect the UX to be outstanding. 
Your product's UX design is going to play a big role in how people use your product. If your UX isn't clear, well-structured, and designed with user personas in mind, you may have trouble getting people to use your Minimum Viable Product. Bad UX will also increase your design and development costs. 
An ill-designed product can often use more screens or views than necessary, raking up design and development costs. Additionally, reworking the UX of your product means that you will spend additional hours redesigning and reimplementing the UI elements. Example: A UX error in your product will get designed and coded, eventually requiring you to fix not only your UX, but the design and code that is based on this UX error.

Geographical location
The development provider you choose will determine the final cost of your MVP.  To put things into perspective, the average cost of hiring a provider in the US ranges between $120-$150/hour. A developer with a similar skill set in Eastern Europe may cost between $25-$50/hour and a developer in India may charge as low as $15-$25/hour. 
Startups don't always have the budget to hire an agency in the US due to high costs, that's where you can leverage the low-cost agencies from India – who usually do the same work for less.
To put this into perspective, developing an MVP app like Amazon could cost somewhere between $30,000 to $120,000 depending on the location of your development provider and the feature set.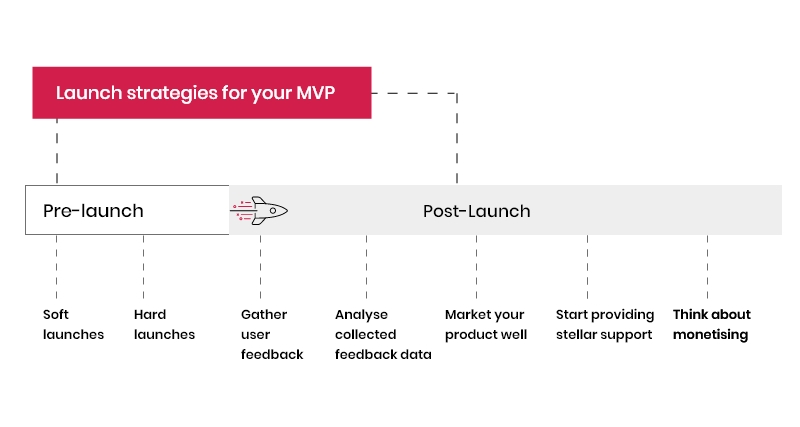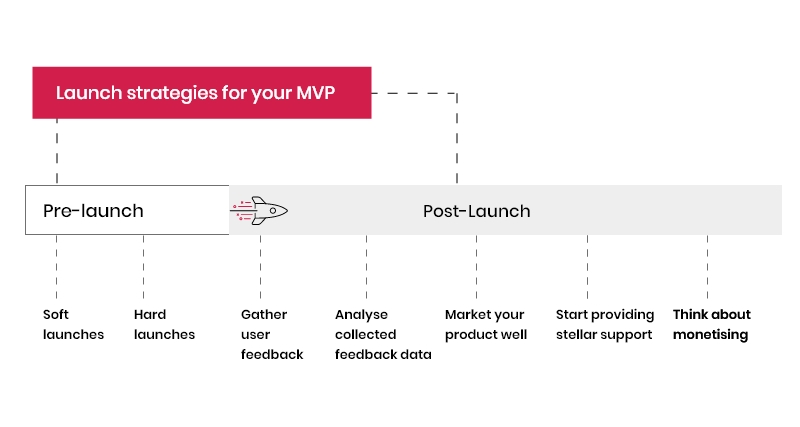 Pre-launch strategies for your MVP
All the eggs are in the basket, and it is time for your MVP to say hello to the world. But wait—have you decided whether you want to do a soft launch or a hard launch? Are these terms making you feel lost? Don't worry. Read on to know more about effective pre-launch strategies for your MVP.
Soft launches are great. You get to release your product to a select target audience. You reduce the risks connected with a full-fledged release, and these early customers or early adopters can test your MVP for you before you hit the market. Here's why a soft launch is suitable for an early MVP:
To get valuable customer feedback

To test the viability of your MVP and the possibility of its monetisation

To understand the willingness of your customer to pay for your MVP
In short, a soft launch pertains to a specific set of people getting exposed to a set number of features of your MVP. 
A hard launch or a full-fledged launch riddled with media coverage and advertising is for nearly finished products. A hard launch will create that first and final impression of your product. If it is not as polished as it should be, refrain from a hard launch. If you're a startup, concentrate on your soft launch to see how your product is doing.
Pre-launch strategies for MVPs include brand-building and buzz-building activities. These include:
Getting a domain for your product and setting up a URL and a logo

Creating a storefront and getting adequate stock (if applicable)

Setting up analytics and actionable metrics

Creating an informative, interactive website along with a press kit and your brand story

Driving traffic to your homepage

Starting a blog and posting valuable content

Building your domain authority using backlinks

Getting in touch with influencers and publications
These pre-launch strategies will help you set up an analytics architecture, build your brand name, and create the buzz needed for a successful launch.
Effective post-launch strategies for your MVP
Now that you've successfully launched your MVP and all has gone well, it is time to pop that bubbly and celebrate, right? Well, no. The launch isn't the end of the road for your MVP—it is the beginning of a long and arduous journey to create better versions of your product. You must create a solid post-launch strategy for your MVP because things will be interesting once your product goes live. Here's what you must incorporate into your post-launch strategy:
The best way to know if your users liked your MVP is to gather reviews and ratings. Reviews and ratings from first-time users are an excellent way to gauge where your MVP is going. You can use welcome emails, live chats, in-app messaging, customer surveys and many other ways to gather user feedback.
Analyse collected feedback data
Analytics can provide you with many insights about how your app is doing and how well are users taking your MVP. Here are the data points that you must include in your post-launch data collation strategy:
Installation count

Active user count per day, per week, per month

Churn rates

Session duration

Sales (if any)

Customer satisfaction ratio on tickets

Product engagement metrics

CAC or customer acquisition cost

CLV or customer lifetime value
With just these two steps, you can gather enough data to create a roadmap for future development. 
Once you launch your MVP, you must market it to the world. You can now use content marketing, customer showcases and user videos to spur growth further.
Start providing stellar support
Your MVP might have some teething troubles. Providing stellar support to new users is a great way to ensure that users stick. Additionally, timely maintenance and customer support will ensure that your customer satisfaction ratio soars.
Once the MVP is out of the door, it is time to think about making money from it. You can try introducing freemium features, ads or other strategies that you have finalised to monetise your app.
Final thoughts
As you can see, starting your entrepreneurial journey with an MVP is the way to go for most of us, and also makes for an amazing founder's story later.  It is important to understand that the first product that you create might not be perfect—which is what the MVP approach is all about. As long as your MVP meets the needs of your target audience, you're golden. 
You learn, iterate and create an outstanding product for your end-users in subsequent releases and integrate them in style in your final product. At Volumetree, we love and cherish the entrepreneurial spirit and will stand by you every step of the way. As entrepreneurs ourselves, we understand the market and have the tech talent required to build a stellar MVP for you.