I first used a SaaS product without even knowing it! I was an intern in a software company and visited one of our clients with my project manager. When I got back, I entered all my expense receipts (travel, food and other expenses) into a software called Concur. As an intern, I focused on my day out, but as our company started to develop its first SaaS application, it dawned on me that Concur was actually the first SaaS tool I ever used—and the first SaaS application in the world! Today, over 70% of all applications used by companies are SaaS-based—making them essential for business growth and agility.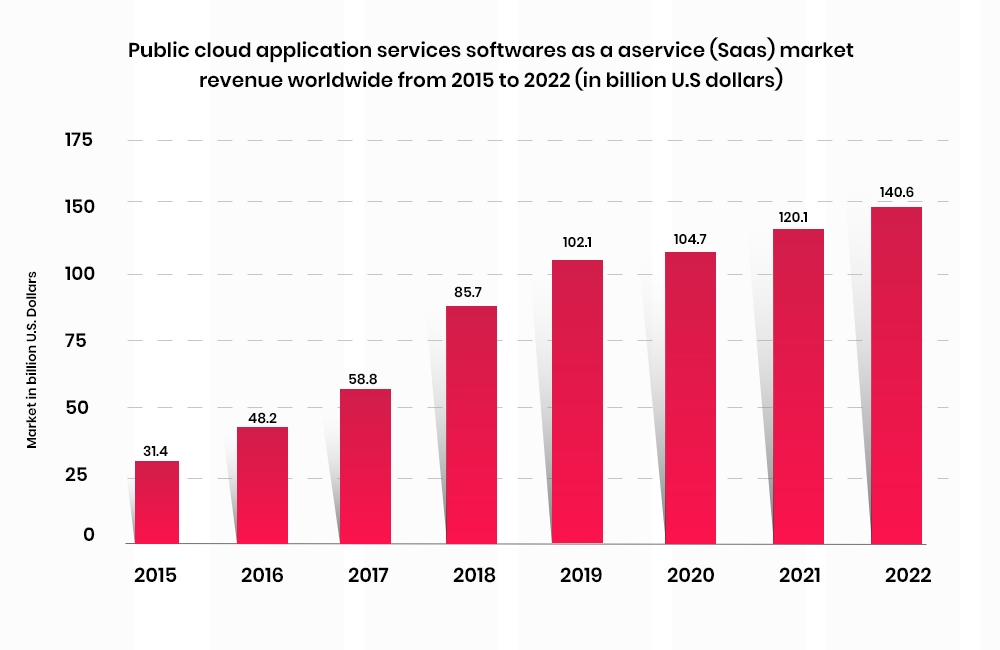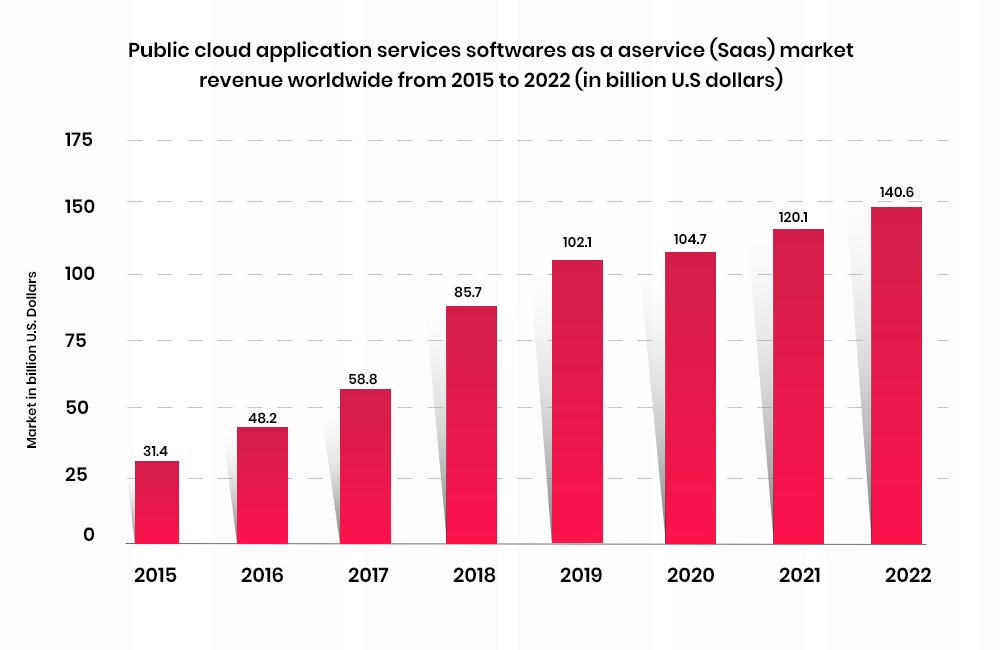 Since then, I have used many SaaS solutions and been a part of teams building SaaS software. SaaS is no longer just a buzzword—it is how businesses of today drive productivity, business growth and improve their bottom line—without having to invest in additional hardware or spend time installing new software. SaaS has helped developers, writers, product managers, doctors, world leaders, and nearly everyone in the world have one less thing to worry about and has grown into a $145b industry showcasing nearly 5x growth between 2015-2021 alone!
What is SaaS?
SaaS—or Software as a Service is cloud-hosted software accessible from anywhere at any time. Most customers access SaaS products through thin clients such as browsers (such as Google Docs, Microsoft Office 365, Zoom, Google Meet, Gmail) or a dedicated or "thick" client such as Adobe Suite and Microsoft teams. SaaS today is considered an umbrella term that includes PaaS or Platform as a Service, IaaS or Infrastructure as a Service and SaaS or Software as a Service.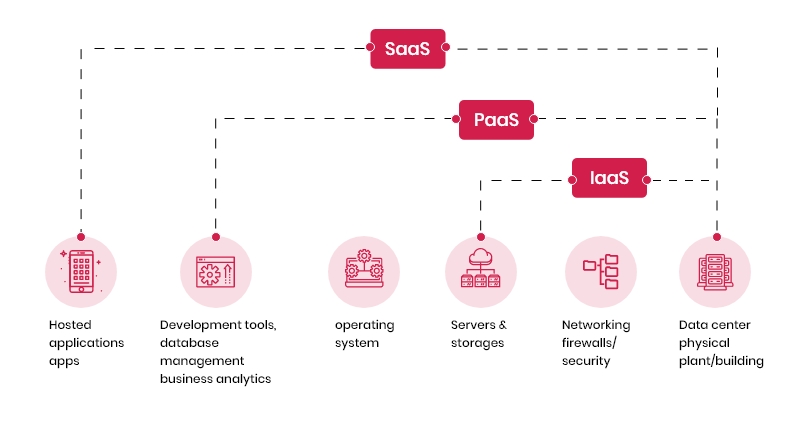 Software as a service allows users to purchase as a subscription or on a pay-as-you-go basis. All the underlying hardware, software and data are located at the provider's data centre. The SaaS software provider is responsible for the availability of this service and the associated data. Companies benefit from having reduced IT overheads and enhanced agility that is unmatched by traditional installable software.
Many of us use SaaS software without even realizing it. Notable examples of SaaS products include the Adobe products suite, Microsoft Office 365, Salesforce, HR software such as BambooHR, Google Docs, Slack, ClickUp, Microsoft Teams, Zoom, Zoho, Netflix, YouTube, FireTV—and so on! SaaS is the driver of the connected revolution, helping people be productive from anywhere in the world! 
According to a report from BetterCloud, large organizations with 1000+ employees use over 150 SaaS applications every day! Such is the popularity of the SaaS revolution that annual contract values for SaaS software have grown by five times in the last six years alone! In developing countries such as India, the SaaS industry grew over 75% over the previous two years, generating over $3.5b in 2020.
What are the benefits of using SaaS products for customers?
SaaS products are exceedingly popular today and offer a host of benefits that include:
As companies do not have to invest in expensive hardware and software maintenance or installation costs, IT overhead costs reduce dramatically.
All companies need to do to scale is to purchase additional storage space, compute time, or licenses. This makes scaling a breeze as there are no expensive servers to purchase, no additional software to be installed—everything is managed by the SaaS provider.
Work from anywhere is best using cloud-based or SaaS solutions. As most SaaS products only require a web browser, your office is where you are!
Freedom from licensing issues
As your SaaS provider will always provide you with the most updated version of the software, you do not have to worry about paying for upgrades and newer versions of the software along with additional licenses, if needed.
SaaS software offers substantial cost savings over traditional software. There are no individual licenses to purchase, and as it is a subscription-driven model, licenses are not perpetual, reducing costs involved in upfront perpetual license purchases. Additionally, as SaaS software offer browser-led access, companies can invest in portable devices instead of high-end computing devices leading to substantial cost savings in the long run.
What are the benefits of adopting a SaaS model for software companies?
You experience rapid growth due to reduced reliance on physical installations and lower input costs for end-users.

There are fewer deployment problems as clients access SaaS products through a thin client, and users only access the virtualized interface instead of the actual software.

Predictable revenue inflows as most customers will opt for longer subscription durations to reduce downtime.
What are the drawbacks of using SaaS products?
SaaS products also come with some drawbacks. These include:
Similar to the recent Salesforce or Microsoft outage, SaaS companies may suffer from outages, disrupting services for high-volume customers. 
Security breaches can occur on the most stable SaaS platforms. For example, a data breach recently impacted the professional networking website LinkedIn. Incidents such as this can lead to data loss and potential identity or intellectual property or information theft.
Just like regular software, SaaS products can also have throttling issues and suffer from service-wide performance problems or those with specific access clients.
Reliance on internet connections
If you have an unstable internet connection, you won't be able to access your SaaS-driven solution even if your internal networks are up and running.
Companies often have custom software that SaaS products either cannot or find difficulty integrating with. This can cause a steeper learning curve for those using legacy software or limit a company's transition to the cloud.
What are the drawbacks of adopting a SaaS model for software companies?
Not all is well in the SaaS space. Upcoming or startup SaaS companies can face the following issues:
It isn't easy to acquire, maintain, and scale the setup you need to succeed without funding. Costs to acquire a team, the infrastructure and customers are major factors you must consider before venturing into the SaaS world.
SaaS companies grow quickly—but can also fail equally quick. Market changes quickly impact SaaS companies and can cause the business to fail if not turned around in time.
SaaS solutions are rapidly affected by market competition and economic changes. As users find cheaper or better products, they can quickly shift to other providers, causing a loss in revenue to the SaaS provider.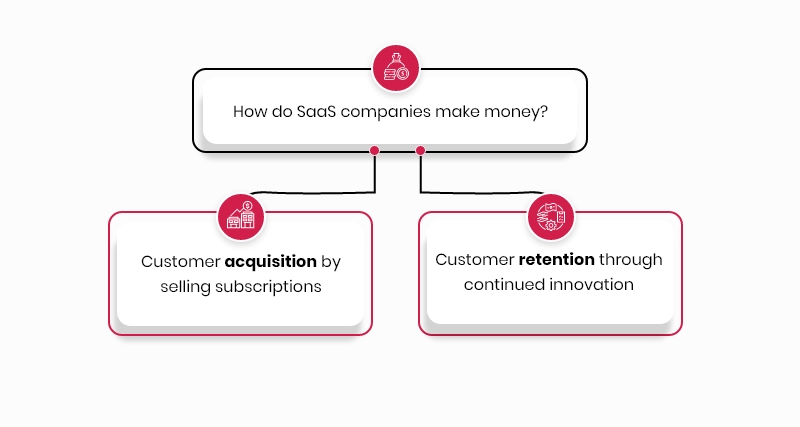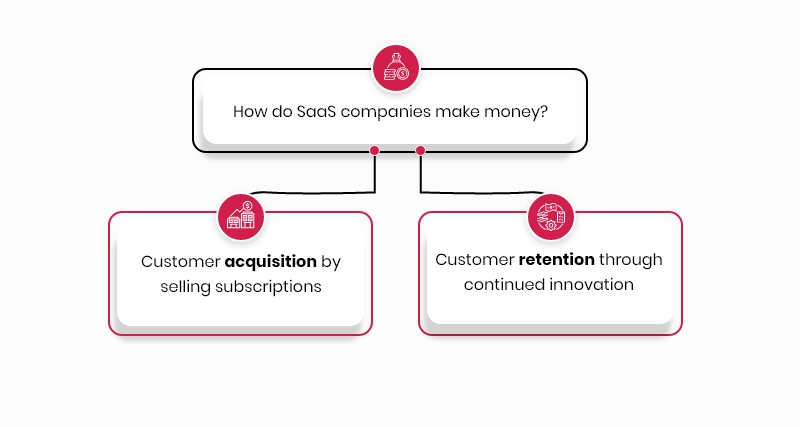 What is the SaaS business model? How do SaaS companies make money?
Companies sell cloud-based software as a weekly, monthly or annual subscription in a typical SaaS business model. The main motive of every SaaS startup is to gain enough customers so that they can cover their expenses and ensure a steady revenue flow for future growth. Most SaaS companies focus on the following factors to ensure sustainability:
1. Customer acquisition by selling subscriptions
As SaaS customers do not buy a physical product, they must continue to subscribe to the SaaS service to get recurring revenue. The difference between selling a physical product and a service is that monthly recurring revenue is not actual revenue until the subscription period (the month) is over. Until the subscription period is complete, many SaaS companies are liable to cancel the subscription on the customer's request, making MRR or monthly recurring revenue a liability until realized. This requires SaaS companies to compete fiercely for market share and customer acquisition to offset costs and reach profitability and self-reliance.
2. Customer retention through continued innovation
SaaS companies cannot lay claim to the subscription money until the subscription term is over. They must focus on customer retention by providing innovative solutions that keep them competitive in the market. Companies do this by providing exceptional customer service, easy paths to scalability, reduced downtime and upselling. Existing customers spend more than new customers, increasing their chances of opting for a competitor (user churn). 

How do SaaS companies price their products?
SaaS companies follow multiple pricing models to enhance revenue and increase user retention. These pricing models include:
Per-user pricing is the most popular pricing methodology employed by SaaS companies. Customers pay a fixed cost per user to get the features on offer, and the per-user pricing model is often clubbed with other pricing models to get a more favourable and acceptable price point for users.
The benefits of per-user pricing include easier cost calculation for customers and easier revenue prediction for SaaS providers. This model is used by Salesforce, AWS and many others.
Active user pricing is a variant of per-user pricing in which you bill the customer for the number of licenses in use. This is especially beneficial for larger companies where employee count can fluctuate over time, making it cost-prohibitive to keep paying for licenses they do not need.
The benefits of active user pricing include substantial savings for companies as they only pay for the number of licenses they use. SaaS companies benefit by using this as a sales strategy—you only pay for what you use. Microsoft team foundation server and other server products use the active user pricing model.
Per-feature pricing works best for SaaS products with many features that appeal to a broad audience. For example, in SaaS-driven HRIS software, not all companies may want to opt for every module on offer. 
These features best suit smaller companies that need specific features in a product and would not want to pay for all the features they don't need. BambooHR and Salesforce offer great feature-driven product models that allow companies to choose what they need and fit their budgets. SuccessFactors is a good example of a per-feature pricing model.
Both SaaS and traditional software products adopt freemium pricing. Customers can use the free features in the product as long as they want. If they wish to use any of the paid features, they must pay-per-user costs for them.
An excellent example of freemium pricing in SaaS is Grammarly. Grammarly offers spell check and limited grammar checks for its free users and a host of other advanced features for paid users, including advanced grammar checks and plagiarism checks.
As-you-go or usage-driven pricing
This pricing model is excellent for SaaS companies offering computational products services such as AWS, Microsoft Azure and Google Cloud. As these companies charge according to CPU time and storage or database space, customers only pay for what they use.
This model is best suited to companies that may have fluctuating demand. A good example of pay-per-use pricing is payment gateways. As customers only pay a transaction fee, this SaaS model suits payment gateways and their customers perfectly. 
Popular cloud-based payment gateways include Paypal, Stripe, PayTM and Instamojo, amongst others.
Is venturing into the SaaS market worth it?
Absolutely! The SaaS market is growing rapidly and is showing no signs of slowing down. Additionally, both companies and individuals prefer the SaaS model due to reduced upfront costs in hardware and software acquisition, making it an excellent opportunity for any startup with a great SaaS product idea in mind.
Final Thoughts
The SaaS marketplace is full of stories of disruptors and revolutionary ideas that made it big quickly, and this makes SaaS an exceedingly interesting place to be. As the world increases SaaS adoption rates, the time is ripe for an innovative startup to shake up its niche with a ground-breaking SaaS product. All you need is an innovative and experienced development partner such as Volumetree, funding, a great idea to top it all and you're golden! 
Have you got an innovative SaaS idea in mind? Let's schedule a free 15-minute call to see how we can help you create a truly revolutionary product!