So, you have that decisive client presentation at 9 tonight, and your hair is a mess. The salon has just canceled your appointment, it is 3 pm and all other salons are either shying away from new customers or have their slots full. The lockdown and the entire hairdressing world have been conspiring against you, right? Well…maybe. But the conspirators do not know that you have a secret weapon up your sleeve—UC. UC? You see? Ohhh wait! You mean the Urban Company!
Urban what?
Urban Company—formerly known as Urban Clap, has been helping people with chores at home since their inception in 2014. A brainchild of Varun Khaitan and Abhiraj Bhal—two classmates from IIT Kanpur and Raghav Chadra—an engineering graduate from the University of California, urban Company offers verified and trained service providers that offer you quality services at home for fixed prices. The three had gotten together to create an online store but instead found themselves looking for a solution to bridge the gap between those who needed something done, and those who could do it for them.
How does Urban Company work?
For example, our panic-attack causing the hair-crisis mentioned above can easily be addressed by Urban Company. All you need to do is install their intuitive mobile app, select the service(s) you need, choose a provider, and a time slot—and bob's your uncle! Services
provided by the Urban Company are not limited to hairdressing—nearly everything you can think of, from pest control to AC service, transportation, salon at home, massages, electrical repair, plumbing services, and many more can easily be booked from the comfort of your home.
How did Urban Company become so successful?
Urban Company targeted the problems of both customers and service providers. Customers had problems with unreliable service providers, and service providers had problems with timely payments and unrealistic customer expectations. This business model fits our busy lifestyles, our gripes with exploitative, and unreliable service providers. Coupled with the need to have everything on our mobile phones made Urban Company the perfect match for nearly everyone. As quality, timeliness, safety, and security were taken care of by Urban Company, their popularity rose quickly and has helped them catapult themselves from a seed-funded company to a near unicorn status that they enjoy today.
Service providers also found Urban Company to be a solution for their problems. They were trained by Urban Company to offer better services, accept or reject job requests according to availability and proximity, and get paid in time. This helped them stabilize their monthly income, which was earlier reliant on word of mouth or through shopkeepers who would charge unrealistic margins from them. Urban Company has also helped your neighborhood handyman to now become a Pro, which has helped in their upliftment.
How does Urban Company maintain service quality?
Urban Company verifies each service provider that signs up on their platform for their customer's safety and security. This is done through thorough background checks and police verification of those who sign up. Service quality is maintained through mandatory training, impeccable customer service, and a quality guarantee. During the lockdown, strict implementation of safety SOPs has further strengthened customer belief in Urban Company.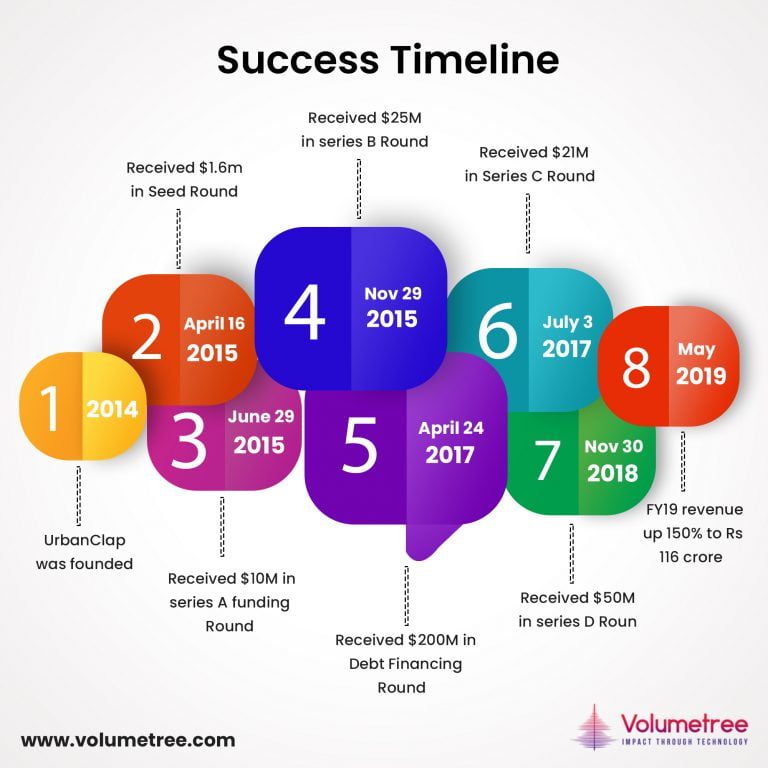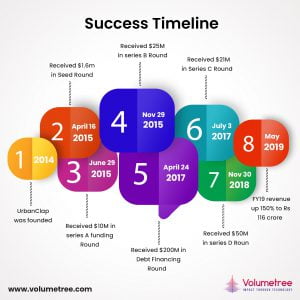 What is the business model of Urban Company?
Urban Company works on a two-pronged approach to generate revenue. These include:
1. Commission
Generating nearly 85% of the total revenue of Urban Company, their commission-based services are their bread and butter. For example, in our haircut-crisis scenario, you would choose a hairdresser and pay for the service online. Urban Company will pay the service provider after deducting a minor service charge, which can range from 10-20% of the total service cost.
2. Lead generation
Accounting for around 15% of Urban Company's revenue, their lead generation services are aimed at professionals such as photographers, wedding planners, dieticians, and their ilk. The requirements of the customer are posted on the app. These requirements are then routed to various service providers as leads, who then need to pay Urban Company to contact the customer. Once they pay Urban Company, they then proceed to make an offer to the prospective customer. The fee is retained by Urban Company whether the service provider can convert the customer or not.
Note: Wedding services, photography, and other non-core businesses are no longer a part of Urban Company's portfolio since late 2019 as the company is increasingly focusing on its core services. A third, yet very minor source of revenue for Urban Company is advertisements (sponsored listings), where service providers pay a fee to be listed on the top of search results. Has Urban Company acquired other players?
Yes. Backed by Accel Partners, Steadview Capital, Vy Capital, and Tiger Global Management, Urban Company has been able to make strategic investments to acquire some key players that both bolstered their service offerings and helped them expand their reach to newer
markets.
In January 2016, Urban Company acquired HandyHome—an after-sales service platform in an equity swap deal. This boosted Urban Company's portfolio to include service requests. Their next acquisition came in August 2016, when they acquired a Delhi-based concierge
service called Good service. Their third acquisition in March 2020 helped them to start offering Urban Company's services in Australia. Urban Company acquired Glamazon—a Sydney-based on-demand beauty startup. These acquisitions have bolstered Urban Company's portfolio and have helped them expand their service offerings and coverage.
What about their funding? Is Urban Company in profit?
We're glad you asked. Urban company was initially started with initial funding of INR 10 Lakh by the founders, which was added to by funding of an undisclosed sum by Ratan Tata. Since then, Urban Company has seen 5 funding rounds generating a total of $185.9M—of
which the latest (Series E) were by Tiger Global Management and Vy Capital.
Funding rounds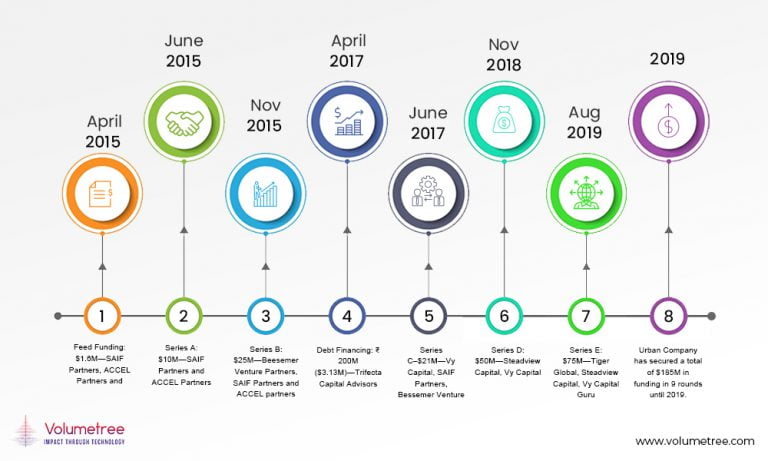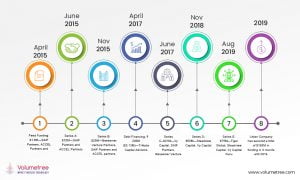 Urban Company has secured a total of $185M in funding in 9 rounds until 2019. These include:
April 2015: Seed Funding: $1.6M—SAIF Partners, ACCEL Partners and Snapdeal
June 2015: Series A: $10M—SAIF Partners and ACCEL Partners
Nov 2015: Series B: $25M—Beesemer Venture Partners, SAIF Partners and ACCEL partners
April 2017: Debt Financing: ₹ 200M ($3.13M)—Trifecta Capital Advisors
June 2017: Series C–$21M—Vy Capital, SAIF Partners, Bessemer Venture Partners, ACCEL Partners
Nov 2018: Series D: $50M—Steadview Capital, Vy Capital
Aug 2019: Series E: $75M—Tiger Global, Steadview Capital, Vy Capital
Current financial position
Urban Company had a market valuation of over $933M in 2019, inching close to the unicorn club. However, the company's FY19 filings indicate that with a revenue of ₹1411.5M and an expenditure of ₹2115.5M, the year ended at a loss of over ₹700M. This led to Urban Company trimming down their service range to beauty and home and planning a foray into high-end luxury salon-at-home services.
Viability and job creation
With over 500,000 requests being served per month, Urban Company is showing no signs of slowing down. The COVID-19 pandemic was hard on localized service providers of all kinds. Urban Company helped many professionals tide over these times of crisis by giving them
proper training, helping them with screenings and sanitization to ensure quality services to their customers. This led to an increase in their revenue even during the lockdown and helped many families tide through this time of crisis.
With over 25,000 trained professionals, over 5 million happy customers in 22 cities across 4 countries, Urban Company has its eyes set on growth. Urban Company helps skilled professionals reach Pro levels through intensive training modules before they can get listed on the platform. With a highly selective onboarding procedure and a mission to empower millions of service professionals by upskilling and offering service-at-home uniquely has catapulted them to the trust and perception that they enjoy today.