Statistics show there are over 180 billion mobile application​s ​ floating all over the internet today. All of these applications are downloaded by people on almost 1 million mobile phones every year—no abstaining from the fact that the procedure of mobile application development shouldn't be overlooked. Mobile applications set innovative strategies to attract users and encourage business growth.
It has been over a decade now since mobile apps were first introduced, and they are here to stay. Embrace this remarkable move for your business if you haven't yet and experience tremendous results. Mobile applications are credible for re-shaping business operations, and their yearning is only emerging with time.  
By 2022, it is expected that the total number of mobile app downloads will reach 258 billion.​ That is a whopping increase of about 30-35%. The number of mobile app users is also expected to cross over 7 billion all over the world by 2021. Shoving horizons to innovate mobile applications is the need currently. Moreover, it is also vital to meet the demands of prospects.  
We know that the world of mobile applications is inevitably dominated by numerous Google and social media applications. Apps like Google Maps, Gmail, Facebook, Twitter, Instagram, Snapchat, etc. are essentials for every smartphone. Moreover, several businesses and financial institutions are also using their mobile applications for enhanced customer engagement.  
The results obtained by developing mobile applications are phenomenal. Even small scale and midsize businesses are convinced by exceptional outcomes. They have realized that the investment made in developing a mobile application is way more beneficial. Mobile apps are expected to give tremendous results and benefits than a responsive website.  
We are sure that you are by now thinking of getting a mobile application developed. It is crucial to know technological advancements that ensure the smooth running of the business operations. Let us explore the future fads of mobile applications together. It is fundamental to have an insight into the essentials of mobile applications. The trends are certainly going to help you develop a robust mobile application that will stay evergreen for years.  
Mobile Application Development Trends 
The main motive of getting a mobile application developed is to accomplish victory. The efforts made to improve and innovate mobile apps shouldn't go vague. Hence, it is essential to do intense research on the long term and short term technological advancements. The first and foremost thing is to identify the progressions that are going to stay and are expected to have long-term consequences.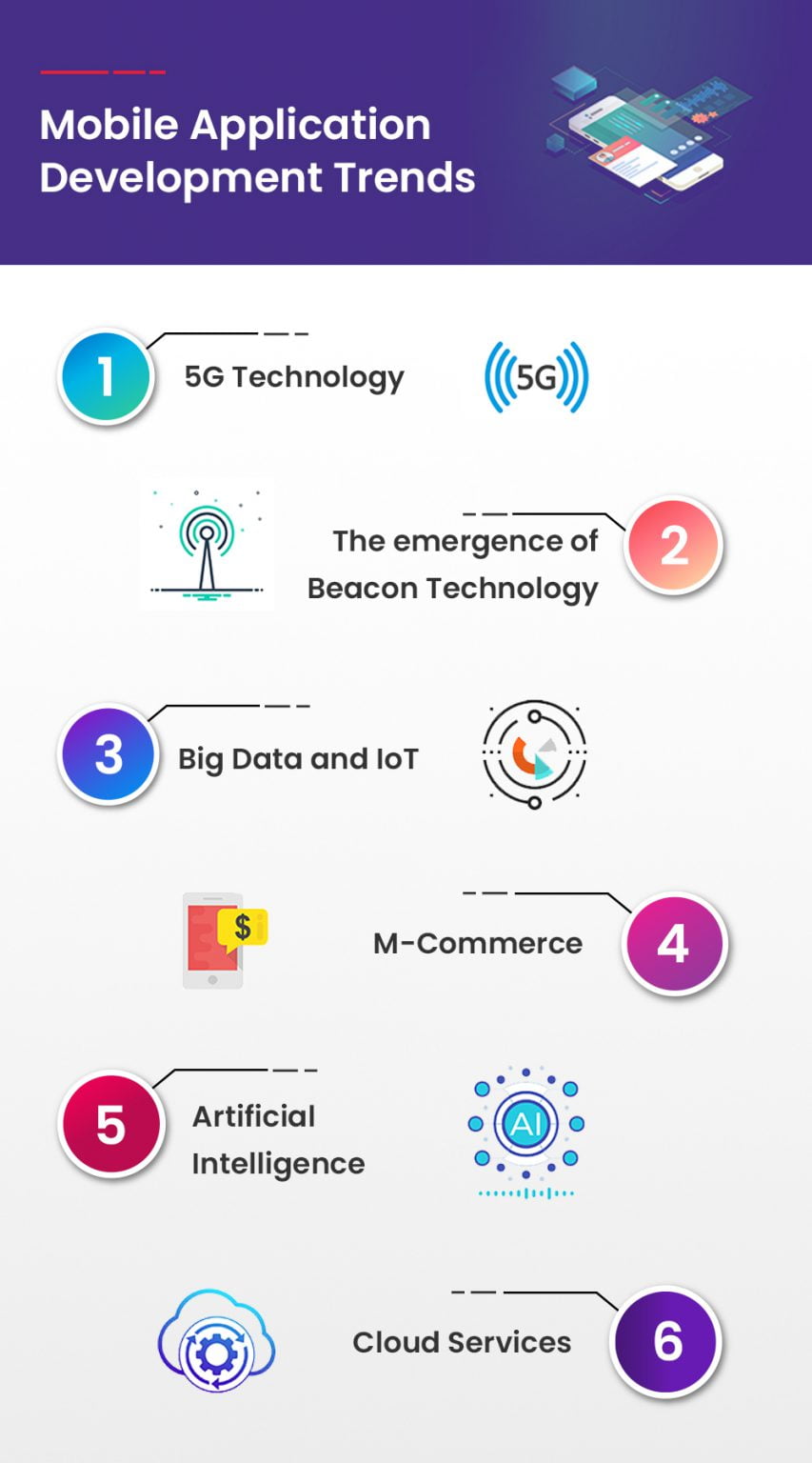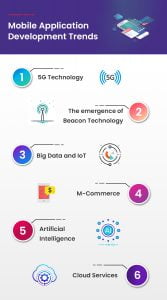 Let us know potential opportunities and numerous challenges with the help of which one can succeed in developing remarkable mobile applications.  
1. 5G technology –  
The introduction of 5G networks will not exploit the behavior of consumers to use mobile apps. Rather the overture of the new network is expected to create a data-intensive environment. It will encourage developers by opening new avenues for them.  
This advancement of technology promises to intensify mobile connectivity and evolve smartphone ordeal. Provide a low degree of latency, and data speed will enrich to up to 10 times faster than a current wireless connection. This way, healthy and refined applications are developed for capturing, presenting, and sharing essential data.  
2. The emergence of Beacon Technology – 
It is the primary trend that needs more considerable attention while developing a mobile application. This technology is also embraced by top industries, including hospitality, healthcare, etc. It serves significant benefits in location technology and marketing of the application. It is super easy and convenient to use, which is why users learn to use it efficiently in no time.  
Beacons are referred to the wireless transmitters that use Bluetooth technology to send and receive necessary signals. It helps to exchange information that is necessary for sales. The retail sector can obtain the maximum benefits of the Beacon Technology. They are best served when integrated with IoT. There are several industry tendencies for Beacon Technology. It includes AI-enabled chips, Beacon Treasure hunting, Mobile Payments Beacons, Automated Machine learning, etc.  
3. Big Data and IoT –  
IoT and BigData are the next game-changers, and they are being talked about almost everywhere nowadays. The Mobile App development industry is no less. It is the next big thing that is expected to rule the world of mobile applications. Mobile connectivity can scale up to the global level, and IoT can simplify the operations by making them abrupt. Developers should start incorporating it as fundamental features, as forthcoming investors will regard such features as crucial. Numerous services are also integrated that serve a common objective.  
Considering the mobile application of Amazon, you will observe that it has made much effort to develop brilliant applications by integrating AWS. Existing and prospective applications can obtain benefits from Amazon Web Services for their big data needs. When all such things are integrated into a mobile application, then it is sure to attain global reach.  
4. M-Commerce –  
Basic patron level applications are already dead and have lost momentum because of advancements in blockchain technology and cryptocurrency. A few popular examples of such applications are gaming and food discovery. Moreover, considering from a financial point of view, such disciplines are ethically favorable and super convenient. Various payment gateways and app wallets have become crucial in today's era. Hence, mobile applications developed today must fit economic norms that mandate such practices.  
5. Artificial Intelligence –  
You are already aware of Alexa, Siri, Cortana, etc. Well, these are just tiny elements to start with what software structures and mobile applications should go beyond in the future. Integration of AI interference is possible with the help of a vital element such as IoT and Big Data. It is essential to determine the aspect of your product in which AI can combine with your business. The food industry has also started integrating AI in their mobile applications. This is done to help consumers come up with appropriate picks.  
AI comes handy when an immense amount of statistics is induced by the system. Now, it is up to the App designer how the objectives of AI are acquired in mobile applications.  As per recent trends, a common AI system can run effectively in various systems skillfully.  
6. Cloud Services –  
Cloud Technology is already whirling for varied multi-million enterprises such as Whatnot and Netflix. The world has realized the privileges of cloud technology and industries are waking up to yield favorable possibilities with its help. A few advantages of cloud include a reduction in hosting costs, enhanced loading ability, simplified business operations, and similar such benefits. Cloud technology also deciphers numerous security-related issues, and with its help development of mobile applications has become ethical, steady, and prompt. Cloud technology formulates powerful applications.  
The bottom line 
There is no denying that it is crucial to stay updated with current trends as well as technologies. It is the key to keep pace with ever-changing consumer desires and evolving competition. We have shared some tremendous insights to help develop robust mobile applications in accordance with future trends. When mobile applications were developed for the first time, no one could have indicated that over ten years later, technology would be the center of how society functions. Moving forward, when applications are developed, developers should work to nurture for the future. Mobile development will continue to progress for many more years to come.