A focus on trust, service, and availability backed by reliability has propelled a growth rate of 60% YOY with a market valuation of nearly US$1 billion.
Results of using the solution
Truck availability increased to 95%
Cash-only transactions decreased to 0%
Blackbuck started in 2015 as a freight matching company that matched truckers with shippers. This enabled truckers to resolve their core problem – dead capacity, in turn helping shippers solve their core problem – shipping cost. Using this two-pronged approach, Blackbuck has been able to a lot of problems plaguing this $300 billion market.
Company Information
Age: 5 years

Valuation: USD $920 million

Funding Rounds: 7

Total Number of lead investors: 5
The vision
Blackbuck envisions targeting the inefficiency of the supply chain and logistics sector by leveraging technology to make trucking simple, cost-effective, and extremely intuitive. An online aggregation platform for truckers and shippers, Blackbuck facilitates inter-city freight movement by matching shippers with buyers. Using machine learning algorithms to predict the routes a trucker can take, and generating the price of a transaction is done by these algorithms which operate on data science. This helps them produce these results quickly using pricing and routing information.
Blackbuck also intends to raise product demand and service levels, translating to increased business for truckers and lowered cost for shippers. Using cutting-edge technology and smart applications, Blackbuck has resulted in efficient price settings that help both the players in the market.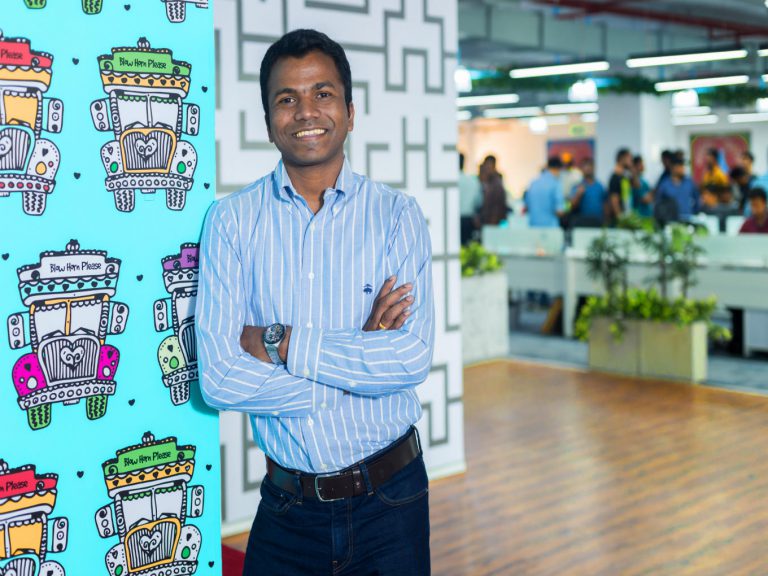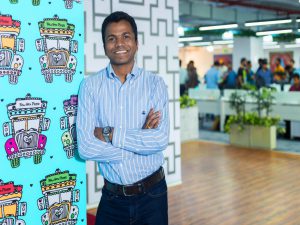 Blackbuck strives to improve the operations of over 300,000 truckers on their network by facilitating insurance, added financial security via its fin-tech partners, and increased daily returns from operations. They plan to use data science to predict the number of routes a trucker takes and allocate new orders before they reach their destination, eliminating downtime and ensuring "negative time" operations. Blackbuck also plans to venture into fintech and plans to offer loans to all truckers across the country and take financial transaction processing completely online.
Shippers: 10,000+
Trucks: 300,000+
Fleet Owners: 60,000+
From an initial run of 10,000 trucks in 2015, they have grown to a massive hive of over 300,000 trucks serving thousands of locations around the country.
Blackbuck Business Model & The trucking market in India
Trucking
In India, the current trucking and supply-chain market are highly fragmented. Over 85% of this industry comprises of small fleet owners that have between 5-20 trucks. This industry is marred by high asset acquisition and maintenance costs coupled with high fixed costs. These costs are paid by ensuring the high utilization of trucks, which is currently at 60% due to brokerage meddling and the lack of a nation/statewide platform. The penetration of the insurance industry has also been low, making it difficult for truckers to procure insurance and get claims.
Some statistics:
Logistics market valuation: 300 billion+

Road Freight market valuation: 193 million+

India's expenditure on logistics: 14% of GDP

Trucking industry CAGR: 5.8%

India Road Network: 5603300KM+

Freight hauled by road networks: 65%
The Problem
Trucking is the backbone of the Indian industry, ensuring the delivery of over 60% of the produced goods in the country. However, this industry is marred with inefficiencies and underutilization.
Problems faced by truckers
Low utilization
Low utilization is a major problem for truckers. As most of the trucks in the market operated at 60% capacity or lower, it became difficult for truckers to provide cost-effective pricings that would help them get more business. This was further magnified by middlemen who made it difficult to find a load for the return journey, making the shipper pay for the journey back home.
Low ROI
Purchasing a truck is a significant investment for the trucker. As utilization levels are low, most of these truckers are unable to pay the EMIs that will help them buy more trucks and scale their business.
Low wages and long work hours
Truckers are mostly underpaid and overworked due to low utilization and owners scrambling to make ends meet. Drivers also often take inefficient routes, resulting in high fuel utilization and further increased costs.
Inefficient routing
Routes taken by drivers are mostly based on convenience and prior knowledge. They do not know of the most cost and fuel-efficient route, resulting in high fuel spends for the same trip. This also causes drivers to suffer from fatigue and trucks to suffer from high maintenance costs.
Lack of Insurance
Most truckers face problems while getting insurance claims, increasing the time it takes to return to the road, resulting in increased costs with no ROI for the down-period.
Shipping
The problem
The problem faced by a lot of shippers in India is the lack of effective and fully managed transportation systems and the cost-effectiveness of the mode of transportation. This acts as a ripple effect for the end-users and consumers of the goods as companies add their shipping costs to the goods, making them expensive for everyone.
Problems faced by shippers
Lack of trust
Most individual truckers can only give a vague estimate of the date of arrival of the goods. As shippers are unable to track shipments in real-time, they are not able to trust their shipping partners with the timelines they get.
High Costs and highly variable pricing
As shipping costs are usually two-way, shippers end up paying for the return journey as well, making the process extremely expensive for them. Shippers are also responsible to pay for intermediate costs like loading, unloading, forwarding etc.
Delays due to intermediaries
As shipping is controlled by middlemen, most companies end up losing time, money and in some cases, their goods due to this mismanagement.
No integrated platform
A lack of integrated platforms and organized trucking makes it difficult to get good prices, lowering the costs of goods. 
The Solution
Enter Blackbuck – a fully managed online marketplace of truckers and shippers that has resulted in becoming a win-win situation for both the parties.
Truckers
Blackbuck helps truckers by providing a platform for them to:
Enhance utilization by up to 95% by providing return-route shippers

Get payments in time

Maintain better fleets

Get cashless insurance claims in time

Choose the most fuel and time-efficient routes

Reduce costs and increase ROI, helping to scale their business.

Providing toll tags, cash cards, and fuel cards with discounts to minimize the usage of cash and increase benefits.

The network of dhabas across locations with facilities for drivers to help them unwind.
Blackbuck helps shippers by providing a platform for them to:
Reduce shipment costs

Reduce shipment delays

Eliminate delivery date ambiguity

Choose from a wide range of truckers
Insurance – Simplifying trucking – again
Blackbuck has partnered with Acko – a tech-first insurance company that wanted to expand its product portfolio to include goods carrying vehicles. Blackbuck offers Acko access to its massive portfolio of over 300,000 trucks and world-class technology that helps Acko underwrite claims remotely, helping in near-instant cash-free disbursals and reduced fraud. This also helps companies and drivers by ensuring accurate claim processing, minimal downtime truckers and a reduced load of business, all the while removing manual processes that mar traditional insurance claim processes.
Networks of authorized garages ensure that they reach accident sites swiftly and eliminate the need for spot surveys. This will add immense positive social impact on the sector and add value to fleet owners and drivers. With a shared vision and love for technology, Acko and Blackbuck will offer a hassle-free insurance that will expedite claim settlement using GPS data and build an even more efficient ecosystem. 
How did Blackbuck reach this stage?
FY18 Stats
Revenue: 60% increase to $128 million

Expenses: $144 million

Transaction Values: 1 billion +

Employees: 1500
Stemming from the founder's experience in managing logistics for a major Indian company, they decided to leverage the benefits of using technology in logistics at their former place of employment to a larger audience, resulting in the formation of Blackbuck. What started as a solution to make trucking simple, intuitive and extremely efficient resulted in the creation of an asset-light ecosystem-based approach for long-haul full truckload models (FTL). As these involve customers that book an entire truckload for intercity shipments, Blackbuck was easily able to leverage their experience in this sector to their advantage. Blackbuck's primary source of income is through commissions of 10-20% on revenues.
Blackbuck's journey at a glance
2015: Blackbuck began operations and gathered over 10,000 trucks on its platform fueled by an initial round A investment. Launch of app for supply partners.

2016: Number of trucks exceeded 50,000. Monthly revenues up by 60%. Launched demand app for shippers.

2017: Number of locations exceeded 1000, multiple rounds of funding and initiation of services platform. Launch of services app for fleet owners.

2018: Number of employees reached 1200, the number of trucks exceeded 200,000 and shippers increased to 10,000+. Introduction of commercial vehicle insurance in collaboration with Acko General Insurance Company. Launch of app for truck drivers. Awarded startup of the year award by CNBC

2019: Number of trucks exceeds 300,000, $290 million in funding, large corporates like Coca-Cola, Unilever and Tata as major clients and near-unicorn valuation.
Company Founders:
Rajesh Yabaji
The co-founder and CEO of the company, Rajesh is a former Category Development Manager at ITC limited, handling the supply chain at the large corporation. An IIT-alumnus, Rajesh took the problem of logistics and supply at ITC head-on, leveraging technology to integrate this scattered and neglected division. Using the learnings from ITC, Rajesh decided to create a platform to help corporates and SMBs around the country solve the problems faced by them in this unorganized sector, in turn also helping to bring order into this chaotic industry. 
Chanakya Hridaya
Chanakya specializes in Business Operations and Planning and is currently leading the strategic roadmap for the SME Business at BlackBuck. Featured in 'Forbes India 30 under 30' in 2017, he was heading the Planning vertical of the Supply Chain at ITC before co-founding Blackbuck.
Rama Subramaniam
Rama brings 17 years of experience in the supply chain industry to Blackbuck. A former Managing Director at Miebach, Rama guides teams at blackbuck to establish and develop various business lines. 
Funding Rounds and investors
With a scalable and unique business model, Blackbuck has been able to catch the eye of multiple investors around the globe. Blackbuck is a pioneer in its space in the trucking industry and this has enabled it to get multiple funding rounds resulting in it becoming one of the largest players in the segment. Blackbuck has secured 7 funding rounds till date, aggregating nearly $300 million in investments from various investors. 
These funding rounds included:
Round 1: Series A: 5m from Accel in July 2015

Round 2: Series B: 25M from Accel in December 2015

Round 3: Series C: 70M from Sands Capital Ventures in May 2017

Round 4: Debt Financing: 6M by InnoVen Capital in October 2017

Round 5: Series D: 26M by Sequoia Capital India in October 2018

Round 6: Series D: 150M by Accel, Goldman Sachs in May 2019

Round 7: Series D: 7M by Trifecta in November 2019
Lead investors for Blackbuck include:
Accel

Goldman Sachs

Sequoia Capital India

InnoVen Capital

Sands Capital Ventures
Technology
Blackbuck is an Uber-like Full Truck Load (FTL) Intercity Marketplace that connects Truckers and shippers in one seamless, world-class interface. The platform streamlines transactions using intelligent auction engines and smartphones. With over 30,000 downloads a month, their mobile app is extremely popular amongst their users. Their user base is primarily in India, with over 75% of the users being from this region. Blackbuck utilizes the following technology stack to help them tick:
Amazon EC2

Amazon Route 53

Modernizr

SigView

Ozonetel

Bootstrap

PHP

Nginx
The main features of the Blackbuck platform include:
Intelligent Auction Engines

GPS-enabled freight management

Track and trace facility for customers

Mobile app for shippers, truckers and drivers supporting six regional languages
With cutting-edge technology and a large ecosystem of truckers and suppliers, Blackbuck is one of the largest players in its space and is here to stay. With a valuation of nearly US $1 billion and rapid growth that shows no signs of stopping, Blackbuck strives to solve the trucking problem by removing the inefficiencies in the processes that govern this industry.