Buying clothes and fashion accessories can be a personal or a social experience. For some of us, it is deeply personal, and for others, just a chore. Finding what's "you" is often a deeply pondered thought, and it may be a while before the "aha" moment strikes. When it comes to fashion, dress or watch selections can take time—a scarce resource in the busy lives we lead today. So, when we found that the lack of time was causing us to lose out on that perfect outfit, we decided to ask tech to help build an app like ASOS. 
Fashion-related apps are exceedingly popular these days. As shopping malls stay shut in many countries around the world and people find themselves starved for choice, fashion apps such as ASOS help us clinch daily deals while browsing for that perfect dress.
Entrepreneurs are consistently looking for newer and more innovative ways to solve problems and underserved needs. For a group of three young British businessmen, the high cost of fashionable clothes worn by celebrities on screen was a deterrent for most of their target customers. Incorporated to fulfil that underserved need of affordable, yet high-quality fashion accessories and clothing, ASOS or As Seen On Screen was an immediate hit in their native country. As popularity rose, ASOS soon became a global household name as a leading e-commerce fashion portal.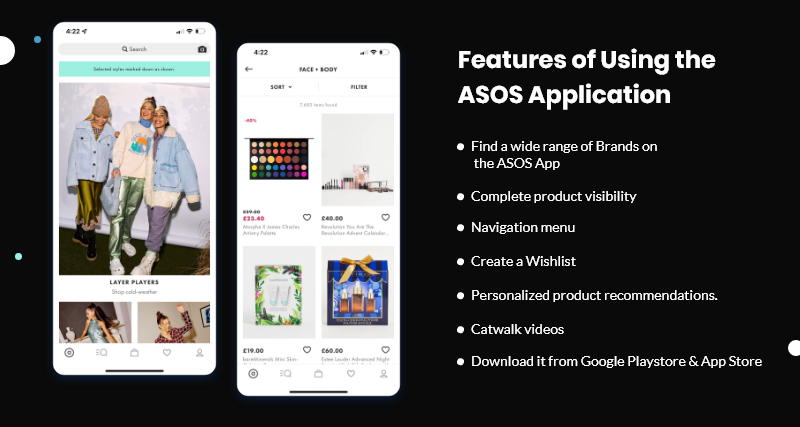 How did ASOS become so popular?
ASOS focused on stress-free shopping and showcased products that their target audience wanted. This spurred their popularity leading to over 20% of the UK's population placing an order between April 2015 and April 2016. 
With notifications to let shoppers know when items are available and prioritizing customer engagement and interactions, ASOS has a large fan following that chooses the company over other, more established retailers, helping it turn profitable in just four years after launch. ASOS reported a net profit of GBP142 million in 2020, up 275% from 2019.
ASOS accomplished this by featuring "real" people as models and removing gender-specific sections from their website as a part of their "all-inclusive" approach. Today, ASOS serves millions of customers in over 190 countries with products from over 800 well-known brands along with their own brand—ASOS.  
What problem statement is ASOS solving?
ASOS caters to the middle-income section of society, helping them find world-class apparel and accessories at a price that fits their budget. This has led to its immense popularity in its native UK market and around the world. With demographic-specific sizes, need-based lines and winning over customers by offering them to be in the limelight—ASOS is a customer-centric brand that leaves no stone unturned to ensure customer satisfaction, which itself is a rarity in the fashion world.
Who uses ASOS?
Well, who doesn't? ASOS is a global megabrand that offers free shipping and returns, making them an international hit. ASOS's current customers include young adults who have a penchant for fashionable and hip clothing. They describe themselves as a "global online community of fashion lovers". You can easily see this in their Instagram feed! There are no models to be seen—just everyday people like you and me sharing their love for fashion and their favourite e-tailer—ASOS.
What value proposition does ASOS offer?
ASOS wants its customers to get a personalized, customized and convenient shopping experience. Their fantastic shipping and return policy is a hit amongst buyers. Their excellent and thoughtfully designed mobile app provides a world-class user experience to their audience. ASOS offers a large selection of fashionables on their app and website, making it easy for you to choose the product you wish to purchase. With next day or same-day shipping available worldwide, ASOS creates the "ASOS Experience", which gives customers a better shopping experience. Additionally, with no retailers or intermediaries in the fray, ASOS can offer products at a lower cost than retail stores, making them a hit amongst buyers.
What is ASOS's business model? How does ASOS make money?
ASOS has a multi-pronged business model that allows them to earn from multiple avenues. Items in the ASOS revenue model include:
Private label products—their primary business was creating affordable fashion goods. This is still a substantial part of their business and gets them a steady revenue stream.

Vendor usage charges—ASOS charges vendors a rental fee (currently around $35) to use their website. 

Sales commission and transaction fee—ASOS claim a 20% commission off each sale. Additionally, they also charge a transaction fee for each product purchased from their website.

Advertising—ASOS frequently offers advertising space on their website and magazine, earning revenue while allowing other brands to showcase themselves.
Investment details
ASOS has kept its investment details private. They started with an initial £2.3m seed capital from Robertson's brother, an entrepreneur from Monte Carlo and financier Andrew Regan. The company went public in 2001 and floated shares at 20p a share on AIM London. This made the company worth £12 million in 2001. The company's shares peaked in 2014 at £70.50, raising their valuation to £5.9b.
The tech under the hood
The front-end microservices that drive ASOS transitioned from Azure Cloud to Azure Kubernetes in 2020. This drives their PLP or product listing page, a vital UX bit for ASOS. They use serverless Python in Azure Data Factory for running their advanced analytics that is important for their personalization and customization services. Their test teams run behaviour-driven automation testing powered by .NET core. 
How does ASOS delivery app work?
ASOS uses AI to match the closest delivery agent with the item, ensuring next-day delivery across multiple countries. Coupled with their world-class logistics, warehousing and delivery subsystems, ASOS delivery apps provide a world-class experience to their users.
Who does ASOS compete with? Other players in the market
The fashion industry is inherently competitive. Large retailers such as THG or The Hut Group, AllSaints, House of Fraser, FarFetch, Missguided compete with ASOS for revenue and customer base globally. 
How are they better than their competition?
With a focus on customer service, customer experience and high quality, ASOS is winning hearts the world over. Their customer-focused app functionalities, including the AR-driven ", Match with Style" and content that helps make informed decisions, is what helps them stand out from the crowd. Coupled with their delivery subsystems, they have a seamless, world-class interface that works as a cohesive, end-to-end unit.
Is it viable to build an app like ASOS?
Absolutely! The love for fashion has not vaned since the dawn of time, and apparently, even a global pandemic cannot satiate our desire for pretty clothes and accessories! Creating an innovative app like ASOS for high fashion, affordable clothing, baby clothes, and even pet wear is a great way to disrupt the existing online fashion retail market. With a unique strategy and a customer-focused approach, you can easily tap into this massive, multi-billion-dollar industry to reap handsome rewards.
Is it easy to build an app like ASOS?
This is a trick question—so the answer is both yes and no. Their app is simplistic and has an easy to navigate UI that focuses on customer experience. Building an app like ASOS requires a deep understanding of your customers and their likes and dislikes. The app also tailors content (products) according to their customer's needs using an intelligent product engine. 
Creating an app like ASOS will require a lot of emphasis on the following:
Understanding your customer base

Creating a world-class recommendations engine

Keeping the interface simple yet feature-laden

Providing a world-class user experience
Although this sounds easy, but it can take a lot of iterations to get things right. This is where an experienced development partner such as Volumetree comes in. With our extensive experience in building world-class apps used by millions of people worldwide, we know what it takes to envision, design, develop, test and maintain an app like ASOS. Our agile approach and lean product development methodology help you get the best of both worlds—a world-class app at a price that will surprise you!
Final thoughts
The online fashion industry is full of e-tailers of all sizes. Ensuring that your app stands the test of time and stands out of the crowd, it is essential to deliberate and create a long-term customer acquisition strategy while focusing on profitability. At Volumetree, we believe in a customer-first approach, ensuring that your customers get the best value and an outstanding shopping experience that is unparalleled—helping you keep users hooked for good. Our iterative development approach and a future-centric vision helps us build apps that will stay relevant and be the first choice of your customers for years to come! 
If you're thinking of building an app like ASOS, you're at the right place. Schedule a free 15-minute consultation with our online shopping product experts to know how we can help you build an outstanding app like ASOS.