Are you a health-focused entrepreneur who wants to build a groundbreaking fitness app? Learn what it really takes to create an app like MyFitnessPal!
Less than 15 years ago, it took either a pen and paper along with a book or a complex spreadsheet to calculate the number of calories you consumed every day. Today, it is easy to count the calories you're consuming, thanks to Mike Lee—the founder of MyFitnessPal.  He decided to create an app like MyFitnessPal due to a personal need. Mike started a fitness revolution that has resulted in dozens of competing apps and millions of healthier users.
Similar read: Cost To Develop A Fitness App Like Cure.Fit
Mike had planned a beach wedding for himself and needed to lose weight before his big day. He went to see a fitness trainer who gave him a book with nutritional values of over 3,000 food types and a notepad to track his calories. Mike found this solution to be cumbersome, and he started to look for a better, more elegant way to track his meals. This quest resulted in him creating MyFitnessPal—a website (and now an app) that helped people count the number of calories they ate for every meal.
I first used MyFitnessPal after buying a pair of Under Armour running shoes in 2017. Under Armour was heavily marketing these apps, and I had just started my fitness journey. Four years later, I still use MyFitnessPal to count calories after each meal—making it the third-most used app on my phone.
The calorie counter and fitness tracker industry—some numbers
The popularity of calorie counter and fitness tracking apps is well known. The global fitness app market was valued at $4.4 billion in 2020 and will grow with a healthy CAGR of 21.6% from 2021 to 2028. Boosted by the pandemic-induced lockdown and the heightened interest in personal health, fitness and calorie counter app downloads increased by 46% in 2020 alone! Additionally, an article in the World Economic Forum reported that the daily active user counts in fitness apps shot up by 24% in the second quarter of 2020. India witnessed the biggest spike of 2020, with the fitness and calorie counter app download charts rising by over 150%!
How popular is MyFitnessPal?
Launched as an app in 2013, MyFitnessPal showcased its popularity quite early by becoming profitable in 2018 (according to publicly available data. MyFitnessPal CEO Mike Lee stated that the app was profitable soon after their first funding round in 2013). With over 200 million users, $128m in revenue, $20m in profits and a steady listing in the top apps' charts, MyFitnessPal is one of the top 5 calorie counters globally. 
What makes MyFitnessPal tick?
Some apps seem as if they are tailor-made for you—which is what I felt when I downloaded MyFitnessPal. The platform (including the app and the website) helped me get online quickly—with just a few questions about my body and why I downloaded the app, I was good to go. With a simple, clean, easy-to-use interface, MyFitnessPal became an instant hit. I no longer needed to read labels behind foods (I can just scan them and add a serving size). I could add entries for previous days if I forgot and get notifications if I over-indulged at any time.
Additionally, I could see what my body needs the most and add those suggested foods to my diet. This ease of use and the right functionality at the right place helped MyFitnessPal get their initial group of users who had similar needs. The rest is history!
What problems is MyFitnessPal solving?
For me, MyFitnessPal is an indispensable companion. The app helped me stay focused on my fitness journey and nearly accurately predicted my weight loss according to the amount of exercise I logged. I could also interact with their huge fitness enthusiast community, helping me stay motivated and learn from others who had successfully lost weight and taken charge of their health. MyFitnessPal gives me everything I need to stay fit in one seamless interface. From recipes to workout regimes to informative videos and articles and calorie tracking, I can do it all in this amazing app! In short, MyFitnessPal is helping me to focus on my fitness instead of trying to hunt around for the information I need for it.
Why should you create an app like MyFitnessPal?
The world is more focused on health than ever before. Fuelled by the COVID-19 induced lockdown and heightened awareness about the relation of good health and good eating habits with longevity, calorie counters and fitness apps and wearables have become the most-used apps for billions of people today. This makes the market ripe for a new calorie counter and fitness app like MyFitnessPal. Creating an app like MyFitnessPal can help you take advantage of the exponential and unprecedented growth in this industry that shows no signs of slowing down. A world-class alternative to MyFitnessPal can shake up the top charts and help your app take the top slot.
How can you go about creating an app like MyFitnessPal?
Building a much-loved app requires meticulous planning and a well-defined process. Here's what you need to do when trying to create an innovative calorie counter app like MyFitnessPal:
KYC—know your competitors (and your customers). If you're trying to create an app like MyFitnessPal, you must know why people love it. Perform a market survey and research the current market trends in the online fitness industry. Know what makes your competitors tick and what doesn't. Remember, an informed business decision is always a better decision.

Solve a problem that exists. Know the underserved needs of your customers to find their biggest gripe with the app. Solve those problems to draw users to your app. Understand that you can only make it big if your app is truly innovative and solves real problems better than the competition.

Choose the top features for your app while focusing on the user experience. It is important to start small and know the features that your customers will love. Adding those most-wanted features in the first version of your app is a good way to ensure that users make the switch. Additionally, most users will uninstall the app if the user experience is anything short of fantastic. Stay in your users' phones!

Find a great development partner. Find a company with experience, talent and the vision to create an awesome app that stands out from the crowd.

Plan well in advance and create achievable milestones with your development partner. This helps to ensure that you will be able to go through with the development process and launch a product in the market at the right time and within your budget.

Do not release your product before you love it. Test it till it's perfect. Remember, if you don't love it, it is unlikely that others will.
Choosing the right technology to build the app
The tech stack you choose for your app will significantly impact the final user experience and your budget. It is essential to stay within a defined budget and to choose the right tech for the job. Here's what we recommend:
User experience design: Sketch, InVision

App Development: XCode, Java, Kotlin, MEAN

Database: AWS

API Integration: Google API

Payment processing: Stripe

Push notifications: Firebase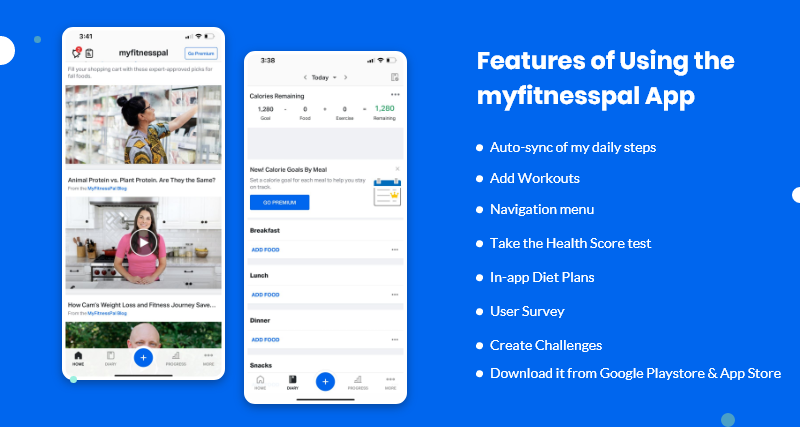 Must-have features of an app like MyFitnessPal
Here's what your app must have to ensure that people can start using it right away:
User-facing app
Registration, login, social media integration. Social network integration is essential to ensure that your app can get the basic user data it needs at the outset. 

Profile management, including a detailed user profile to gather all the information needed by your recommendations engine.

Calorie counter with a large database of location-specific foods

Diet planner and recommendation engine

Nutritional information for food types and cuisines

Adding new cuisines and dishes to the recipe and diet list

Recipe manager to recommend recipes

Activity monitor including step counter and tracking other physical activities

Integration with other fitness platforms and wearables such as Strava, FitBit, Apple Watch

Health record management

Reportage including historical user-health reports and progress reports

Payment gateway integration for in-app purchases and premium services (if any)

Community builder and chat tool
Administrative interface
The administrative interface must have the following features
User management, including login creation, adding and removing users

Plan management for subscription services or other premium services

Notification management

Dashboards to visualize and manage user activity

Rewards management

In-app purchases and payment systems management

Chat module management
How much does it cost to create an app like MyFitnessPal?
The cost of creating an app can vary greatly depending on the number of features needed and the tech stack you choose. Additionally, the geographical location of your development partner can also impact your final app development cost. To put things into perspective, US-based charges between $100-$200 per hour depending on the complexity of your app. A developer with similar expertise in Eastern Europe may cost between $70-$120. Highly skilled developers in India cost between $20-$60 per hour—reducing your immediate development cost while maintaining high quality. Developing a basic calorie counter and fitness app with Volumetree can cost between $15,000 and $30,000.
How can you recover your development costs? Innovative MyFitnessPal Business Models to follow
Do you know how does MyFitnessPal make money? Even though the app's basic features are free, they use various techniques to boost revenues and stay profitable. Their numerous premium features and subscription services help users in their fitness journey. The MyFitnessPal revenue model uses the following techniques to drive sales and improve profitability:
Premium services including workout routines, fitness journeys and health plans

Fitness product recommendations

Leads for third-party products and services

Ads
Additionally, you can also offer services such as individual training, caching and nutritionists to boost revenues.
Final thoughts
Calorie counters and fitness apps such as MyFitnessPal are extremely popular today. With people becoming more concerned about their health than ever before, it is a great opportunity for entrepreneurs to jump the fitness app bandwagon and create a truly innovative app that will help users in their fitness journey.  If you are a health-focused entrepreneur who has an innovative take on apps such as MyFitnessPal or wants to create an app like MyFitnessPal, you're at the right place. With our extensive experience in creating world-class apps that are helping millions of people get healthier every day, our product experts can help you create an app that truly stands out. Schedule a free 15-minute meeting with one of our product experts to kickstart your entrepreneurial journey today!