My dog has always been a "people person". He likes going on walks with me and plays well with my friends and family. As his human, I am responsible for feeding him, taking him out for walks and helping him learn new tricks. But there's always a time when your dog's human might run out of tricks to teach. That is sort of what happened to me—which is when I decided to hire the services of a trainer, but with the pandemic in full force, what can one do? Enter dog training apps—a godsend in these tumultuous times!
The popularity of pet training apps
Valued at $232 billion, the global pet care industry is showing no signs of slowing down. This industry is growing at a healthy CAGR of 6.1% and will breach the $350 billion mark by 2027.
Interestingly, more than 20% of pet owners spent more money on pets than themselves during the COVID-19 pandemic. Also, as nearly 31% of the pet industry customers are millennials, they are twice as likely to choose an app than an offline store. This makes a pet training app with an inbuilt shopping portal an extremely lucrative option for anyone looking to develop a pet training app.
Puppr is an extremely popular app, with over 100,000 installs on both Play Store and the App Store. Their average rating on both platforms is 4.5+, making their user satisfaction ratio at par or higher than the competition.
Who uses apps like Puppr?
Puppr's key stakeholders include busy dog owners who lack the time to take their dogs to a professional trainer. In today's world, this would include nearly everyone who has a dog! As our lives become busier by the day, we find it challenging to take our dogs to the trainers.
What value proposition do Puppr offer to their users?
Puppr empowers you to train your dog on your own, at a time that suits you best and at the most comfortable pace for you. There are no fixed times, hourly limitations, lockdowns and chances of getting infected to bother with or worry about. Puppr ensures that you spend quality time with your doggo while teaching it new tricks! Additionally, you can forget about those financial constraints that may deter you from hiring a dog trainer. Most basic tricks and commands can be learnt free of charge on Puppr. If you believe that you need more, get a subscription for as low as $12.99/month or $99.99/year (with a 7-day free trial).
Puppr funding rounds and revenue – Puppr's financial information is private, and the developers have chosen not to share this information publicly. 
Puppr app business model – How it Works
Pet training apps such as Puppr follow two distinct business models:
The subscription approach allows Puppr to maintain consistent cash flows. The various subscription options such as monthly, annual, and one-time enable users to pay for the premium content they need.
The in-app purchase business model allows Puppr to showcase Puppr-branded products for sale and include other affiliate-sourced products on Amazon. Additionally, customers can also purchase in-app masterclasses to train their pets.
Puppr's competitors
Puppr is not the only dog training app around. The app world is full of dog training apps like Puppr that you can use to train your dog. Here are the top apps that Puppr competes with:
Dogo dog training and clicker
Dogo has a large Insta-like community where you can share updates about your pup. The app has five dog training programs: New Dog, Basic obedience, Stay Active, Little Helper, and Strengthen your Friendship. You can use these training programs to help your dog learn basic tricks, get potty and leash trained.
Pupford
Celebrity trainer Zak George drives Pupford's initial month-long training program. In these 30 days, Zak's lessons help reinforce the understanding of tricks, follow behaviour-specific training sessions, and much more. The host of training programs in the premium version includes behavioural training for biting, jumping, and obedience. Premium versions start at $10/month for app-wide access to all lessons or a one-time $20 fee for a single course.
Pocket Puppy School
Pocket Puppy School is an ad-driven puppy training app and is especially great for those planning to adopt a puppy. First-time dog-owners benefit from the information available in the app and the lessons on offer. All the content available on Pocket Puppy School is free—with a caveat: you have to wait an entire day for the next lesson unless you're willing to watch an ad. 
GoodPup
GoodPup is an app that connects dog owners to trainers. This app is good for those who cannot train their dogs themselves. The app has a comprehensive questionnaire, following which you get to connect with a specialized trainer. The trainer speaks to you weekly, and the app offers a built-in chat to contact the trainer for any additional inputs you may need. The training sessions are paid and require a $30/week subscription.
How is Puppr better than the competition?
Budget-friendly and flexible pricing
Puppr is a budget-friendly alternative to other apps in the market. With a wide range of payment options for individual packs that range from $2.99 to $12.99 for an all-access pack, Puppr offers you more value at every price point. 
A lot of apps online have a "fake" sounding clicker. Puppr's clicker sounds like the real thing, and I found that my dog responded to it more often than other apps.
Puppr understands its audience better. As dog-lovers themselves, they understood the problems new pet owners might face and crafted their user experience around it. Puppr uses simple, step-by-step instructions and accompanying graphics to help you understand the process better—directly impacting the speed at which your dog learns and understands them.
Personalized instructions from celebrity trainers
With step-by-step instructions from Sara Carson along with live assistance from other professional trainers available 24/7, Puppr can help your dog learn a bag of tricks faster than others.
Why are dog training apps so popular?
Training a dog is nothing short of intimidating after the "usual bag of tricks". If your dog is too active to handle, the training becomes even more complex and requires a method that is easy to follow and leaves a lasting impression on your pooch. 
I ran out of my training options during the lockdown last year. Even though there are hundreds of books and training classes available on the internet that can help, it all depends on your dog's temperament and willingness to learn. I stumbled across Puppr while trolling the internet for better ways to train my dog. Powered by training lessons, tips and techniques from superstar dog trainer Sara Carson, Puppr promises to simplify dog training for you!
About my doggo
My dog Oscar is jumpy, loving and has not been a good obedience student. He has insane energy levels and is distracted in a second. Although he had learnt some basic tricks, I had desperately tried to train him to play with the frisbee—to no avail. He would either sit on the frisbee or run off with it.
Puppr to the rescue—about the app, features and my Puppr experience
I loved Puppr from the day I installed it. The interface is friendly, clean and easy to navigate through. The app also includes an electronic clicker. You can use this clicker to reward or communicate with your pup. The clicker is the most prominent button in the center of the app and is simple to use or locate.
Lessons available in Puppr
You can pick from a slew of lessons that include:
New Dog

Basics

Silly

Silly 2.0

Charming

Circus

Performer

Useful

Frisbee

Agility

Swimming
And more!
Each of the lessons has sub lessons called packs. For example, if you choose New Dog, you can further select New Dog Basics, Placework and Grooming options. New Dog basics further has lessons that include Clicker Training, Crate Training and Potty Training. The entire interface is pretty intuitive and does not take long to get used to. Additionally, as each pack only has 4-6 lessons, it does not overwhelm you or become an endless scrolling match. 
See also: Best Pet Grooming Apps
The lessons—training the human and the pooch
It is essential to learn how to train your dog before you attempt to train it yourself. Lessons in Puppr help you to see what is to be done and replicate that with your dog. Bones denote the difficulty of each lesson, and the higher the number of bones, the more difficult it is. Lessons in this pet training app are accompanied by audio-visual aids so that you can easily follow them. Additionally, tips and tricks built into the app are beneficial to overcome any hiccups. Oh, and I forgot to mention that you can show off your dog's new skills to the world by participating in photo challenges. 
Should you hit a roadblock, each lesson also has an option to start a live chat with trainers—as a premium feature. 
Note: some of the lessons are premium-only and need a subscription to view.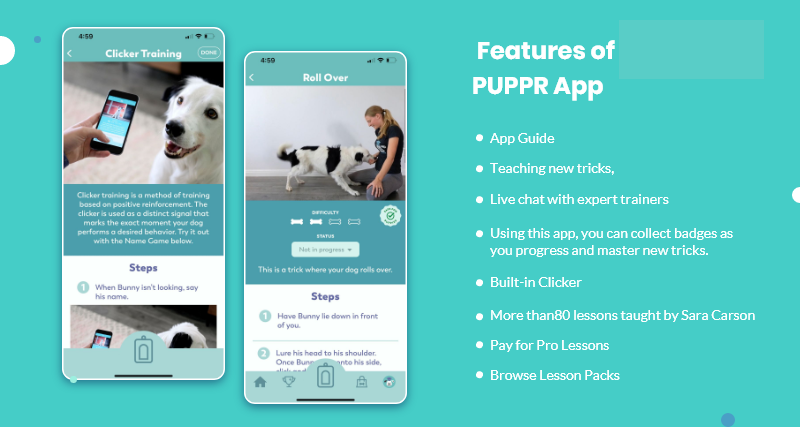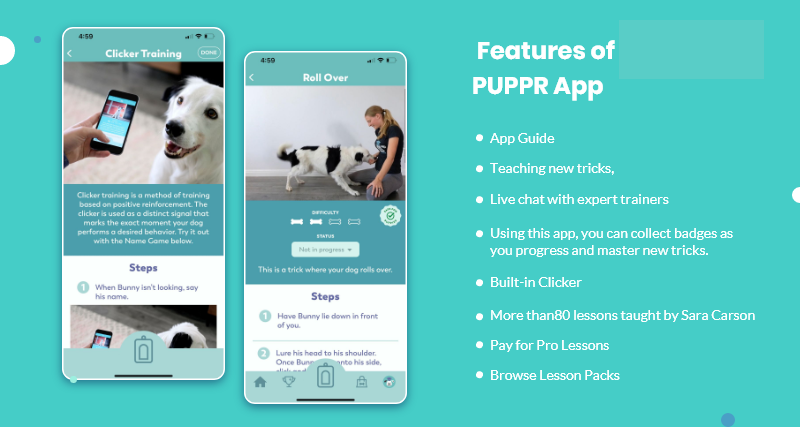 Puppr Features
Profile
Puppr allows you to create your dog's profile so you can see your pup's progress in real-time. The profile will also showcase your doggo's photo along with all the tricks in alphabetical order, sorted by name, difficulty or status. Additionally, the profile lists all the badges your dog earns, along with challenges and likes.
Shop
The in-app shopping area has treats, equipment, accessories and other merchandise to choose from. You can buy items in-app or through links to Amazon.
Puppr app has everything available at your fingertips. For example, if you need to start grooming your dog on your own, the app will showcase things you may need along with instructional videos so you can purchase those items before you begin. So if you are trying to learn how to trim your pup's nails, the app will suggest items such as nail clippers, nail grooming tools, and recovery powder. 
FAQs
Beginner lessons have an extensive FAQ and an option to start a live chat if you still have questions. 
Value—is Puppr worth it?
If your dog is untrained or if you just got a new dog, yes. The basic tricks are all free, but the fancy ones require a subscription. It will take a while for those with a new dog before you complete the entire list of free tips and get bored with the app. 
Puppr gives you the option to pay for a particular activity instead of getting locked into a subscription plan. You can choose your favourite tricks and train your pup in them. If you believe that you need help, you can also subscribe to Puppr premium for a month or a year. Subscription rates are $9.95 a month or $95.99 a year. 
Puppr Premium unlocks all lessons, gives you access to masterclasses by experts and lets you chat live with Puppr's team of training experts. 
Remember that every dog is different and may or may not like the approach followed by the app. The success of the app will entirely depend on your pooch and your perseverance! 
Note: I tried to teach my dog the "Hooped Arms" trick in which you form a hoop with your arms and your dog leaps through it. The first step was the most difficult one. My dog refused to jump over my arm and instead decided to crawl under it. After billions of tries and treats, he finally jumped over my arm for a treat. Step 2 took more than two weeks of trying hard to have him jump through the hoop made with my arms. Once he was good at jumping through the hoop, I tried the midair hoop, which we both miserably failed at, but it was a lovely experience!
Creating an app like Puppr
Now that we've explored all the features of Puppr, it is time to know more about creating a pet care app just like it. It is essential to understand that with the plethora of apps out there, you must create a Puppr app clone that is engaging, interesting and full of unique features that will captivate your audience.
Basic features to include
The essential features of the app will remain similar to Puppr
Customer-facing app
Login/Signup

Masterclasses by dog trainers

Video tutorials

Lessons for training

Sub lessons by trainers

Push notifications

Built-in clicker

Live chat with professionals

Pet training tracker

Rewards and badges

Adding multiple dog accounts

In-app purchases

Help and support

Daily reminders

Subscription renewal

In-app payment
Administrative interface
Login

User management

Lesson management

Sub Lesson management

Content management

Payment management

Push notifications management

Google analytics
Tech stack
Although Puppr has not made their tech stack public, you can use the following technologies to create a dog training app like Puppr:
App: 
Sketch

XCode

Android Studio

Fabric iOS

Sass

Swift
API management and payment gateways:
Google API

GeoFence

Stripe

PayPal
Server and quality assurance:
AWS

FCM

Mantis BT

Sendinblue

MEAN stack
Analytics and management:
Google Search Console

Zoho

Google Analytics
Your app dream-team
At Volumetree, we ensure quality, reliability and transparency at every step of your app development process. Each app we develop gets the following team members assigned to the project to ensure quality:
Business analysts help you to gather and interpret insights generated by your app. This can help to identify trends and areas for improvement in the long run. 
Project managers are your single point of contact with Volumetree. They are responsible for product success and ensuring that it meets requirements, timelines and budgetary constraints.
Our user experience team ensures that your app has a captivating user interface and a pleasing user experience. 
Mobile app developers (iOS and Android)
We have an extremely experienced team of mobile app developers who create your app for its intended platform.
Test engineers (Quality Assurance)
Our test team continuously tests your apps, their requirements and certifies your dog training app for release once complete.
Costs of developing an app like Puppr
Designing dog training apps like Puppr requires planning and care to appeal to the audience. As these apps must cater to a niche audience, they must have all the must-have and most-requested features of their competitors at launch. You can only accomplish this with a well-rounded team and a scientific, future-centric approach to app development. 
We estimate that developing an app like Puppr will cost between $12,000-$15,000. This includes design, development, testing and deployment costs. Ensure that you add at least 50% to this sum for maintenance and new feature development.
The Volumetree difference
At Volumetree, we follow a "customer's customer-first" approach. This essentially means that we design and develop the app keeping the needs of your customers in mind. Our apps follow a design-first process, ensuring that the app is simple, relevant and engaging. 
Each line of code added to your app is thoroughly vetted and tested, ensuring that you get a great app from the get-go! With a captivating design, unique features and a great user experience, we are sure that your target audience will love your app.
Got a great idea in mind? Let's build this together!