A mobile app is all the rage today. From apps to order bread online to booking air tickets, there's an app for nearly everything. This technology has permeated into our lives and now governs nearly every aspect of what we do daily.
Mobile apps are especially popular with millennials, who spend 90% of their time browsing the internet on their handheld devices.
Another new trend amongst millennials is to keep a pet. With disposable incomes rising across the world, the pet industry has grown by leaps and bounds. People suddenly have found solace with a furry friend, something they could not really afford not too long ago.
Having a pet comes with its own unique challenges, and most of these new challenges present themselves as opportunities for entrepreneurs of this modern generation to innovate and start something new. One of these things is building a pet-centric app.
Pet tech and pet health tech are trending immensely these days. A pet health app seems the most logical way to ensure that you enter a field for innovation that is not yet teeming with others with hardly any room to wiggle in.
Some Examples of Apps for Pet Care
Although there are many players in the pet food subscription space, some have made a mark with their quality. 
Nom nom:

Nom Nom is a fresh food delivery service for dogs and cats. The mobile app offers pre-partitioned fresh meals for your pet friends. 

Ollie: 

Ollie offers human-grade recipes for dogs – hormone-free meats and no fillers, preservatives or flavourings. For easy opening, the food ships in peel-back lids and comes with a leftover tray for fridge storage.

We Feed Raw:

WeFeedRaw offers meal plans with 80% muscle meat and a vitamin and mineral mix. A good option for you if your dog do well on a raw diet. These quality meats come in bulk patties, treats, bones and meal plans.
The market is ripe for the taking. One question remains in nearly everyone's mind today – how much it really costs to make a mobile app. We will analyze the breakdown in this article and help you understand the various costs involved in making a pet care app.
So, you have a wonderful idea that no one has thought of yet and you wish to create an app from it! Great!
Why Create a Pet Care App
How can technology fill the gap between you wanting a pet, to actually bringing one home? Here are a few ideas that come to mind:
Information about the breed of your pet:
Imagine pet care apps that give you all the information you need about your pet with one click. Click a picture, upload it to the pet app and there you have it! Everything from its origin, scientific breed of the said pet and its genealogy, to the weight, height and other information. The climatic conditions that suit the pet the most, its lifespan, common health issues, feeding and exercise needs, and other crucial details that a pet parent must have before getting a pet, the pet care apps can help collate and curate.
Collect all health records/reports at a commonplace:
Medical history is as important for humans as is for animals. It helps in logging existing ailments to further progress or catch any new ailments and nip them in the bud. How do you keep track of your dog's health records? Finding vital information can be time-consuming and in an emergency, nerve-wracking.
While we have dozens of health record apps to keep track of our health and/or fitness, why not have one for our four-legged friends? Imagine getting rid of all the hassle of keeping track of the last vaccine that your pet got or the last vet visit. Instead, choose a pet health care app where you can conveniently keep tabs on any allergies that your pet might have, its reports of any prior sickness, shots, medications or the next vet visit.
Track your pet's growth:
The wellbeing of a pet is always a chief concern for a pet parent. Tacking a pet's growth and observing their milestones is a good way to keep a check on their growth patterns.
Besides, it can be a great way of stashing away memories and the visual growth journey through the years of your pets. It would be a great asset to have an app where you:
Receive notifications on your pet's physical progress.
An update every month showing how much your pet has grown and what it needs for proper growth.
Personalize your pet's growth chart with a picture every month.
Online shopping:
E-commerce has already proved to be a boon for us. With last mile delivery solutions you really have nothing left to worry about. All your needs are just a tap away. E-commerce comes to our aid yet again as a one-stop shop for all your pet needs. A pet app that curates all your pet's needs in one place based on its breed, age and modifies it according to changing weather conditions could be a real game changer.
Finding a vet near you:
Pet care apps that can come handy for pet owners are ones which alert you about vets and animal hospitals near you. Notifications about verified vets near you based on customer reviews and their specialties are such a help for a pet parent. Every pet parent has faced the hassle of narrowing down a good vet or animal hospital in a new neighborhood without any frame of reference.
It comes as a daunting experience for pet parents when you're unsure about the vets in the area and don't know who specialises in what. A pet health care app aimed at finding vets and animal hospitals near you classifying and listing reliable vets based on your search and makes this process easier, convenient and stress-free.
Online consultation with a registered vet:
Just like an on-call doctor is an old news, with online doctors available to tend to your medical queries, your pets should get all the medical help at their beck and call. Online consults are a great way to eliminate fears and worries about any issues your pet might be having. What do you do when you need advice but don't have a vet you can speak with at that very minute.
Technology that helps you indulge in an in-depth conversation about all your queries. All your queries answered by experts in a jiffy. A pet health care app that schedules online consultations for your pets with a registered vet can help reduce a lot of trips saving you time and unnecessary botheration.
Training and counseling:
Like it or not when you get a pet there is a learning curve for both you and your pet. The whole process of getting groomed and learning to obey commands needs a lot of patience and time from both the pet parent and the pet itself. Here, an app that has a plethora of tips and tricks to train your furry friend can come to the rescue.
It can help tackle some of those less-than-ideal behaviors of your new furry friend, like barking and jumping up on friends as a greeting. All pet parents have a lot of questions and anxiety about the potty training bit with their pets. Pet grooming apps can come to your rescue where a pet trainer can be consulted online and helping you groom and train your pet. It can come with easy to follow instructions, lessons ranging from basic to advance which can be taught with positive reinforcements.
Wearable technologies:
Does that pet sitter do his work? Was your pet fed? What about their evening stroll? As a pet parent who clocks in 9 hours at work all these questions are bound to pop up in your mind. But there is a very simple answer to these questions – wearable technology. Place a wearable tracker on your pet with their collar and never lose track.
Regardless of where you are, you can always be informed about your pet's whereabouts with just a pet care app that is synced to the wearable device. In case your pet leaves or crosses a pre-defined safe area, the pet care app will immediately alert you.
Placing a QR code at the back of the wearable device can help provide the pet parent's contact details to anyone who may find the pet that is lost. This could be a big step in getting that peace of mind and ensuring the security and safety of your pet.
Scheduling Appointments:
With a busy routine and a hectic work schedule, it is a pain to schedule your own appointments as is, add to that your furry friend needing vet visits and grooming. It can be quite hectic and a little assistance would definitely make a big difference. Here's where technology can step in and come to your rescue.
Find yourself becoming forgetful? Fear not, you could have reminders sent to your phone about vet visits and when the next vaccination is due. It would be great if you could get all your pet records synced to the cloud and also connect with the best vet clinics around you with one tap. Here's how a pet scheduling app can help you:
Convenient online instant scheduling.
See when your next appointment is scheduled.
Being notified through text messages after your visit.
Automated voice messages for appointment reminders or updates when your pet is in the clinic.
Emergency services:
A lot of times there can be accidents that your pet can get involved in, resulting in severe injuries and causing a threat to their life. Transportation to an animal hospital in an emergency can be of great help in such times and be the reason behind your pet leading a longer life.
A pet health care app that is made for such medical emergencies, could be a game-changer. This pet health care app could help you get connected to vets, animal hospitals near you. Alert an ambulance and send it your way while you click a picture of the injury and upload it to the health care app for the vets to figure out a plan of action.
The vets could also inform you about the steps that you could take to help stabilize the situation of your pet. Instead of a haphazard or random order as is in a Google search, the pet health care app can list the helpline numbers according to your location which comes in handy, making this nerve-wracking situation for the owner a little less stressful.
How much does creating a pet care app cost?
A ballpark figure is difficult for an idea, but the industry average for creating a mobile app is somewhere between $15,000 to $100,000 depending on the complexity involved and the number of platforms the app is created for.
As an example, an app that monitors the day of your pooch and helps you understand their routine while ensuring that they are staying as fit as needed seems to be something that nearly everyone is looking for. The following factors determine the cost of creating an app.
The A-team:
A comprehensive set of experts is important for an app to be successful. What a pet health tech app really needs at the outset is the following individuals:
Front-end developers: iOS and Android:
Developers for both Android and iOS are essential to ensure the development of the app goes seamlessly for both platforms.
Backend Developers:
Backend developers handle the data end of the bargain, ensuring that your users see the content they want.
User Interface Designers
Not everyone can design. UI designers are extremely important as their opinion can make or break an app.
Testing teams
Testing teams ensure that your product is rock solid and can take the beating an app does in everyday life.
Project Manager
Although Project Managers and Business Analysts appear to be an extra cost, these individuals will drive your development teams and ensure that your project runs smoothly and is understood well.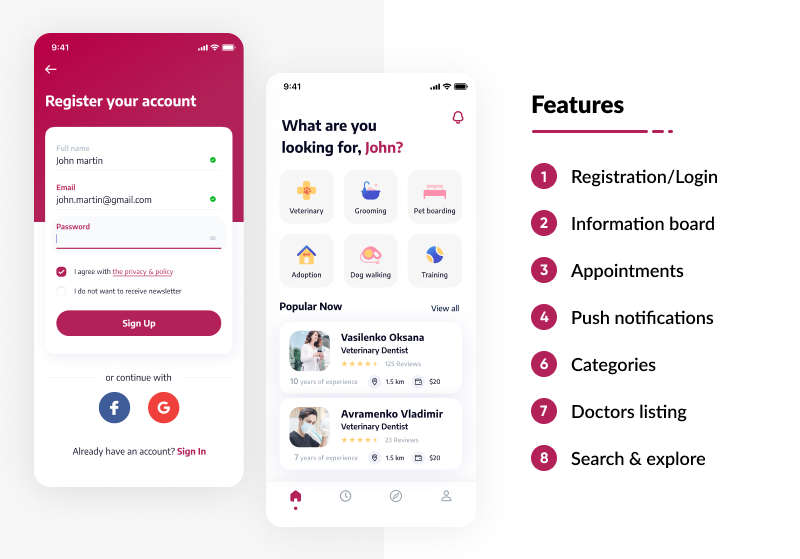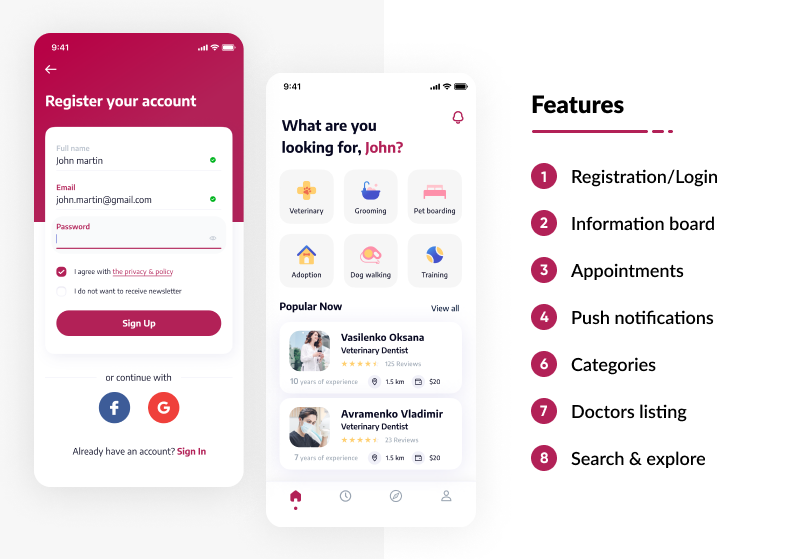 Features to include in your mobile app for pets
The needs: Expected feature sets
Your app will be as expensive as the feature set it offers. With many apps now integrating social media in their app as a seamless view and ensuring an admin panel along with subscription management, payment gateways, live video and compatibility with common wearables, the "generally expected" list is virtually endless.
Innovations: The wants – features that you may love
Deep Analytics, Artificial Intelligence and interactivity using chatbots are essential for apps to ensure that they can guide and drive the user to use the app more and more and ask for premium features.
Revenue model: How does a pet care app make money
Every app developer creates apps for revenue. Having a clear revenue model will assist your development team in creating the app to work towards that model. Most apps make money via subscriptions, advertisements and selling related products in-app. The sooner you find your combination, the better. This also affects the cost of the app as more revenue channels will require further complexity in the app.
The pet industry today is hovering around the $2 billion marks and is only expected to grow. As the innovators rise and create more and more effective solutions, the demand for these solutions will keep growing. With everyone hankering for a piece of the pet health tech pie, it is important that the development cost factor is considered before a foray into this lucrative industry.
Revenue model specifics- how they generate income
Pet care apps generate revenue through a lot of avenues. Popular revenue generation options include:
Vet consultation fee commission
Most pet care apps charge vets a commission for each case referred to them.
In-app purchases for pet merchandise and food
Selling pet food, treats and pet merchandise is a great way to earn through your app.
Charging a monthly fee or a per-incident fee for pet training is a popular way of monetizing your apps
Monthly food delivery, health checkups, grooming and other recurring services are a great way to earn through your app.
Offering pet ambulance services and services such as vet-at-home can help boost revenue.
Pet adoption or getting a pet
Consultation services for choosing the right pet, getting a new pet, and pet adoption are all easily monetizable features in a pet care app.
Ads are a great way to earn revenue. Showcasing targeted, unobtrusive ads are an excellent way to earn by serving ads and even earning commissions from a successful sale.
Onboarding third-party providers and professionals
Charging a fee to onboard third-party providers, professionals and vets is an excellent way to enhance their target customer base and become an additional revenue source for the app.
FAQs
1.  What are the best business models in the Online Meal Delivery Subscription For Pets? 
The world has come a long way since the economic meltdown in 2008. As economies have stumbled back to a path of growth and markets have risen, so has the amount of disposable income available with people. This has given rise to a new set of pet owners… read here.
2. How to make the perfect pet care apps for pet parents?
With days filled with deadlines and meetings and nights filled with anxiety about them, millennials are in desperate need of companionship. Some find it fulfilled by peers, and others choose pets to substitute relationships with people… read here. 
3. What are the highly lucrative business models in pet health tech?
Pet health tech has been a buzzword that has been trending for a while. As the percentage of millennials who own pets rises by the day, so does the advent of technology into this domain that had previously only seen minor improvements in the decades preceding the current… read here.