In the age of the mobile, the end-user is king. Gone are the days when brands could dictate their terms, letting customers know what they would like to charge for a product or a service. Today, with dozens of options, thousands of providers and no dearth of choice, it is a simple case being able to serve on-demand or being left out.
As millions of us shop online today, we think little before adding an item to our cart and clicking expedited shipping before hitting the pay button. In many cases, physical goods are delivered to us either on the same or the next day, making going out to shop simply—outdated. 
As the number of shopping portals, apps rise and shipping times reduce, new and innovative logistics providers seem to be cropping up daily, but only a few make the cut. Traditional providers too must either go with the times and update themselves or simply be forgotten in the deluge of options. Of all the providers in the world today, there are some that moved from brand names to nouns—FedEx and UPS. No one thinks twice before planning to send a package somewhere and saying I'll just FedEx it to you or did the UPS guy show up?
FedEx Corporation (FedEx) and United Parcel Service, Incorporated (UPS) are well-known industry leaders in both air and ground package distribution, transportation and logistics services. These companies compete internationally and have established virtual monopolies on some aspects of the shipping business. 
UPS relies primarily on the strength of its time-defined ground delivery of packages and documents. FedEx's success and reputation are largely attributed to its unmatched performance in overnight deliveries. UPS delivers an average of over 21.9 million packages globally—every day. FedEx averages approximately 16 million daily deliveries. Modern technological advances have helped both UPS and FedEx to increase their business to new heights, all the while one-upping their rivals.
A little history lesson
Nearly a hundred years ago, two men on bicycles in Seattle converted their small delivery business into a 444,000+ employee giant with 119,000+ vehicles and 600+ planes that collectively deliver over 21.9 million packages every day! With a global reach, technology adoption, brand value and e-commerce capability being major plus points that solidify the position of UPS as a global leader in logistics.
FedEx began as a time-certain express delivery service in 1971 that specialized in overnight and next-day express delivery. Employing 220,000+ employees and contractors in 214+ countries at 55,000+ drop-off locations, FedEx is not a competitor that UPS can easily ignore. Although FedEx might seem to be a smaller operation with a lower ground vehicle count of 180,000+, they make up with the largest fleet of civil aircraft in the world. FedEx attributes its growth to investment in high-tech and high value-added business goods, globalization, acceleration of the supply chain, and continued expansion of Internet and e-commerce solutions.
CORONAVIRUS CRISIS: Since early February, FedEx Inc stock has declined -15% compared to -5% for UPS. [Source: forbes.com]

Fedex Vs UPS
Each FedEx division remains a separate and distinct shipping network. That's why FedEx Ground has a different coloured logo than FedEx Express!
UPS hub-and-spoke-based singular network where everything is interconnected. Service levels share resources and each package follows a similar flow from origin to destination.
FedEx Offices are typically large spaces, that resemble big offices, and are corporate-owned.  A FedEx Office provides equipment such as digital photo kiosks, laser printers, or desktop access with an image scanner and design software. FedEx mostly attracts retail customers and corporate clients who prefer their services.
A UPS Store is a small retail setting, that is owned by franchisees. The store primarily serves retail customers and small businesses for their small package delivery needs plus certain postal and shipping-related services.
UPS specializes in domestic ground delivery services whereas FedEx specializes in time-sensitive international air freight.
FedEx is colloquially known as an airline that owns trucks. UPS is known as a trucking company that owns aeroplanes.
FedEx operates on a healthy operating margin of between 5%-8%. UPS, however, has a higher operating margin of 8.38%.
FedEx provides a range of delivery, distribution, and supply chain services to customers worldwide that include residential, government and commercial customers. FedEx provides value by leveraging its brand recognition and industry standing, its track record of providing efficient services, global reach and its wide range of delivery and supply chain solution which is empowered by its technological infrastructure.
UPS generates its revenue mainly from three categories of services or reporting segments. These reporting segments include  US domestic package, International small package and supply chain and freight. UPS bets heavily on its domestic delivery services and high integration of e-commerce solutions that prefer shorter-distance delivery.
The pricing structure of UPS and FedEx would be best illustrated through an example.
Calculating what each provider would charge to ship a 2-pound box (6 in. x 6 in. x 4 in.) from Los Angeles to New York City with their cheapest plan:
FedEx Ground: $15.73; four business days in transit

UPS Ground: $13.61; four business days in transit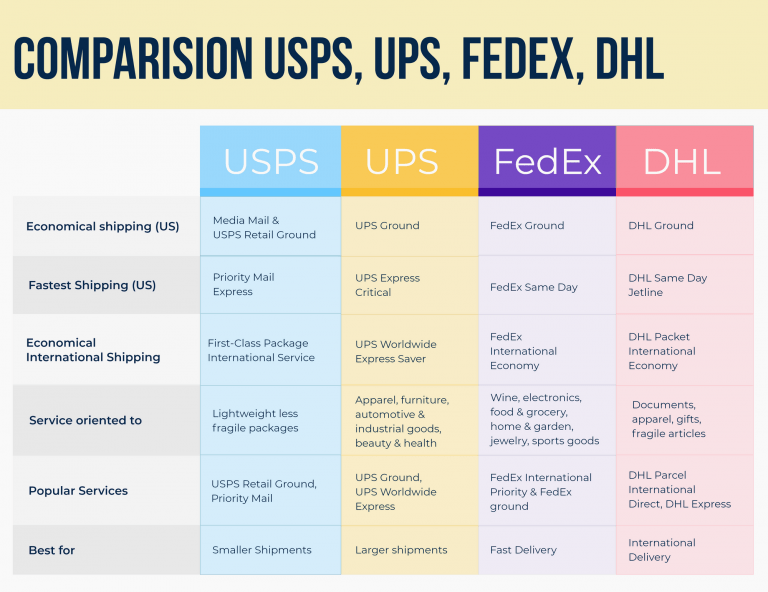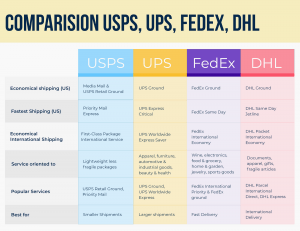 Both FedEx and UPS compete with DHL, USPS OBB and each other.
So in the battle for value, which provider would you choose? Although your shipping costs might differ according to geographical location and you might find one brand to be cheaper than the other, the cost is not always the deciding factor. Convenience, reliability, familiarity and integration with your existing lifestyle and systems also help you make the decision.
However, when it comes to revolutionizing your logistics platform or creating a product from a disruptive logistics solution idea you may have, look no further than Volumetree—a leading innovative mobile app development company that has years of experience building successful, world-class apps that make a massive impact through technology. Click here to set up a call with one of their executives to know how they can help you create that impact in the logistics world.