The age of the mobile is the age of agility. Powered by portable devices and mobile phones, the world is growing by leaps and bounds and is showing no signs of slowing down. However, in this possibly unending race for growth, we seem to have left a part of the world behind—the differently-abled. According to the WHO, over a billion people around the world suffer from some kind of disability, which is nearly 15% of the population of the world. 
However, disability does not mean inability. For years, technology has been playing catch up to become universally acceptable—by those with disabilities and those without. In the world of IT, this has been made possible with accessibility. Accessibility—popularly known as Assistive Technology or AT have transformed the way accessibility features are offered in modern mobile devices.
See also:
What is Accessibility?
Accessibility refers to the design of objects and places of daily use so that they can be used by the disabled without problems. For example, building a ramp or step-lift helps those with disabilities to easily enter the building. Signs with braille inscriptions in museums help the visually impaired gain information, and in software, visual, audio and sensation-based alerts and prompts help to provide useful information and alerts that cater to their needs.
Why does accessibility matter?
Accessibility is not an option today. It is a necessity. As governments and organizations around the world gear up to the make the world a more disabled-friendly place to live in, it was only natural that software would take the lead and create applications to facilitate this for them. Although accessibility has been built into operating systems for years, the widespread use of accessibility features in applications really began with the advent of smartphones.
Design features and functionalities such as voice-overs, readers, magnifiers, vibration-based alerts and unlock sensors are all geared to make using mobile phones truly indispensable devices for all.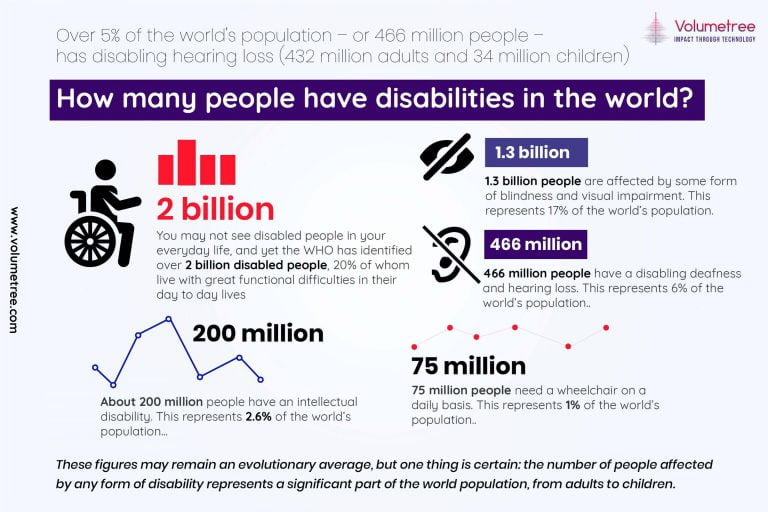 How do mobile apps and devices help the disabled?
Mobile apps and mobile devices help the disabled in more ways than ever before. Every update in both Android and iOS make mobile devices friendlier and easier to use for all. Here is a list of some of the impactful mobile apps for deaf and blind.
There are some avenues in which mobile devices have taken the lead and surpassed other platforms when it comes to being disabled-friendly. These include:
Traversing through unknown areas is now a breeze, thanks to mobile apps for navigation. With audio assistance for the visually impaired and graphical assistance for those with hearing disabilities, navigation apps such as Google Maps and many others help the disabled go places safely. These apps also highlight disabled-friendly access points to various locations, helping them move around with ease.
Mobile devices help us to stay in touch, all the time. With the advent of assistive features such as vibrations for notifications, sketchable messages, the ability to send audio notes and make video/audio calls has helped the disabled stay in touch with friends, family and co-workers at all times.
Voiceovers, subtitles and zoomable screen text along with audio enhancements have been available in devices for many years. Recently, Bluetooth-enabled hearing aids have started to make rapid advancements and have made it possible for those with hearing disabilities to interact with their devices directly, without needing an external interface for their hearing aids. 
Nearly 15-20% of the world suffers from some kind of learning disability, including spelling, writing or reading. Mobile devices include features that make reading, writing and learning easy and help people cope with these difficulties.
Healthcare is important for everyone. Healthcare apps help to remember medical appointments, schedule doctor visits or home visits reorder medication as per need. Additionally, wellness apps can help to create a calm, conducive atmosphere in your home by modifying illumination using smart lamps or providing thoughtful reads and music.
Mundane or daily tasks can sometimes be forgotten by us. For the disabled, forgetting important tasks such as doctor visits, medication timings and many more are an important part of their lives. With to-do lists and task-based sensation/audio/visual/textual alerts, mobile devices can help people stay on the top of things at all times.
Fingerprint sensors and face detection has made it easy for the disabled to lock and unlock their mobile phones. With no requirements of swiping or passcodes, an unlock is easy, simple and very flexible along with being completely secure.
Digital payments such as those powered by the UPI or unified payment interface and many others have made payments easy. As payment-gateway driven apps get better by the day, they help people make online payments by scanning QR codes or sending money to business addresses. This also helps the disabled stay safe by minimizing trips to the ATM/Bank and paying directly from their mobile phones.
AI and IoT-driven smart devices such as bulbs, fans and now even air-conditioners can be easily programmed and controlled through mobile phones. This greatly enhances the safety and security of the disabled by giving them one device that can help them turn on lights in the house, switch devices on or off or even set timers for lights and other devices to switch on automatically, helping them enter a well-illuminated home or workplace.
Safety and security of the disabled is an important area that many mobile platforms are now focusing on. With apps for location monitoring, distress, wearables that detect falls and heart issues and more, mobile devices and wearables have made great strides to ensure that we stay safe at all times. 
Mobile devices, wearables and software are at the forefront of innovation today. Along with innovation for general use, innovations in accessibility and assistive technology great changes in the way people perceive accessibility and has incorporated assistive features for the differently-abled to benefit from modern-day technology to its full potential.