In today's fast-paced world, individuals simply do not have the time to run errands and manage odd jobs even on weekends. As an example, consider trying to get a quote to get your house repainted and your bathroom retiled at the same time. Without a website or an app to help you compare, this task might take days or even months before you zero into a provider. Also, you might not find the professionals you actually need in your vicinity. This has given rise to a plethora of home services that provide you with what you need, in the comfort of your home. Whether it is a broken air conditioner or a window replacement, home services today play a very vital role in ensuring that you get the service you need when you want them. Currently considered to be a $600 billion market, the home services industry is waiting for its own "Uber". The time is ripe for an innovative idea to disrupt this market and take the industry by storm.
Online marketplaces for services have become the norm to find help. Without these services, providers and suppliers need to spend time, effort and money into finding each other. This causes many to abandon the idea of running their own business, or in potential customers opting for a DIY job instead. Services providers today may either follow a transaction-based model, a lead-based model or a holistic, service-based model.


Transaction-based services model
In a transaction-based services model, the aggregator or the marketplace offering services takes a percentage of each transaction that is billed through the platform. This helps in making your platform more scalable – in short, the more transactions you bill, the more revenue you bring in. 
For customers, this model is quite beneficial as customers only pay when they need something and suppliers only if they are hired. This reduces the upfront costs of reduced sales and risks, thereby driving both suppliers and customers to the platform, increasing supply and credibility.
If we take the example of TaskRabbit (formerly known as RunMyErrand), a company that started in Boston in 2008 as a need to create a platform connecting people who needed a service and those who were willing to offer their time for those services. In the last 10 years, TaskRabbit has pivoted itself from an idea to a company that has received over $40 million in funding, boasts of over two million active users and thousands of providers in 40 locations around the US and beyond. In 2017, TaskRabbit was acquired by the IKEA group and currently operates as a fully owned, independent subsidiary of IKEA.
If you are looking for more examples, check out our research on Urban Company business model.


Subscription-based model
For jobs that do not require a one-time fee like cleaning services or hiring household helps, customers are billed on a recurring basis that helps them receive services at their convenience while paying for them on a regular basis.
For a service provider, the best part about a subscription service is that the chances of customer retention are pretty high. Revenue prediction is nearly spot-on and there is a very high scope for cross-selling and marketing.
From the perspective of a customer, this takes the pain out of having to look for and pay for services on a recurring basis. In short, the monthly service payment ensures that they can get the job done, hassle-free. This also reduces the costs customers might incur if they book services individually.
Alfred, a company founded in New York by Marcela Sapone and Jess Beck in 2014 has received accolades and over $60 million in funding. A winner of the 2014 SF TechCrunch Disrupt, Alfred has been helping people find time to do things they have always wanted to but never had the time for. Hello Alfred offers home management services and takes great pride in describing the fact that they have been able to execute around 50,000 requests that would have taken around 5 years of their subscriber's time in less than 8 months, helping them find time for themselves.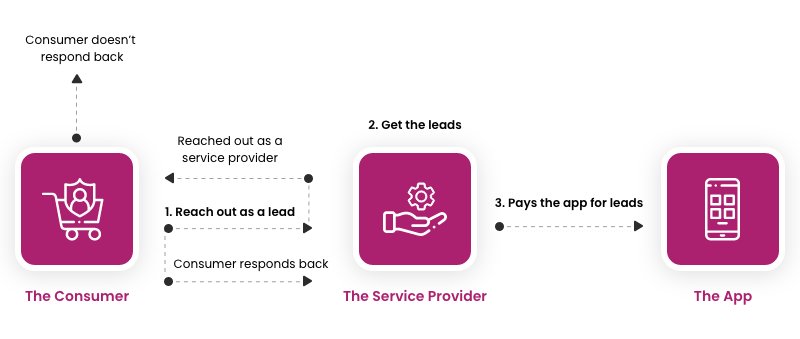 Lead-based model
In a lead-based model, customers receive quotes from suppliers who have paid to have these sent. As an example, a customer might need a roof re-tiled. The platform or the aggregator will bring multiple professionals together who will bid for the available contract if they are available and the customer is able to choose the quote that they think is best.
From a supplier's perspective, they get an online presence and gain an insight into the market trends and prices. 
From a customer's perspective, receiving quotes from multiple competing suppliers results in the customer being able to make a more informed choice.
From the perspective of the aggregator, their user base grows quickly as the customer is not charged for the quotes. This large customer base also incites suppliers to join the platform, thereby increasing the number of suppliers along with customers.
One of the more known names in the lead-based model approach, Thumbtack had dabbled with a subscription and a transaction-based model before settling for the lead-based approach. Professionals currently pay Thumbtack to contact customers through Thumbtack credits, which are then used by professionals to send quotes to customers. Service providers only pay to quote, and Thumbtack does not charge a commission for jobs they complete or future jobs that they book with the same customer and from their referrals.
With over $200 million in funding since their launch in 2008, Thumbtack has been helping people find relevant local providers for a project. Earning a small service fee for each bid, Thumbtack has been able to maintain their customer base by staying relevant to customer needs and having a model that appears to be a hit with customers.
A home services start-up today can approach the market with a multi-pronged approach. They may either become the service provider themselves, resulting in the standardization of the services or they can decide to manage the marketplace of suppliers and customers. As these marketplaces are highly sought after, a home services start-up with an innovative idea can be the next big disruptor in this huge market, with room for more.
Let us know if you have any questions regarding the models across the home services industry. VolumeTree has expertise in the field of home services app development and we will be happy to get back to you.