The impact of the coronavirus or COVID-19 has been unprecedented and of a scale that can only be rivaled by the 1918 Spanish Flu. Dwarfing the SARS epidemic of 2003 and the Swine Flu Pandemic of 2009 by a large margin, the novel Coronavirus has infected over 300,000 individuals and has claimed over 16,000 lives. Designated as a pandemic by the WHO, the Coronavirus has wreaked havoc on our healthcare facilities, overwhelming them to levels that have been unforeseen to date.
See also – Telemedicine Tools To Combat Against Corona Virus
With alarming infection rates even in developed countries, this virus is spreading faster than containment measures can kick in to control it.
A prime example of accelerated medical research
The coronavirus pandemic has added much-needed fuel to the medical research industry, with companies pumping in both money and scientific resources to help curb and manage this pandemic. As an example, an experimental COVID-19 vaccine developed by Moderna Therapeutics has already reached a level where human trials are being conducted by the NIH for review. This vaccine has come in days rather than months, taking merely 63 days after China released the genetic sequence of the virus in mid-January to reach stability levels that can initiate human trials. This has been made possible using mRNA, which uses a genetic form of the genome of the virus, which prompts cells to process it and rally up the immune system to generate a response and target it for destruction. This method does not involve "growing" the virus, which can sometimes take many months to reach levels where production can begin.
The overburdened healthcare system
However, as cases arise, the shortfall of medical workers and experts has started to show up. Hospitals and clinics are severely overwhelmed, impacting care and reducing the number of patients a doctor can take care of or even advise. As OPDs have closed nearly everywhere in the world, people have few options except queuing outside hospital emergency centers and being there is a big risk factor on its own. 
Technology to the rescue – again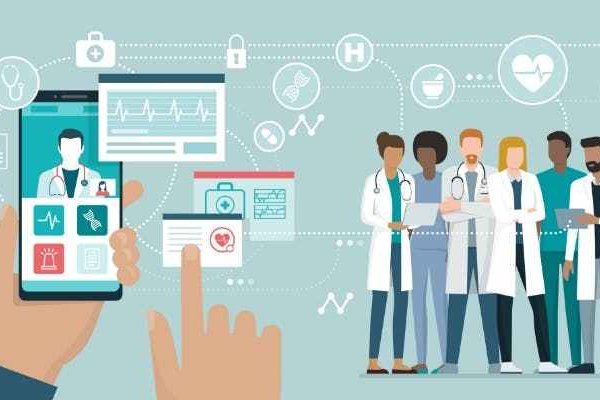 Around the world, telemedicine had gained some importance in the early 2000s but lost impetus somewhere down the line due to a lack of interest in patients and the medical community. As the coronavirus pandemic overwhelms our medical systems, hospitals and clinics have either run out or do not have patient footfall due to lockdowns, hampering aid to those in need. Telemedicine or telemedicine has come to the rescue of both patients and doctors by providing an alternative means of communicating with each other. This also helps patients with unrelated ailments such as diabetes to get care despite lockdowns being in place.
What is telemedicine? How does it work?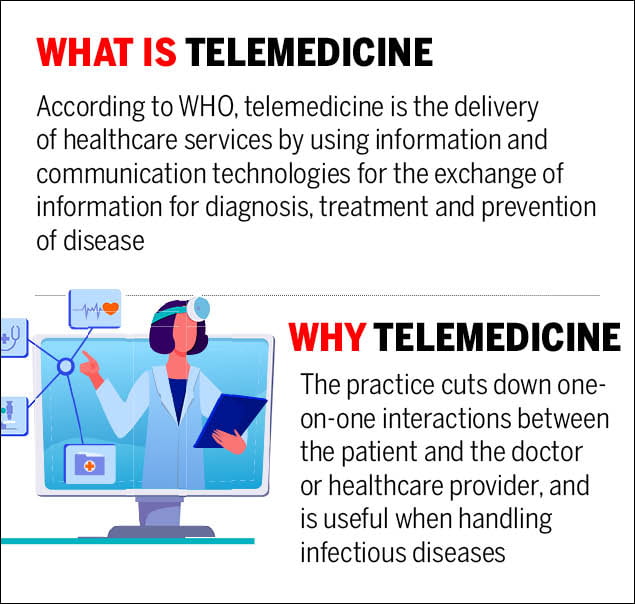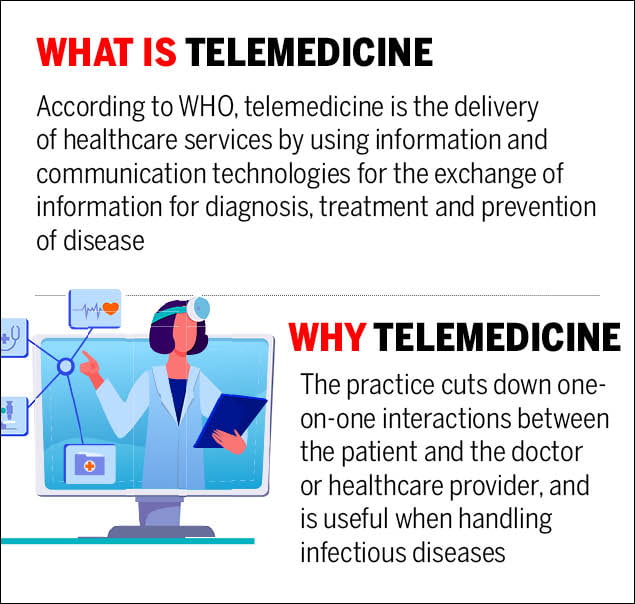 Telemedicine is using alternative methods of communication, like video conferencing, video chat, phones and instant messaging to provide medical care to patients remotely. Although telemedicine or telemedicine cannot replace a traditional healthcare setting, it can reduce the burden on healthcare providers immensely. telemedicine provides real-time responses from healthcare professionals, ensuring that patient concerns can be addressed. In India, programs like ICMR-AROGYASREE, NeHA, and VRCs have helped patients get access to care, no matter how remote the location may be. In countries like the USA, telemedicine is now covered by Medicare, ensuring that millions of patients can now use telemedicine to help reduce exposure during regular health check-ups and clinic visits.
Is telemedicine the right approach for combating the COVID-19 pandemic?
Telemedicine helps to bridge the gap between people, healthcare providers, and health systems. This ensures that patients can stay at home and communicate with medical care workers remotely, helping to reduce the spread of the virus to the masses and medical workers unless it is necessary. Telemedicine has also been given the right push by this outbreak, helping governments and healthcare providers to test the system in a way that can never be replicated in a lab. This real-world test will determine the future of telemedicine, but we're sure that for the current pandemic, this is a solution that can assist doctors in helping thousands more than they could on the ground. According to a recent survey by Software Advice, telemedicine adoption rates have skyrocketed in the US and over 80% of patients now prefer providers that offer telemedicine instead of regular clinic visits for routine checkups.
What does a typical telemedicine system comprise of?
Telemedicine involves the usage of IVRs, knowledgebases and informational videos for self-care of non-critical patients and most recently, mobile apps to ensure that patients have access to the information or support they need at their fingertips. A more direct method of telemedicine is the usage of videoconferencing to help doctors assist each other and to diagnose patients that cannot visit the clinic personally. This helps doctors overseas and in less-affected regions to help and assess patients that an overwhelmed hospital might not be able to cater to, ensuring that patient care continues 24/7 with doctors around the world being available on call.
How is telemedicine different from Telemetry?
Telemetry is the capability to remotely measure data that would otherwise require physical presence to collate. As an example, health workers dealing with patients in quarantine can remotely monitor their data, reducing exposure levels and enhancing the quality of care. Telemedicine involves the interaction of doctors with patients to provide endpoint, contactless care.
Can prescriptions be issued by telemedicine professionals?
Although most international telemedicine services can issue prescriptions so patients can get medication that they need, the rules might be different in some countries. Please ensure that you check the website of your local health department for more details. 
I am a doctor and I would like to offer telemedicine services for my setup
You're in luck. Volumetree is an experienced software development company that has global exposure in developing apps and services for the medical industry. A recent example is the development of online nurse management and onboarding platform for the largest nursing services provider in South Africa. Volumetree can help you develop a platform to help those in need, thereby reducing the burden on public health services, and helping your patients take care of their regular visits without having to step out of their homes.
Infrastructural challenges and limitations of telemedicine
Although telemedicine is considered a godsend by many, the existing infrastructure was dependent on clinics and hospitals to function. With a massive expected influx, many systems around the world have reported infrastructural challenges and difficulties in coping with the large number of users thronging the system. Although these can be worked out with scalability, telemedicine will take some time before it is completely streamlined. Problems were recently noticed by patients using services like Amwell and Penn medicine, however, bottlenecks are being addressed by all telemedicine services globally.
Are there any legal or regulatory issues with telemedicine while dealing with COVID-19?
Telemedicine is a relatively nascent field that had to evolve rapidly in the wake of this pandemic. There is not much information available about regulatory norms and it is best to consult the local health department for more information. Here are some guidelines that can help you take care of the requirements so that you can be better prepared to launch your service in your home country
Check insurance provider coverage and assess if insurance can cover telemedicine in your region

If your country has region-limited licensing for doctors and other medical workers, ensure that you are not violating any regulatory norms.

Ensure that both your clinic and the patients being treated are adhering to all technology and medico-legal requirements in their respective regions.

Ensure compliance with governmental regulation of prescription of controlled substances.

Ensure that remote physicians can be reliably screened before bringing them onboard.

Ensure that your communication tools comply with privacy laws.

Ensure that clinical services, billings, ordering, and follow-up comply with local laws.

Ensure that if you are providing care to patients overseas, your clinic must comply with regulations in that country.
Telemedicine is considered to be the best tool for combating COVID-19 internationally as it can bring together medical care workers from around the world to combat this deadly and highly infectious disease. Volumetree is committed to the betterment of mankind by creating solutions that can help medical health professionals reach the widest possible audience. Our world-class team had anticipated disruptions and were ready to take on the challenge of business continuity. We planned in time to ensure our availability to attend to your needs at all times. Together, we can help the world combat this disease better.