Everyone loves eating tasty, piping hot food delivered to their doorstep without so much as lifting a finger. OK—you do have to raise your fingers to tap and order on your mobile phone, but that's how easy food delivery is today with apps like Zomato, Swiggy and Uber Eats (now owned by Zomato). Entrepreneurs around the world are trying to create apps like Zomato to get a piece of the food delivery pie during these trying times.
But first, some numbers!
The online food delivery industry is growing at a healthy CAGR of 10% and will reach a market value of over US$449,292m by 2025. Additionally, according to Statista, this market can quickly grow to 16% by 2022. Partly fuelled by the pandemic and our busy lives that leave no time to cook for ourselves, food delivery apps have become extremely popular, helping to get food to our doorsteps every day. There are dozens of food delivery apps today, but few come close to the bigwigs—Zomato, Swiggy, Deliveroo, and Uber Eats. Zomato is the most well-known app on this list, with over 15 million users and thousands of restaurants in its fold. 
Is it viable to create an app like Zomato in 2021?
Absolutely! The revenue change of food ordering apps like Zomato has seen a constant uptick, and the growth rates for 2021 have been over 23%, making food delivery an exceedingly fast-growing segment. Additionally, the average revenue per user or ARPU can breach the $150 mark in 2021, making on-demand food delivery app development a potentially profitable initiative.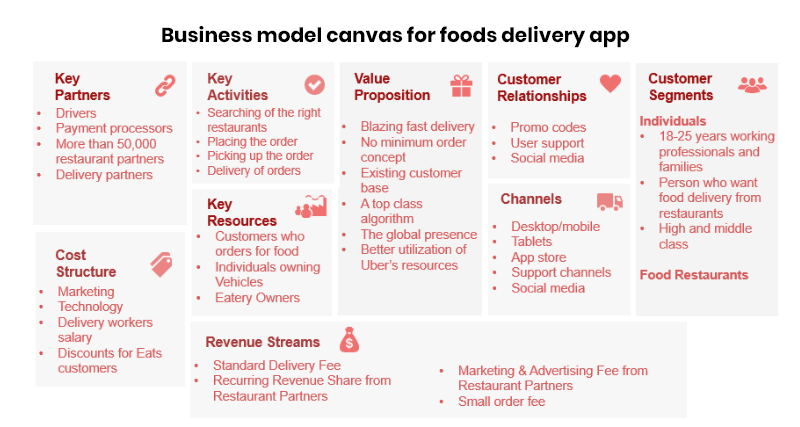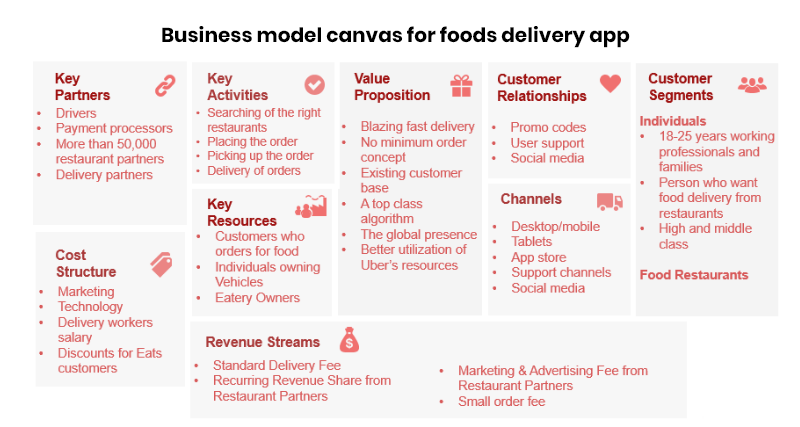 What is the business model of Zomato?
Zomato is an aggregator-type model where the app does not own restaurants but partners with them so that restaurants can benefit from the increased traffic on Zomato's platform. Zomato's delivery partners can help deliver their food to customers. Interested to more? Here's more about food ordering business models.
Zomato is an integrated platform that showcases restaurant partners to end-users, collects orders from them, passes the orders to restaurants and assigns delivery personnel for delivering food to the end-users. Zomato also helps users book tables at restaurants, making the dine-in process as smooth as the delivery process. Additionally, Zomato also provides customer care for users and restaurants on its platform. 
How does Zomato monetize its platform?
Zomato monetizes its platform in many ways. These include:
Selling "Pro" or Gold memberships to end-users

Charging restaurants to join its platform and using delivery facilities

Charging restaurants for sponsored posts and analytics available on its platform

Zomato events such as Zomaland—a service where multiple restaurants can cater to a large audience at a single location.

Zomato for Business—allowing restaurants to update their listings and set up promos and offers in real-time.

Zomato base—this service helps restaurants to develop and expand their presence in other markets.
Following this monetization approach Zomato's revenue grew to ₹2486CR or $350m in 2020 and is showing no signs of slowing down. Zomato's hugely popular IPO in 2021 has further boosted growth and is making Zomato quickly drive towards profitability, despite the losses suffered during the COVID-19 induced lockdown.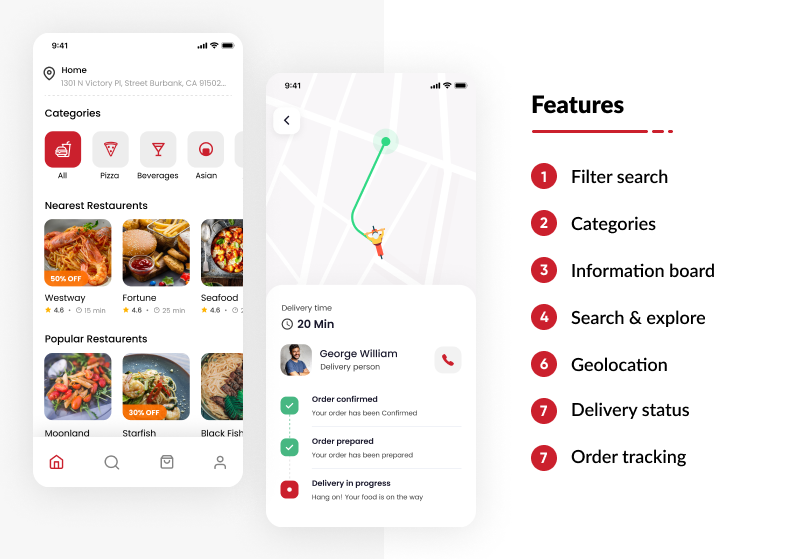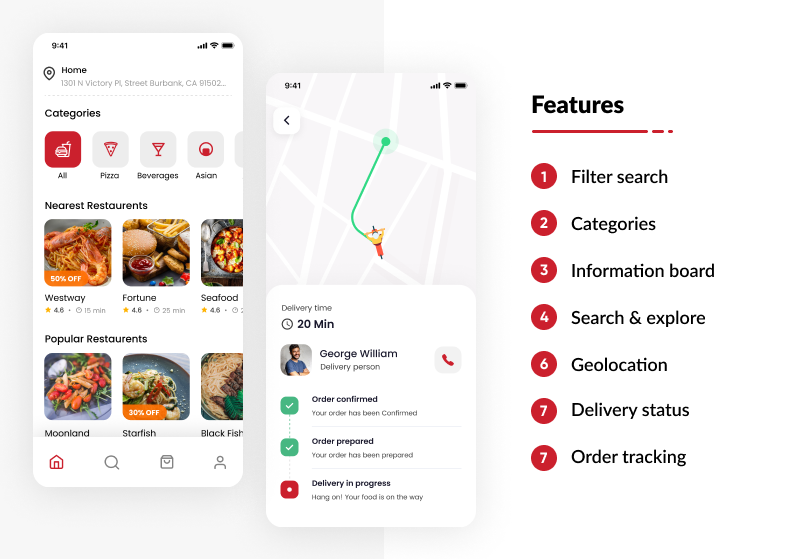 How many components does the Zomato platform have
Zomato's app has four distinct interfaces with multiple features that the app's various stakeholders use. These interfaces and features include:
Customer or end-user app
This app is for the use of the end-users of Zomato. The Zomato app has a fantastic user interface that allows users to search for restaurants and cuisines through their extensive search or decide what to eat through their mood-based recommendations engine.
Registration and login, including social login

Restaurant and meal Search including contextual and advanced search

Restaurant and cuisine recommendations

Repeating orders

Credits and refund management

Order management

Driver tracking for delivery

Ratings and reviews for delivery partners and restaurants

Restaurant availability to book tables and place orders online

Payment gateway integration

Customer service
Delivery partner app
This app is for delivery personnel who use it to log into the platform, update their daily COVID-19 compliance status and get order and delivery information.
Registration and login

User profile 

New order alert and updates

Multiple delivery management

Delivery route map

Delivery route optimization
Restaurant App—used by restauranteurs
Restauranteurs use this app for order, menu and deal management and placing sponsored listings and specials.
Profile creation

Order management and updating food status (order receipt, food preparation status)

Menu management to ensure that the latest menu is available for ordering

Promotions and deals to sponsor listings and boost sales

Driver tracking to ensure timely delivery

Push notifications
Admin panel—for platform managers
This interface is for those managing the platform. At Zomato, the company handles this platform. However, if you create an app like Zomato for yourself, the platform will be handled by you or your staff.
Restaurant management to add, remove and invite restaurants

Category management for better search results

Performance monitoring to ensure system health

Reportage and analysis for restaurant partners

Real-time updates and alerts

Payments and commission management

Customer service
Zomato also has a web interface similar to the app, which helps end-users place orders and manage their profiles.

How does Zomato differ from the competition?
Although most food delivery apps focus on the delivery bit and offer very similar features in ordering and delivery, Zomato takes this a notch further. Zomato's focus on the user experience (UX) and community building initiatives have driven users to their platform, making them the first choice for anyone wishing to order food online. Zomato's foodie outreach program called "Zomato Verified" users and events such as Zomaland have helped them stay relevant and appeal to audiences and partners alike.
How much does it cost to build an app like Zomato?
Ahh! The million-dollar question! Well, let me assure you that food delivery app development won't cost you a million dollars (unless you want it to)! However, given the complexity of this app and the various components involved, the cost of building a platform such as Zomato will come cheap. Most app development companies consider a ballpark figure of between $15,000 to $30,000 to create a platform like Zomato.
Here's what this cost includes:
Gathering requirements

Designing the UI/UX of the app

Developing the app, which includes:

Creating mobile apps for end-users, restaurants and delivery partners

Developing interfaces for administration

Developing search subsystems

Creating recommendation engines

Developing and integrating analytics and AI

Continuously testing the application at each stage

Deploying the app the targeted app stores (iOS or Android)
Note that these costs do not include payments to platforms and services necessary to run the app, including analytics, third-party APIs and others. Additional fees for launching an app include app marketing and SEO, app maintenance, bug fixing, and feature updates to keep users hooked.
Why should I get this app from Volumetree?
In a world full of options, some stand out. With years of experience, presence across 3 continents, dozens of very satisfied clients and our large 50+ member team, we can handle large projects and small with ease. As we already have many satisfied customers using our platform without issues, you can rest assured that we are the right partners for your new digital presence.

Final Thoughts
On-demand food delivery apps such as Zomato and Swiggy are exceedingly popular and are used by millions of users every month. With innovative ideas and a stable app platform such as Zomato, your idea can win users' hearts and become a successful business in no time! If you are looking to know how to make app like Zomato for your business, you are at the right place. At Volumetree, we take great pride in developing solutions used by millions of users worldwide. Our project managers, UX designers and developers are ready to take your idea to the next level and create a fantastic app that will rival the industry bigwigs. Schedule a free 15-minute consultation with us today. Let's create an app like Zomato together!
FAQs
How do I make it through the quarantine?
The answer is through mobile apps! As more and more people use mobile phones to place orders, find restaurants or delivery services and do just about anything, it is the most natural progression that your business could do to adapt to these times.
How will I ensure that my food ordering app has all the features that I need?
However, with dozens of apps already making their mark, how can you make it through? The answer is through our solution. Our outstanding new food ordering app helps you get a Zomato type app or other competing products, at a fraction of the cost. Our app will have all the new COVID-19 features that you need to stay relevant and in focus. 
Will the app ensure that I get orders?
Absolutely. If you have a restaurant or if you are a delivery aggregator, all you need to do is get restaurants on board and start getting orders! Our app has all the cool features you need to entice other restaurants to join in, and all the facilities to offer a world-class delivery experience to your customers.
Will the app be easy to use?
Of course. With separate, role-based apps for riders, customers, restaurants and staff, our platform will ensure that you get a world-class user interface and features that you and your customers will love!
Won't it take time to make an app?
With our team and our world-class facility, you will have your Zomato type app ready in one week! That's right, in just 7 days you will have your app ready to rock the food ordering world!
What is so special about your platform?
Our platform is smart inside out. Our AI-ready turnkey solution offers you more than enough bang for the buck. With contactless deliveries, restaurant management, dispatch, configurations, analytics, AI-driven recommendations—our app has it all! 
What about my brand name?
Our app can be customized and white-labeled to wear your brand's colours. With tailored-in brand communication and your logo, your app will look and feel like your own business.
Will I be able to take payments online?
Absolutely! With built-in payment systems and options to add/remove modules as per your choice, you can offer all the payment systems you wish to support. Contact us for payment gateway integration costs.
Will I be able to offer support?
Yes! What's a solution without support? You will be able to respond to your customers within the app itself! With optional chat features and many other options to contact your customers, you can rest assured that this is the best solution you can get today.
What all will I get?
You will get it all! A world-class suite of rider, customer and restaurant apps along with a web-based admin dashboard that is customizable and offers a world-class experience.
Will you help me get my app submitted to the app store?
Yes, we will. Our app submission service will help you get your app submitted to the app store. Contact us for more details.
How much will this cost me?
On an average, creating a food delivery platform like Zomato can cost you between $15,000 to $30,000. We have special pricing during the pandemic. Check our website here for the most updated special offers, updates and early-bird pricings today!