The Coronavirus pandemic hit every one of us, hard. As entire countries went into lockdown, it became difficult for many businesses to continue operations. Things have been especially bad for labor-intensive industries like automobiles, construction, transportation and the ilk. The technology sector, however, was impacted a little less severely than the others. As employees quickly picked up laptops, went home and started working from there, they managed to maintain 70-100% productivity, depending upon the conditions. This, however, was limited to those companies that were prepared. For those that were not, times have been equally difficult.
As successful business owners in the UAE, we were working on a philanthropic idea of using technology to reduce the number of working poor around the world. We had thought a lot about our idea and spent some time thinking about how we would design it. Now what was left was to hire a dedicated team to put it all together. Even though One of us had a background of the IT industry, we quickly figured out that hiring dedicated developers is a different animal altogether, and a task that would require all our focus, depriving our other business of the time that they need. 
To eliminate that risk, we started weighing in our options. We first thought of outsourcing hiring to take one weight off our shoulders, but that would still leave us with managing an entire team of engineers and IT staff that we were not sure of being able to sustain in the long term. 
As we were trying to build an ideal business with our brainchild EduPloyment, we were completely against the regimen of hire, use and fire that is so prevalent around the world. To put things into perspective, EduPloyment was envisioned as a technology platform driven by the purpose of helping to eradicate poverty by educating and employing the underprivileged. This required us to find sustainable employment for our employees or drop the idea altogether. The looming Coronavirus crisis had caused even more problems for us as many companies were in turmoil, and were not adhering to our standards when it came to employment. 
We were introduced to Volumetree through a mutual contact in the UAE who had spoken highly about them. Outsourcing work was something that is mostly frowned upon around the world, and we were no exception, however, we decided to give it a try. As we were not easily convinced, we decided to travel to India to interact with this company and see how things would work out with them first-hand. Our arrival in India was nothing short of a surprise for us. Volumetree turned out to be a group of extremely driven, passionate individuals who understood what we needed and offered their services to us at a reasonable rate.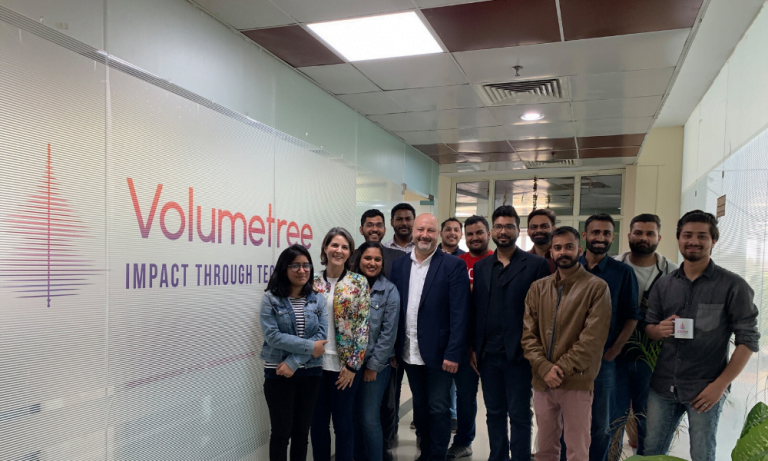 We could figure out from the enthusiasm in the dedicated developers that the employees were adequately compensated and the co-founders told us that many employees were with them for the last 2 years or more, and some for nearly three years. This made us understand that Volumetree is a company that is committed to the success of both their venture and their employees. This is one important aspect that we needed to ascertain before we started to work with them.
Once our contracts were in place, we were equally surprised to see that the enthusiasm also translated to the quality of work. Items were delivered in time, and when the lockdown finally hit the city where Volumetree was located, I got a call from the co-founder telling me that they anticipated this and had asked all of their employees to prepare for working from home for an extended period to ensure that the transition is seamless.
All this was performed with surgical precision and we never realized that we were working with a team that was well-prepared in advance for any contingencies. 
We are now in the final phases of the development of our software and the interaction with the Volumetree dedicated developers has been nothing short of fantastic. The Volumetree dedicated team is a group of professional, dependable individuals who produce high-quality products and are extremely customer-focused, making them the ideal choice for any company wanting to transition to a remote dedicated team.