2020 has become the year of the pandemic. Economies have crashed, hospitals have overflowed and countries have been brought to a standstill. Life, as we knew it has changed forever. Gone are the days when markets would be buzzing with activity, food stalls would line the streets and millennials would spend their evenings at swanky bars or pubs that played their favorite music. 
Today, malls are deserted, shops are mostly closed and restaurants seem like a deserted lot. With the food business being the most hit during this pandemic, most eateries big or small have shut shop or trimmed operations.
In such trying times, the only option for most restaurants is either shut shop or opt for home delivery to make ends meet. However, with cash transactions being a strict no-no for people and online transactions being a pain for most non-tech savvy restauranteurs, what can you do?
The Advent of an Online Food Ordering System
Food ordering businesses have been around for many years. Ever since Dominoes and other providers started web ordering, food ordering online had already become a hit. With the advent of mobile phones, these systems became better and smarter, soon becoming so ubiquitous that nearly every other large restaurant had its own app. However, this too posed a problem for users. 
The benefit of having your own app
Restaurants can benefit from having their own app by ensuring that they keep their branding, maintaining restaurant identity, and their own unique way of marketing their services. Platforms such as Limeberry offer a platform in which restaurants can easily white brand their app, maintaining restaurant identity while offering all the goodies a platform has on offer for their users.
The problem of too many apps
As users struggled to keep track of the number of apps they had, they would usually keep the apps of their favorite or go-to restaurants and delete the rest, as they would only use them once. This constant user churn became a headache for both restauranteurs and app developers.
The Advent of Aggregator Apps
Today, being available on a food aggregator platform can make the difference between being visible to the world or not. This difference can sometimes cost a restaurant their business, their credibility, and visibility. Aggregator apps or platforms such as Limeberry, Uber Eats, and Zomato showcase thousands of restaurants, helping users choose the one they want from the list and often offering exciting discounts to keep users hooked to their platform.
Benefits of being on an aggregator platform
Aggregator platforms remove many headaches from a restaurant's kitty of headaches. They offer delivery services, online ordering, payment management, managing multiple aspects of a restaurant's functioning, and more—helping restaurants focus on cooking while they take care of the rest, but for a set fee.
The disadvantages of being on an aggregator platform
Some aggregator platforms such as Zomato do not allow white branding—a way in which restaurants can customize the look and feel of their page on the app. They focus on offering the user a single, seamless interface that the user will get used to. Aggregators also shave off over 20-30% of your order value as service charge, reducing the amount of money you earn per order significantly. Many restaurants then resort to raising their prices to meet their baseline, making users suspicious of these restaurants because of the difference in pricing. 
The Scope of Online Food Ordering
We will leave this bit to statistics. The revenue of food ordering is set to rise at an annual growth rate of 7.5% and is anticipated to cross US $136,431 million by 2023. The current food ordering industry is pegged at just over the US $70,741 million. With most of the mobile phone users being young, the user base is tech-savvy and immense, accounting for over 35% of the annual revenue in this sector. The scope, therefore, is immense and will show no signs of slowing down despite the coronavirus pandemic.
So how does food ordering online really work?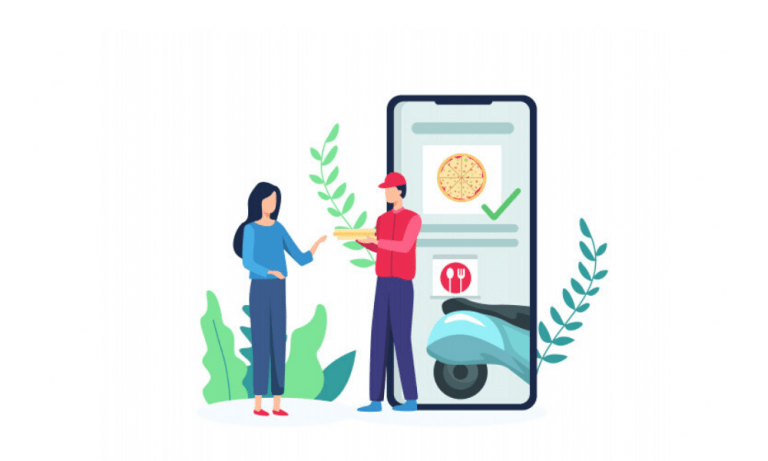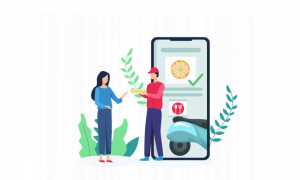 The process of ordering food online is pretty simple.
Users download the app for your restaurant or the food aggregator's app 

They then find the food category or restaurant they crave, read previous user reviews, and finally place an order. 

The payment for the order can be digital or handed to the delivery executive. 

Restaurants receive these orders instantly. They have a dedicated system that gets the orders and they can then proceed to update the status of the order to the user. 

The moment an order is placed, a delivery executive is assigned to pick up and deliver the order to the consumer. 

Once the order status is complete or ready for delivery, the delivery executive picks up the order from the restaurant, turns on tracking, and delivers it to the end-user.
Many apps also have a dedicated web interface that offers the same experience, just through a computer instead of an app. This can be of benefit to users who would like to order while working on their computer without having to reach for their mobiles.
Essential features of an online food ordering app
Although this can be a never-ending list, we have listed the top 6 features that must be present in every great online food ordering app. So here goes:
With everyone glued to their mobiles or PCs at all times, push notifications can make the difference between being informed and being invisible. Keep this feature to stay relevant.
Discounts, rewards, cashback and loyalty benefits
Another important feature is discounts or rewards. It is human nature to go to a restaurant that offers value for money. Keep up the discounts and maintain quality to keep users flowing.
Integrating IoT services such as tracking can go a long way in ensuring that your customers stay happy and informed. They will also know when to come out and pick up their order, which is useful for large housing complexes where delivery personnel cannot go to the doorstep of the user.
Everyone has a preferred way of payment. Offering a wide selection of payment methods or picking a payment provider that accepts cards, wallets, and cash on delivery can also work in your favour.
Interact with your customers on social media
Social media integration can go a long way in ensuring customer loyalty. With over 70% of the youth being online all the time, you must keep up with the times and provide grievance redressal online to ensure customer happiness.
All restaurants need to manage reviews, ratings to enhance customer satisfaction. This also helps users ensure food quality and: 
How do platforms like Limeberry differ?
Limeberry is a revolutionary, new platform that will help your restaurant tide through these trying times. Limeberry has all the bells and whistles your business needs to stay on top of the ordering charts in 2020. If you are a restaurant that is struggling to make it during the pandemic, click here to speak to one of our sales executives to see how Limeberry can turn your business around for you, fast.